??????
Torta di riso recipe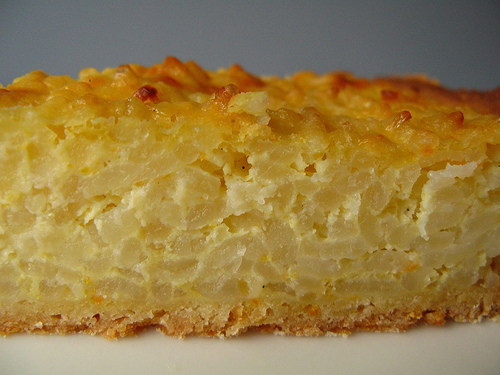 This is a typical Tuscan cake that grandmothers make when there is something to celebrate, such as Christmas, Easter, a Wedding or a Baptism.
Ingredients:
1 litre of milk
160 gms of rice
80 gms of sugar
100 gms of raisins
1 knob of butter
4 eggs
cognac or rum
salt
Preparation:
Boil the rice in the milk; when it is half done, mix in sugar, raisins, butter and a pinch ofsalt. When the rice is cooked, remove the pan from the flame, and let cool. Once cooled, add 2whole eggs, 2 egg yolks, and a small glassful of rum or cognac, according to your taste. Butter a ring-shaped mould, coat it with breadcrumbs, then flip the mould over and beatthe sides to release the excess breadcrumbs. Pour the rice mixture into the mould andbake until the crust has become golden. Serve warm.
Note
: it tastes best eaten warm, butnot when piping hot.
You might also be interested in