Desserts
La ricetta della Torta Mantovana
La Torta Mantovana è un dolce fatto con uova, zucchero, farina, burro, scorza di limone o essenza di arancio e mandorle (oppure pinoli). Nonostante il suo nome, si tratta di un tipico ed antichissimo dolce di esecuzione molto semplice che si è diffuso in tutta la Toscana.
Si racconta anche, tuttavia, che nell'ottocento un noto pasticcere di Prato ebbe in dono questa ricetta da due suore di Mantova come ringraziamento per la sua ospitalità. Egli la rielaborò e la propose alla propria clientela che ne apprezzò il gusto. Anche l'illustre Artusi cita nel suo libro " l'arte di mangiar bene" questa raffinata ricetta.
La Mantovana è anche uno dei dolci tipici di Anghiari, in Valtiberina, realizzata dalle donne del borgo da oltre cento anni.
You might also be interested in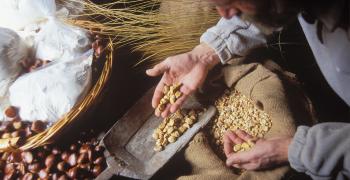 Learn more
Food and Wine
Olive oil, wine, truffle and other culinary delights make up the excellence of Tuscan gastronomy.
continue...