Starters
Summer cocktail: tomato sauce and mozzarella mousse recipe
Tomato + mozzarella + basil is one of the most common combinations for a quick and light Italian summer meal. But what happens if we magically turn freshly picked tomatoes into a fresh red foam and mozzarella into a soft white mousse? The result is an amazing and entertaining savoury cocktail that melts in your mouth as you'd never imagined. Ilario Taccioli from Osteria La Limonaia, in Pistoia, shows us how to make a very special dish with just a few ingredients:
For the burrata mousse
300 g of Burrata (a type of creamy mozzarella from the Puglia region) or mozzarella cheese
100 ml whipped cream
100 ml of milk
salt
ground pepper
For the sauce
6 tomatoes
6 leaves of basil
Oil and salt
ground pepper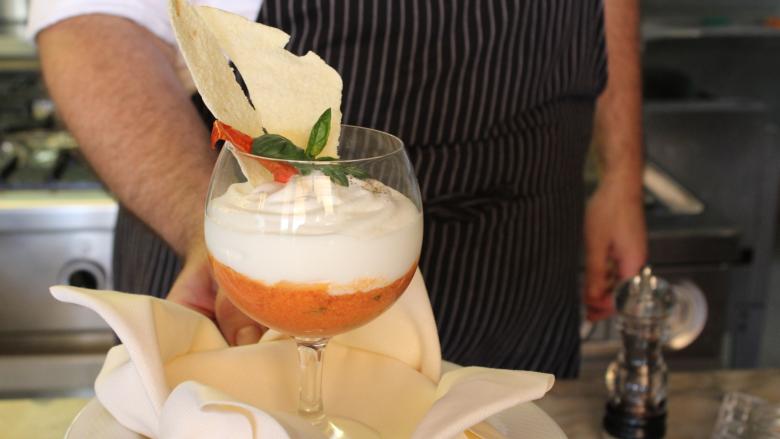 Wash and dry the tomatoes and basil
In a mixer chop the tomatoes and basil with the salt, olive oil and pepper.
Rinse the mixer. Now chop the burrata or mozzarella with the whipped cream and let refrigerate for an hour.
Put the burrata cream in a siphon to give a foamy texture to the mozzarella. If you don't have a siphon, just replace the milk with 100 ml of whipped cream
In a big cup pour in the tomato sauce, then the mozzarella mousse and decorate with a basil leaf
Enjoy!
Chef Ilario Taccioli is the fourth generation chef at Osteria la Limonaia, in Pistoia and currently a professor at the Professional Culinary Arts & Hotel Management School F. Martini in Montecatini Terme.
You might also be interested in