??????
Sburrita Recipe from Elba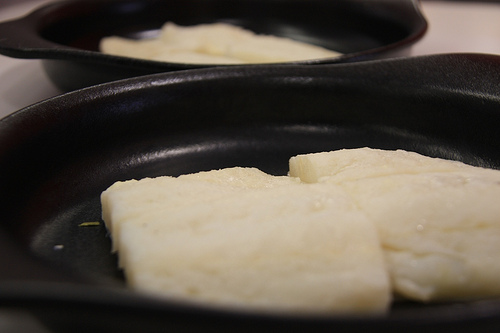 Ingredients
Serve 4
800g salted cod
cubed tomatoes
6-7 cloves garlic
half a tbs of chilli flakes
a small bunch of nepitella or calamint
2 glasses of extra virgin olive oil
salt
tuscan bread (roasted)
Preparation
Prepare the cod in pieces of the right size. In a pan with a liter of cold water place  6 or 7 cloves of garlic after having slightly crushed them, the calamint, the diced tomatoes and the chilli flakes. When the water begins to boil add two glasses of evoo. Let it boil with 45 minutes and then add the cod pieces. Be careful with the salt as you should taste the water and check because cod tends to stay salty. At this point leave it on the stove for another 15 minutes. The result will be a soupy-fishy delight. Last but not least, serve over a couple of slices of toasted saltless tuscan bread. This recipe was made traditionally from the
island's miners
and is still found in Elba's restaurants.
Other
Baccalà Recipes
or Elba Island Dishes
You might also be interested in