First courses
Potato Tortelli from Prato
Potato tortelli are famous throughout the valley and every restaurant and family has their own particular recipe. However they are made though, they always make a tasty and flavoursome dish that the inhabitants of Prato enjoy on summer weekends at restaurants and trattorias in the countryside.
There are many varieties with different fillings and sauces. They are best with a good veal-based ragù sauce, although they are also good with a wild boar ragù. In the summer they are best enjoyed with a simple tomato sauce and in autumn with porcini mushrooms fresh from the valley.
Boil 1kg of yellow mountain potatoes, peel and pass through a sieve. To one side fry a good slug of oil, a clove of garlic, tomato conserve and salt and pepper. Mix the mashed potatoes with the fried garlic, oil and tomato conserve and add some grated Parmigiano, a pinch of nutmeg and season.

Mix 500g flour, 5 eggs, a little oil and some salt. Once the mixture is smooth, roll out into long rectangular strips and place spoon fulls of the potato mixture at regular intervals. Fold over and cut into tortelli shapes and boil in a full pan of water. Serve with the sauce of your choice and grated cheese.


Article by APT di Prato
You might also be interested in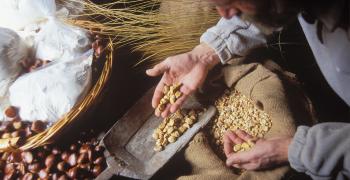 Learn more
Food and Wine
Olive oil, wine, truffle and other culinary delights make up the excellence of Tuscan gastronomy.
continue...