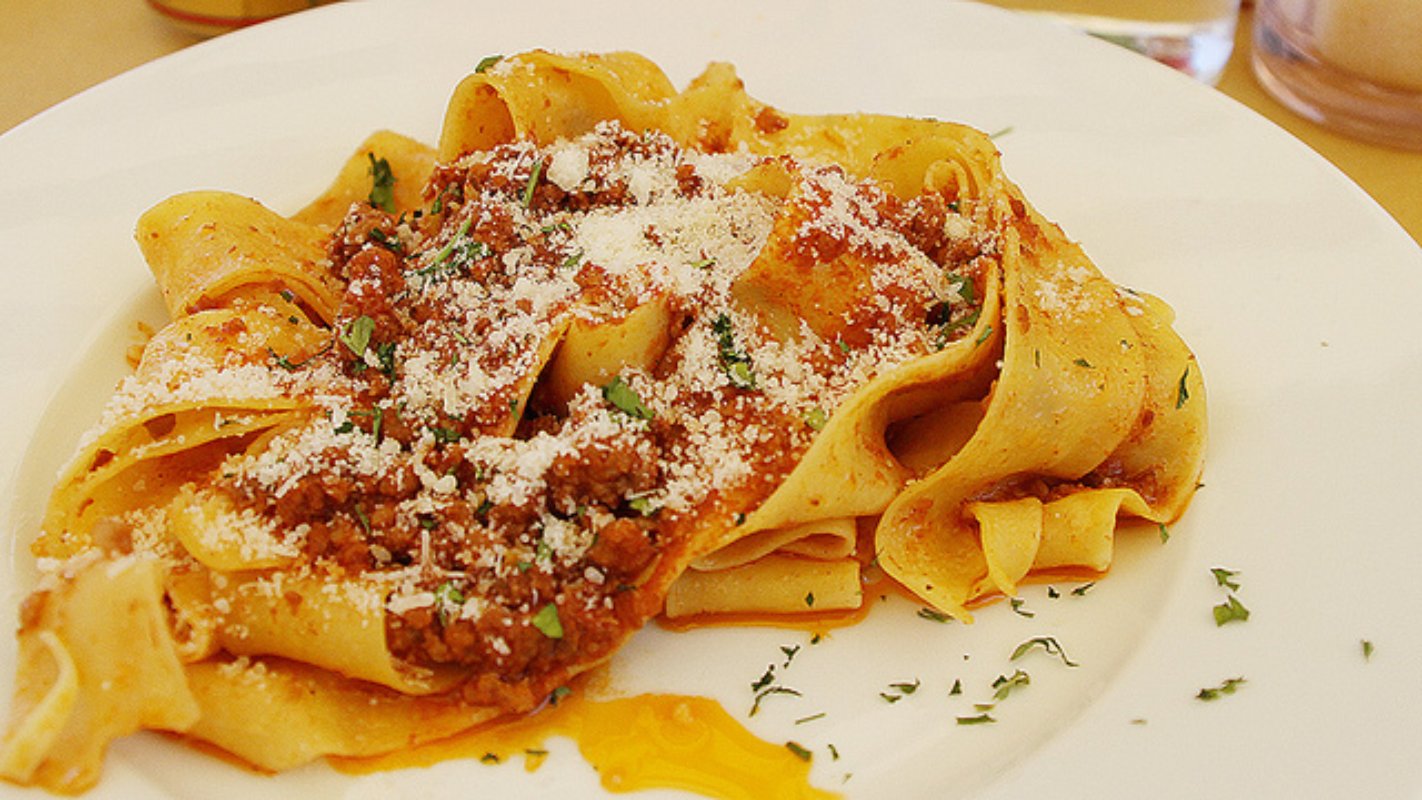 ??????
Pappardelle alla lepre
Le pappardelle sono un primo piatto molto amato da queste parti. Si sposano bene con diversi sughi di carne, dalla cacciagione all'anatra, al coniglio. Qui vi presentiamo uno dei piatti più tipici, le pappardelle condite con il sugo di lepre, o, come si dice a Firenze, "sulla lepre".

INGREDIENTI PER 6 persone:
Per la pasta:
150 gr di farina di semola
150 gr di farina 00
3 tuorli d'uovo
1 uovo intero
un pizzico di sale
Per la salsa:
1 lepre
1 cipolla
1 gambo di sedano
due carote
olio d'oliva
1 etto di pomodori pelati
mezzo bicchiere di vino rosso
brodo di carne
sale e pepe
Mettere a soffriggere in una casseruola la cipolla, il sedano e le carote tritati con l'olio. Unire la lepre tagliata a pezzi e far rosolare per qualche minuto, quindi aggiungere il vino, il pomodoro, qualche foglia di alloro, sale, pepe e lasciar cuocere a fuoco lento per circa tre ore, aggiungendo del brodo di carne quando necessario. A fine cottura togliere i pezzi di lepre dal tegame, disossarli e rimettere nel sugo solo la carne. Mentre la lepre cuoce potete preparare la pasta: mescolare le due farine insieme alle uova, impastandole fino ad ottenere un composto omogeneo. Far riposare per circa mezz'ora quindi con il mattarello o con l'aiuto della macchina per la pasta, tirare la sfoglia sottile e tagliarla fino ad ottenere le pappardelle, di una lunghezza di 10 cm e una larghezza di 1,5 cm. In una pentola con acqua bollente salata lessare le pappardelle per 2/3 minuti e amalgamare la pasta con la salsa di lepre.
Una variante molto gustosa può essere ottenuta facendo marinare la lepre per una notte intera in acqua, aceto, cipolla, sedano, aglio e rosmarino. La mattina i pezzi di carne vengono scolati, fatti rosolare a fuoco vivo per qualche minuto, poi scolati di nuovo. In seguito si procede come indicato sopra. Secondo alcuni, la versione originaria di questo piatto era realizzata senza pomodoro, sostituito dal sangue dell'animale. Può darsi che questa sia in effetti l'antica ricetta ma ormai, sia nei ristoranti sia in casa, il sugo di lepre viene preparato con il pomodoro e senza sangue.
Colline Metallifere
The Metallifere hills are the largest range in the Tuscan Appennines, located in the western portion of Tuscany. The range runs through four provinces: the southeast part of Livorno, the southern part of Pisa, the southwestern part of Siena and ...
Scopri Colline Metalliferekeyboard_backspace