First courses
La ricetta dei Pici di Siena
Il freddo inverno è arrivato. E cosa c'è di meglio di una serata al caldo di casa in compagnia degli amici? Possibilmente, davanti a un bel piatto fumante e un buon bicchiere di vino rosso toscano. Per questo motivo, vi proponiamo una gustosa ricetta della scuola di cucina di Lella Cesari Ciampoli e Giulia Causarano, a Siena. La ricetta in questione è quella dei pici senesi, un particolare tipo di pasta lunga da gustare con il condimento che preferite.
You might also be interested in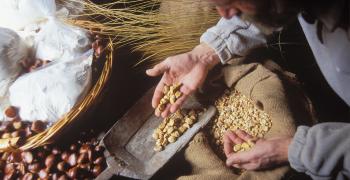 Learn more
Food and Wine
Olive oil, wine, truffle and other culinary delights make up the excellence of Tuscan gastronomy.
continue...