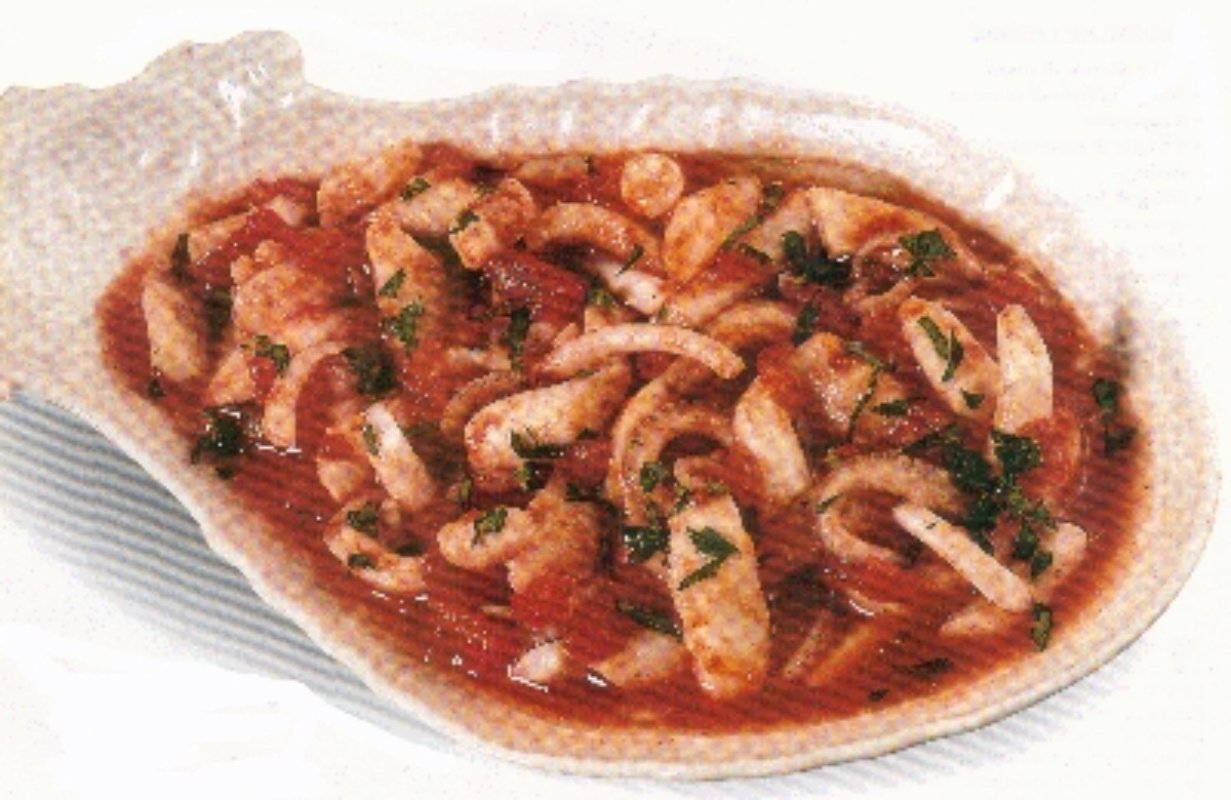 First courses
Il cacciucco di Viareggio
Il Cacciucco è un piatto composto da una varietà di pesci ridotti in piccoli pezzi. Il nome deriva dalla parola turca "kukut" che significa "piccola cosa, minutaglia", è infatti una zuppa che si prepara con piccoli pesci, una pietanza che nasce a bordo dei pescherecci, come nutrimento per l'equipaggio, fatta con pesci di scarso valore commerciale per non utilizzare pesce pregiato destinato alla vendita. La ricetta del cacciucco di Viareggio con pesce povero, o "pesce dimenticato", così come riproposto da un famoso chef viareggino, vuole recuperare lo spirito originario di questo piatto, utilizzando pesci meno noti e meno costosi, per lo più di sabbia, pescati nel mare della Versilia, quali: aluzzi, sugherelli, rondinini, pesce serra, torpedini o pottini e pesce tremola, nelle stagioni in cui ciascun pesce esprime il meglio di sé, a garanzia della freschezza del pesce, della pienezza dei sapori, e dei costi più contenuti.

Preparazione:
Far bollire i pesci, precedentemente puliti e spezzettati, con la sola aggiunta di pomodoro, aglio, sale e peperoncino; completando quindi con fette di pane, rigorosamente toscano e insipido, precedentemente abbrustolito e agliato, con una cottura che non deve superare i 30-35 minuti. Il piatto deve essere poi presentato in tavola, secondo la tradizione, in un contenitore rigorosamente di coccio che deve servire per più commensali. Il cacciucco non è una zuppa da piatto singolo, ma un cibo da assaporare e gustare in compagnia, come nelle famiglie antiche dei pescatori con la zuppiera fumante al centro della tavola, dove ogni componente "pescava" mano a mano il suo pesce nei riti e nei piaceri del desco familiare; ricordiamo che si trattava quasi sempre di un piatto unico. Il vino che veniva abbinato (e che tutt'oggi viene consigliato) è un buon vino rosso d'annata, possibilmente non troppo carico di tannini, in modo che non sia prevalente sui sapori del pesce.
You might also be interested in
Versilia
Golden beaches, an inland dotted with small villages and nature reserves waiting to be explored, a moderate climate and a nightlife full of performances and entertainment: this is the Versilia, a stretch of coastline that extends for 20 ...
Scopri Versiliakeyboard_backspace