Main courses
How to clean an artichoke? and the recipe
Artichokes bloom all over Tuscany in Spring and when we say bloom it is referred to the fact that artichokes are flowers. Only, they are not just beautiful they are also delicious and perfect for a long list of tuscan preparations typically served during the Easter period. Unfortunately artichokes are not very simple to clean and trim...you eventually get prickled and always end up with black fingers. We wish to give you a list of steps that will make things easier while preparing these thorny flowers - once you've cleaned them there is also a fast recipe you can make!
Prepare a bowl with cold water with a little lemon juice.
Clean the artichoke, trimming away the tough outer leaves, leave the ones you will eventually eat.
Trim the outside of the stem and dark green parts off the base. (Keep in mind you do not need to throw the stem away, if it is trimmed you can chop it up and saute it or use it as part of the stuffing)
Chop off about a third of the top spear, I use scisors and hold it near the stem otherwise this is the point when you get pricked
Cut the artichoke in half vertically and scrape out the choke use a little knife, spoons won't do much!
Divide the artichoke into quarters and drop the pieces into the bowl of water to prevent them from discolouring until you are ready to use them.
Frittata di Carciofi - Artichoke Omelette
4 medium sized globe artichokes
extra virgin olive oil
6 eggs
2 tablespoon chopped parsley
a little lemon juice
Heat 2 tablespoons of the olive oil in a 15cm saucepan and add the artichoke pieces and transfer them to a plate.
Lightly whip the eggs in a bowl season with salt and pepper and pour into a saucepan.
Add the pieces of the artichoke to the centre of the pan.
Cook the omelette for a couple of minutes on low heat loosening the sides and swirling the pan around too distribute the uncooked egg.
When the omelette is slightly golden on the underside, and the top centre is only slightly runny remove from the heat and transfer to a serving plate.
Sprinkle with the chopped parsley and serve immediately.
You might also be interested in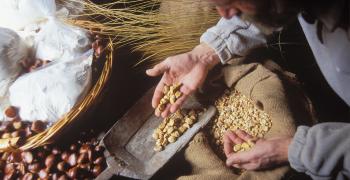 Learn more
Food and Wine
Olive oil, wine, truffle and other culinary delights make up the excellence of Tuscan gastronomy. ...
Continue...