Desserts
Frittelle di Riso Recipe
These delicious sweets, crunchy on the outside and soft on the side, are extremely addicting. Once you eat a Frittella di Riso, you won't be able to stop. Frittelle di Riso are fried bits of ride pudding and they are a traditional Carnevale dish, usually eaten in February, though they are even more commonly associated with feast day of San Giuseppe, or St. Joseph, also known as Father's Day in Italy.
2-1/2 cups short grain rice
6 cups milk
4 tablespoons sugar
One lemon peel (wide strips)
1 oz liqueur (sherry, brandy, or amaretto)
1 cup flour
1 tablespoon baking flour
Pinch of salt
6 eggs, separated
Add the sugar and lemon peel to the milk and bring the rice to a slow boil in the mixture. The rice is cooked, when all the milk is absorbed.
Move the rice to a large bowl and add the liqueur, egg yolks, flour, baking powder and salt.
Mix well and let cool. DO NOT REFRIGERATE.
Whip the egg whites while still stiff. Fold whites into the rice mixture.
In a heavy pan, heat 3 inches of frying oil. Olive oil is preferred but corn oil works as well. Drop a teaspoon of the fritter mix into the hot oil. Fry quickly and remove when they are golden. Do not brown. Drain on paper towels and serve sprinkled with powedered sugar.
They are best when hot, but they can also be served cold or reheated.
Suggestion: For added taste, drop raisins soaked in brandy into the mixture or tiny pieces of candied orange peel.
You might also be interested in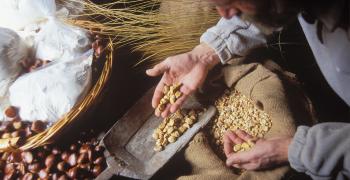 Learn more
Food and Wine
Olive oil, wine, truffle and other culinary delights make up the excellence of Tuscan gastronomy.
continue...