Main courses
Chicken Cacciatora Recipe
Chicken Cacciatora, hunter's chicken in english, has many different versions, the most common substitutes odori (carrot, celery and onion) with sage, rosemary, garlic and laurel leaves. In any case we suggest that you use a good 200 g. of black olives in your recipe.
1 chicken (1 kg)
400 g of tomatoes
1 onion
2 carrots
2 celery stalks
1 garlic clove
1 glass of white wine
Olive oil
Salt&pepper
Debone the chicken, clean and take the insides out, wash and dry it well. Remove its neck and legs.
Cut it into 12 pieces: 2 wings, 2 thighs, 2 breasts, 2 legs and remaining pieces another 4 pieces.
Brown the carrots, celery stalks and onion in 5 tablespoons of olive oil and add the chicken pieces for a few minutes at a medium to high flame.
After a few minutes your chicken pieces will have formed a sort of crunchy brown crust at this point add the glass of white wine.
Once the alcohol in the wine evaporates add the tomatoes, salt, pepper and cover the pot and continue cooking for another 40 minutes.
You might also be interested in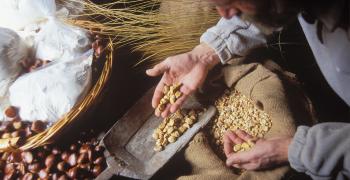 Learn more
Food and Wine
Olive oil, wine, truffle and other culinary delights make up the excellence of Tuscan gastronomy.
continue...