Desserts
Buccellato, sweet bread from Lucca
"Whoever comes to Lucca and doesn't eat buccellato can't say that they've been here" ('Chi viene a Lucca e non mangia il buccellato è come non ci fosse mai stato')
.
Shaped in the form of a ring or a loaf, this ancient bread isn't quite like Italy's other yeasted sweet breads. Instead of being rich and cake-like,
Buccellato
is lightly sweetened and spiced. In Lucca, no celebration happens without Buccellato and glasses of the sweet Vin Santo. Toast leftovers for breakfast, or an after-dinner treat with fruit. You can find buccellato at many bakeries in Lucca or prepare it at home. Thanks
Aurelio Barattini
for the recipe!
2-1/4 teaspoons active dry yeast
2/3 cup warm water
About 5 cups (25 ounces unbleached white bread flour , preferably organic)
1-1/4 cups milk, at room temperature
1 tablespoon anise seeds, bruised with the side of a knife
2 teaspoons salt
3/4 cup (5.25 ounces) sugar
1 cup (about 1/4 pound) currants, soaked in hot water 15 minutes and drained
Glaze:
1 tablespoon sugar
1 tablespoon water
1 large egg
In a bowl dissolve the yeast in half the water, with a pinch of the flour. Let proof 10 minutes. With the paddle attachment at low speed, or by hand, beat in the rest of the water, the milk, anise seeds, salt, sugar, and currants. Slowly beat in 4 cups of the flour until a soft dough has formed.
Replace the paddle with the dough hook and knead at medium-low speed 15 minutes, adding an additional cup of flour a tablespoon at a time, for a soft, sticky dough. Remove the dough to a floured work surface.
Knead by hand 2 minutes to form a soft, very elastic dough that is barely sticky. Place the dough in an oiled bowl. Cover with plastic wrap and let rise at room temperature 4 hours, or until almost tripled in bulk.
Oil a large cookie sheet or pizza pan. Knead down the dough. It will be sticky. Shape the dough into a long loaf. Cover and let rise at room temperature 1-1/2 to 2 hours, until barely doubled.
Preheat the oven to 375° F. In a small bowl, beat together the glaze ingredients. Brush generously over the dough.
Bake 50 to 55 minutes.
You might also be interested in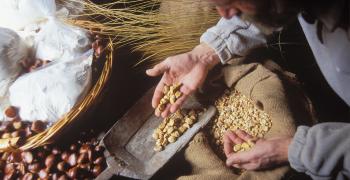 Learn more
Food and Wine
Olive oil, wine, truffle and other culinary delights make up the excellence of Tuscan gastronomy.
continue...