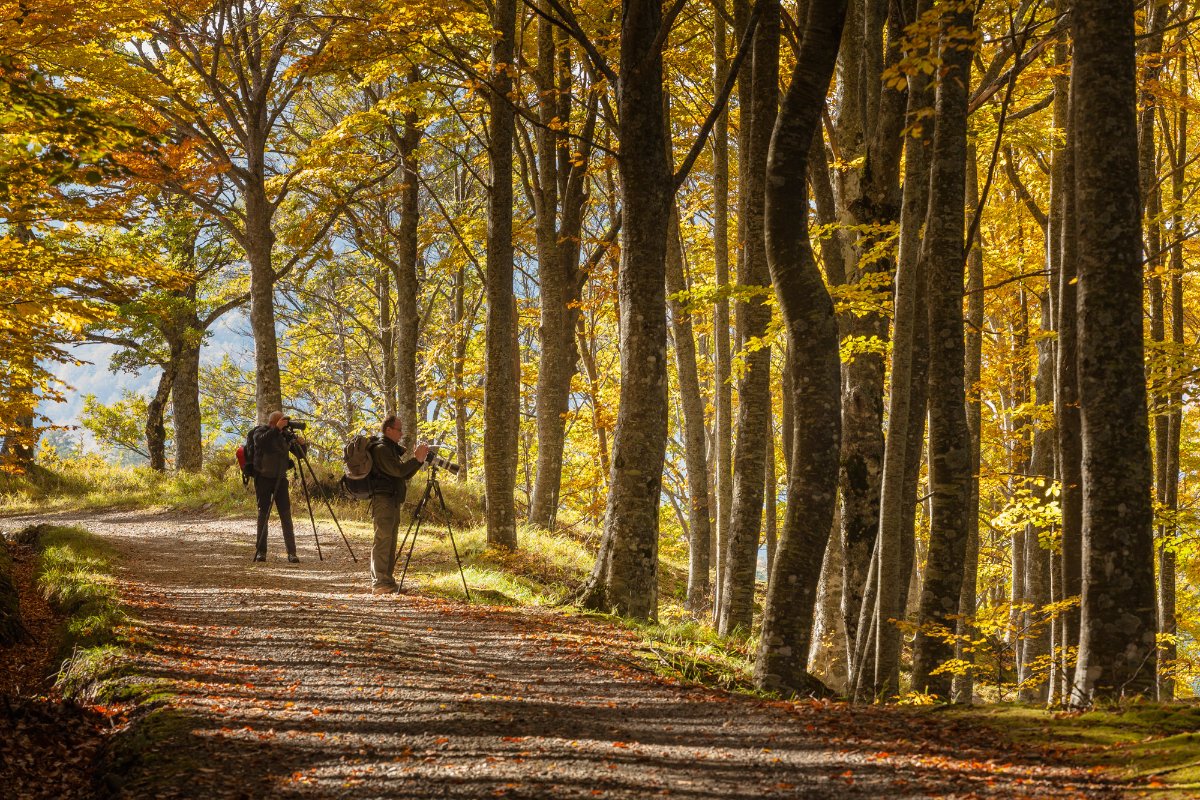 Trekking in the Apennines: the seventh leg
From Casaglia to Passo del Giogo and Passo della Futa
This leg of the walk was definitely one of the longest and most tiring in Tuscany. The route goes continually up and down and the previous night's rain made the paths muddy and so more difficult to walk on.
We start on the asphalted road that leads from Casaglia to Colla di Casaglia and which has a great panoramic view of Lamone valley and Mount Faggeta. Colla di Casaglia (913m) joins Romagna and Mugello.

The landscape here is one of orchards, vineyards and olive groves that alternate with woodland and brambles. This is the land that probably inspired local artists like Beato Angelico and Andrea del Castagno. Mugello has always been considered a border land. Historically it was strategically important and so much fought after. In fact, there are a lot of castles and walled towns in this area.

We have to cover quite a few kilometres on the asphalted road which we not crazy about as it always seems much longer than walking in the woods. We head towards Palazzuolo where we can take the 00 footpath. We finally reach the white stone road that will take us to Giogo and take cover from the rain under the branches of the trees. The route is flat all the way to Passo. After walking for two hours we finally reach Giogo di Scarperia, with its familiar hotel-restaurant that rises up near the main road. We have a rest and eat some delicious cheese before heading off towards Passo della Futa on the 00 footpath. The path becomes quite steep and narrow and is very muddy. We try without success not to slip too many times and slowly make our way up to Painggione and Poggio Roncolombello. There are a lot of streams and water ways on these slopes and so the vegetation is thick and green.

Once we're over Monte Castel Guerrino we come to the Passo dell'Osteria Bruciata a place with a dark past. Legend has it that there was a hostel here where pilgrims and travellers would be murdered and served as dinner to the next night's guests.

This valley occupies a strategically important position between Tuscany and Emilia. It was here (at Monte Altuzzo) on the 17th September 1944 that the Allied troops broke through the Gothic Line and forced the German army into retreat. It's strange to think how many soldiers probably lost their lives here in this green, lush landscape and this really brings home the absurdity of war.

With some effort we make it to the top of Mount Gazzaro (1125m) where there is a huge cross. The view across Mugello is breathtaking and we can also see how far we still have to go. We use the Cimitero Monumentale dei Tedeschi (the German Monumental Cemetery) as a point of reference and walk the last few kilometres to Passo della Futa. The cemetery humbles us as we realise that over thirty thousand Germans alone lost their lives in these mountains.

We're tired and muddy but just about manage to put up our tent in the only campsite near the Passo where we spend the night.
You might also be interested in