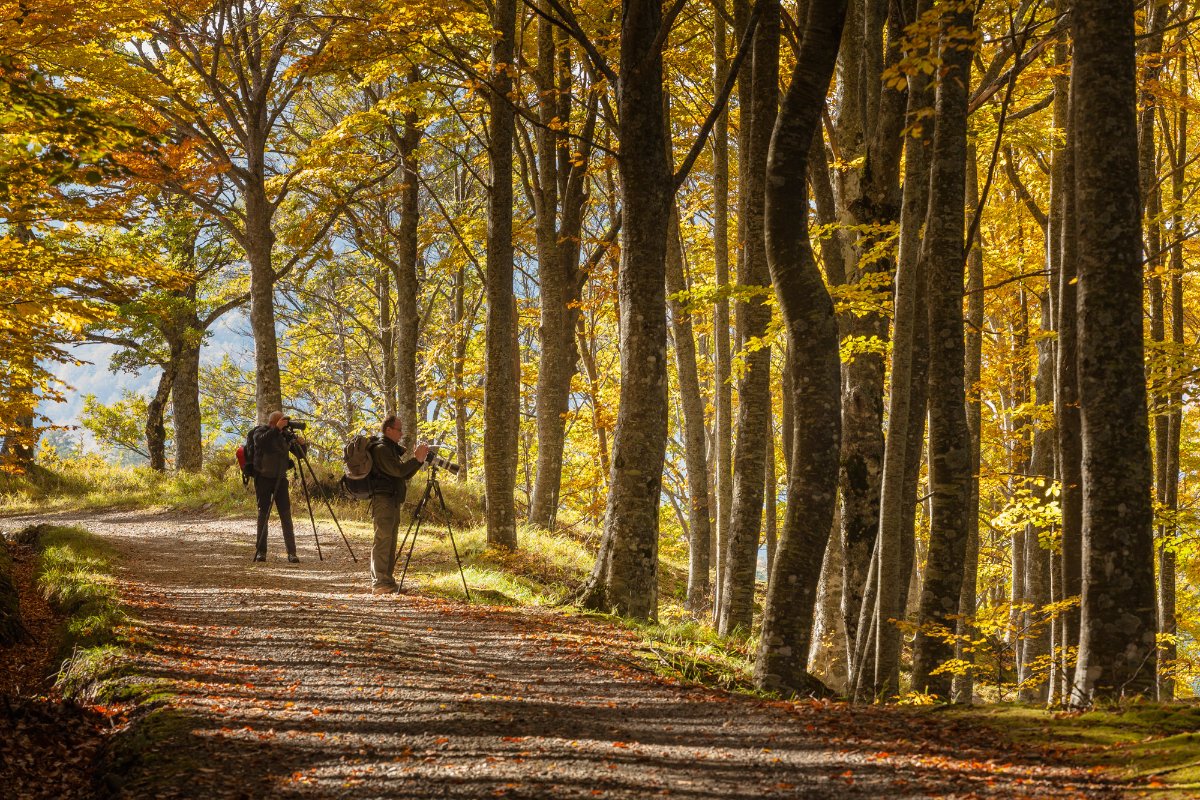 Trekking in the Apennines: the ninth leg
From Pracchia to Lago Scaffaiolo (20kms / 5 hours)
This is the first leg of the journey that touches the Upper Apennines. We soon leave the forests behind and find ourselves on higher altitude grassy slopes. The landscape is similar to the Apuane Alps in many respects which makes us feel closer to home. The famous Italian writer, Giovanni Boccaccio mentioned the village of Scafagiolo and its rich water natural springs in 'Trattato dei Laghi e dei Fumi'.

We set off from the town of Pracchia, all to aware of the steep climb that today's leg involves. We take the CAI 33 footpath which climbs up from behind the main piazza towards the Casa (709m) and then coasts the ridge which separates the wooded Orsigna and Maresca valleys.

We slow down a little as we walk through the stunning Teso Forest and a strong wind blows through the upper branches of the fir trees. From Casetta Pulledrari all the way to Montanaro Refuge the walk is steep and tiring. Luckily there are a lot of mushroom foragers in the woods who provide a distraction from the difficult climb. We stop for a moment at the refuge (only open on public holidays) and then set off again, this time leaving the woods and taking footpath 00 which goes along the ridge to Passo del Cancellino (1643m). The path continues to climb to Passo dello Strofinatoio (1847m) where years ago, mules smuggling contraband goods scraped through the narrow rocks either side of the path. We decide to leave our backpacks at the pass and climb up to Corno alle Scale.

Without any weight on our backs the climb seems easy and when we reach the top, the view is truly spectacular. We notice that the weather is changing and head back down to pick up our backpacks and continue on to today's goal. We go on for an hour on a path that takes us through grassy fields high up on the slopes and which ends at the lake. We arrive at Refuge Duca degli Abruzzi in thick fog and strong wind and discover, to our horror, that the owners are out and shopping in the valley. We walk around the lake and then notice a small hut with an iron door closed with an unlocked chain. By this time the wind is whipping up a storm so we take refuge in the hut and find candles, a tin of tuna, a gas stove and bunk beds. In the end it's the weather that makes the decision for us and we spend the night in the hut, feeling very lucky to have found a protected place to stay, no matter how basic.


You might also be interested in