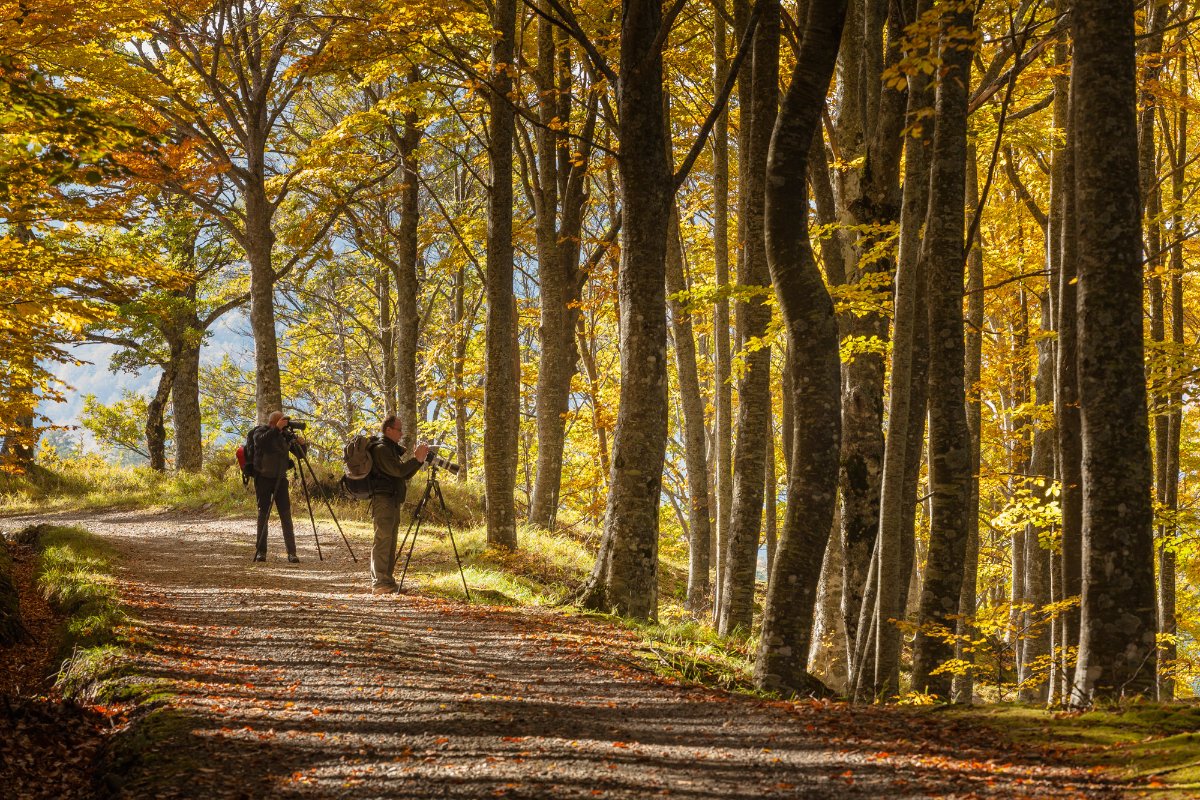 Trekking in the Apennines: the eighth leg
From Monte delle Scalette to Lentula
There's a violent storm during the night and we leave the campsite in the morning a little damp. By now, on this eighth day of our journey, we are really getting into good walking rhythm. As a game, we try to guess the origins of the names of the towns and villages that we have passed through. We have a bit of trouble finding the start of the 00 footpath but eventually find it 2kms down from the Passo along an asphalted road that leads to Poggiolino. The path travels along the edge of the woods on Mount Citerna. There are a lot of streams and water ways on these slopes and many streams cross the footpath, making it muddy and quite hard going. We can see a lot of horse shoe imprints and also (sadly) track marks made by trial motorbikes. We have to be careful to stay on the path as the signs are often covered by the thick vegetation and broken branches.

The path becomes a little easier to follow in Poggio di Giogana which we reach after one hour. Here, the path widens into a dirt track, becomes more level and is surrounded on each side by woodland. We see a few broken down farm houses which are the only sign that anyone has ever lived in this area, which now seems so completely given over to nature. Towards Poggio dei Prati and Poggio di Mezzana the CAI Prato signposting of footpaths becomes much clearer and takes us all the way to the crossroads with the main road that goes to Vernio. After a short walk on the asphalted road, we get back onto the 00 footpath and proudly take on the steep climb up to Poggio di Petto (1121m). The mud and the steepness of the slope mean that for much of the climb we have to hang on to roots and trees to make it up. We soon come across a more well-cleared path near the Alpine Refuge which makes us think that this route must be more frequented than the first part of our walk today.

We find the Fonte dei Monaci, a natural spring of fresh water. We take a long, refreshing drink and then cross the great arch of the ridge which goes to Mount Scalette. The route goes down to the town of Fossato where we arrive very tired at about 5pm. The town's small church, which looks over the valley, is a must for visitors. We chat with the locals and decide to carry on a little further to the town of Lentula where we can meet Goffredo, an expert on the area's footpaths. In the end, Goffredo not only gives us some suggestions for the next day, but also offers us dinner and a place to stay for the night.
You might also be interested in