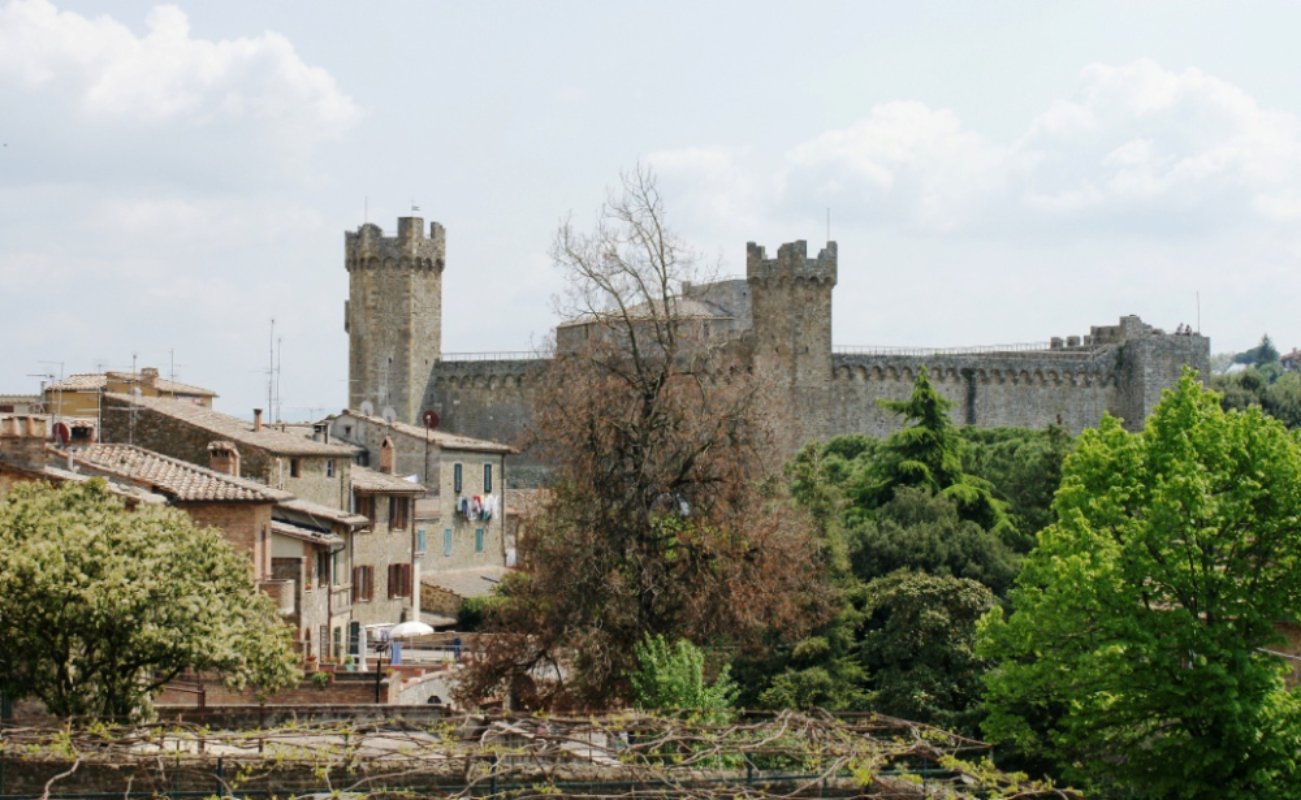 Travelling back to the Sienese Renaissance
Art tours around Siena
Sienese itineraries that, touching upon museums, skirt age-old churches, fortresses, magnificent buildings and hills of a land that resembles an outdoor museum.

Siena vs Florence: borderlands and fortresses in Val d'Elsa - Monteriggioni, Staggia, Colle di Val d'Elsa, Poggibonsi, San Gimignano
Travelling along the old Via Francigena, the numerous fortifications convey to you the change in defensive structures following the new usage of firearms: from basic bastions of Siena-owned Monteriggioni to the imposing walls of Staggia and Colle di Val d'Elsa and the grandiose Fortezza di Poggio Imperiale in Poggibonsi, built according to the plans devised by Giuliano da Sangallo upon the wishes of Lorenzo de' Medici. The itinerary offers extraordinary masterpieces: in Badia a Isola (Monteriggioni), you can admire the monumental altar piece by Sano di Pietro, which still dominates the lovely medieval church; in Staggia, check out the masterpiece by a young Antonio del Pollaiolo; finally, in San Gimignano, you can get to know details of two pictorial and cultural worlds thanks to works by Sienese and Florentine schools.

Saints and civic identity in the Sienese Quattrocento - Buonconvento, Asciano
An area of special interest in the two museums of Crete is the frequent and earnest representation of two new Sienese saints, San Bernardino and Santa Caterina, during the fifteenth century. Furthermore, the fifteenth-century fortune of fourteenth-century iconographic prototypes, of a sacred nature yet associated with civic identity, is documented in the Palazzo Corboli Museum in Asciano with works by Pietro di Giovanni Ambrosi and Giovanni di Paolo.

Painted sculpture - Montalcino, Pienza, Castiglione d'Orcia
The tour offer more depth about painted sculpture, starting in Montalcino Museum, which is home to wooden figures by remarkable quality by Francesco di Valdambrino. Then head for Castiglione d'Orcia to admire the panels by Vecchietta and Giovanni di Paolo in the Sala d'Arte. Continue to Renaissance Pienza, where the Diocesan Museum offers works by engraver Domenico di Niccolò "dei cori".

Pienza and Montepulciano: 2 Renaissance towns - Montepulciano, Pienza, San Quirico d'Orcia
Pienza, with its cathedral and treasures in the Diocesan Museum, is the centrepoint that then takes you by the hand to explore the town designed by Bernardo Rossellino for Pope Pius II and which also expands to include the nearby village of San Quirico d'Orcia to admire the large altar piece by Sano di Pietro in the Collegiata. The other stop is the Renaissance town of Montepulciano, where visitors follows in the footsteps of the Florentine architecture and sculptor Michelozzo: Donatello's  "companion," who designed the church of Sant'Agostino and the beautiful statues in the cathedral, which belonged to the burial monument of Bartolomeo Aragazzi.
You might also be interested in