Discover the Francigena Toscana along the biking itinerary
The Via Francigena by bicycle

by Alberto Conte
The Via Francigena is mostly known as a walking itinerary, but is it possible to ride it by bicycle too? The answer is yes, if you are farsighted and pick a suitable itinerary and bike and get proper training. I recently designed and traced the biking itinerary from the Gran San Bernardo Pass to Rome.
It is a composite path, mostly using secondary paved roads, unpaved roads that are not too bumpy and – when available – bike and walk paths.
[The Tuscan section of the Via Francigena by bike consists of 8 legs, each approximately 50 km long.]
The itinerary is fit for a hybrid bicycle with panniers and presents no need to lift it or get off and push it. The bike path is generally separate from the walking path; they have some passages in common (less than 50%) and they always meet at stage stops. One stage of the bike path is usually as long as two walking stages, so 35 to 55 km (roughly 22 to 34 miles) a day.
Talking about difficulty, the path has two main parts: average to easy form the Gran San Bernardo Pass to Fidenza, almost completely flat or with minimal elevation gains, and average-challenging from Fidenza to Rome. More than the Cisa Pass, definitely challenging with over 1,000 m (3,400 ft) of total gain, the highest difficulty could be the constant ups-and-downs of the Siena province hills, that force walkers to keep changing pace and present several climbs with a 10% grade or more.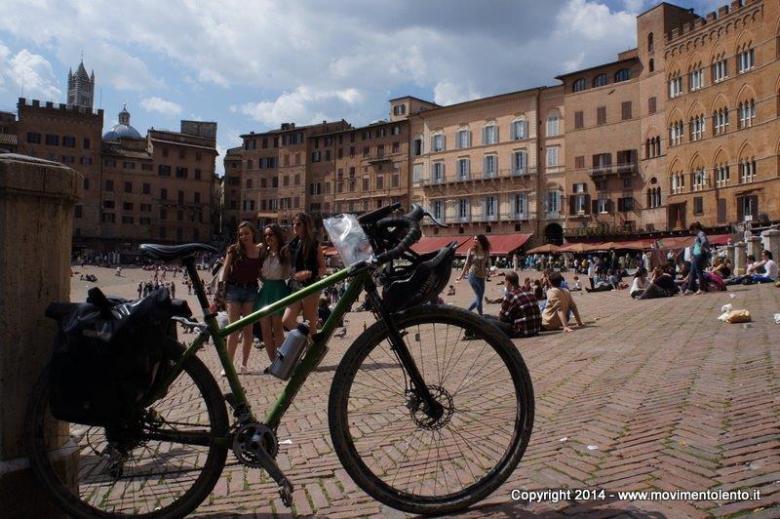 The Tuscan section of the path is particularly beautiful, varied and interesting: from the Cisa Pass it gets across the Lunigiana on a comfortable asphalt road on the right of river Magra. In Aulla a challenging hill has to be negotiated to get into regione Liguria and reach Sarzana, then get back into Tuscany in the Marina di Carrara area. From here you ride along the beautiful seaside bike path and, after a well-deserved swim, you leave the seaside and get to Pietrasanta, Camaiore and Lucca. From there, you basically follow the walking path until Altopascio, then leave it to ride on secondary roads touching San Miniato and Gambassi Terme then, after a long climb, you ride down into San Gimignano.
After this, you enter Val d'Elsa along a wonderful scenic path descending to Poggibonsi, where you ride along the bike path built on the old railway to Colle val d'Elsa. You then join the walking path again and follow it with few detours until Siena and from there to Buonconvento and San Quirico d'Orcia. From Bagno Vignoni you reach Radicofani along the nice paved road following one of the Via Francigena old branches, passing the Ospitaletto castle before you get to the Ghino di Tacco stronghold. From here you will join the old Cassia road again and follow it until Ponte a Rigo.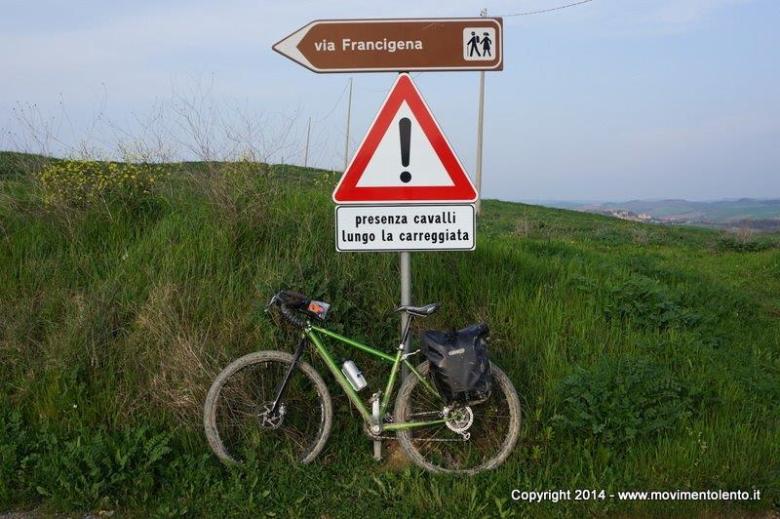 Maps and GPS tracks of this path are published on the Via Francigena official website, in the section dedicated to cycling. Good road to you!
You might also be interested in