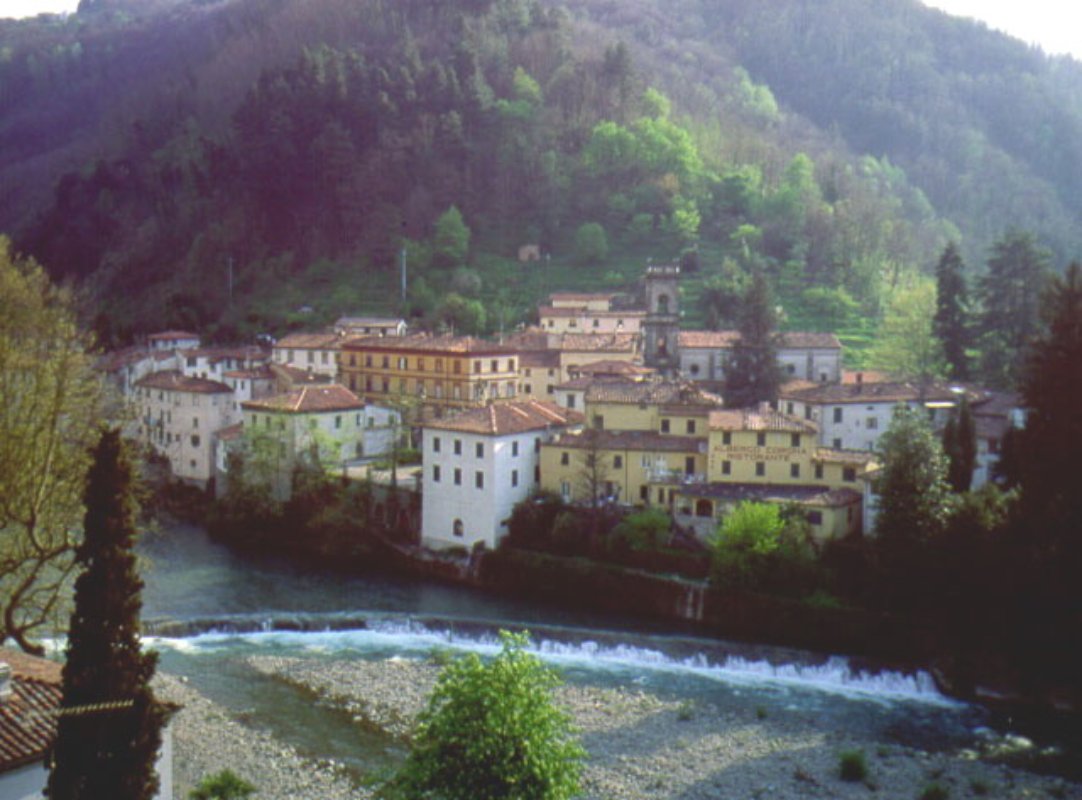 The Upper Plains of the Pizzorne
From Ponte a Moriano to Bagni di Lucca through the Serchio Valley
Far above the hills, villas and farms is a thick chestnut and conifer forest. This area is known as the Altopiano delle Pizzorne – the Upper Plains of the Pizzorne. This area is riddled with small towns with intricate, winding streets which used to be important resting points for wayfarers heading through the Apennine passes. The towns are all surrounded by pleasant ancient woodland and are home to numerous hermitages, hostels and churches.

This itinerary begins at the narrow entrance to the Serchio Valley and Ponte a Moriano.

Matraia
Matraia is famous for its stone which has been used in the construction of many of the lordly houses and churches in the Pizzorne area. This greyish sandstone has a good, clear tone and has been used throughout history in construction work and also for the detailed carvings on balconies, windows and doorways, despite the fact that it is highly susceptible to the elements.

Pietra Pertusa
From the top of this mountain its possible to see much of the gentle Apennines, as well as the harsher Apuan Alps, beyond the Pisan Mountains, and all the way to the sparkling Tirreno sea. Archaeological finds have revealed that this area was inhabited as far back as the Paleolithic era and a stone circle around two pilasters found in the ground here seems to resemble similar Celtic ritual sites found in other areas. Today, this mountain is often used as a launching spot by paragliding enthusiasts.

San Bartolomeo Hermitage
The Crocifisso Hermitage was built in the seventeenth century in order to house a crucifix which had been miraculously found in the woods. The hermitage is in fact surrounded by an ancient woodland of soaring oak trees. An enormous chestnut tree grows in the garden of what was first known as the Pizzorne Inn, and then Villa Poschi, before it was destroyed by the Germans in the Second World War.

Boveglio
The chapel of Pancina is one of the most interesting chapels in and around the town of Boveglio. The chapel, the fountain in the town square and the baptismal font in the church of San Jacopo e Ginesio all have Bove bas-relief decorations.

Benabbio
Michel de Montaigne stopped here in 1581 and described a 'beautiful and large village'. During the fourteenth century the Lupari family were lords of a vast territory which also included the castle, although they gradually lost money and were forced to flee to Bologna. The church of Santa Maria Assunta in the town is home to a wonderful triptych by Baldassare di Biagio which dates back to 1469.

This itinerary ends at Bagni di Lucca.

How to get to Bagni di Lucca from Matraia
Go up through the Pizzorne hills from Ponte Moriano and then down towards the Pescia di Collodi Valley. Leave the road at Pracando and continue up towards Altopiano, following signs to Boveglio and Benabbio. Finally, head down to the Lima Valley and Bagni di Lucca.
You might also be interested in