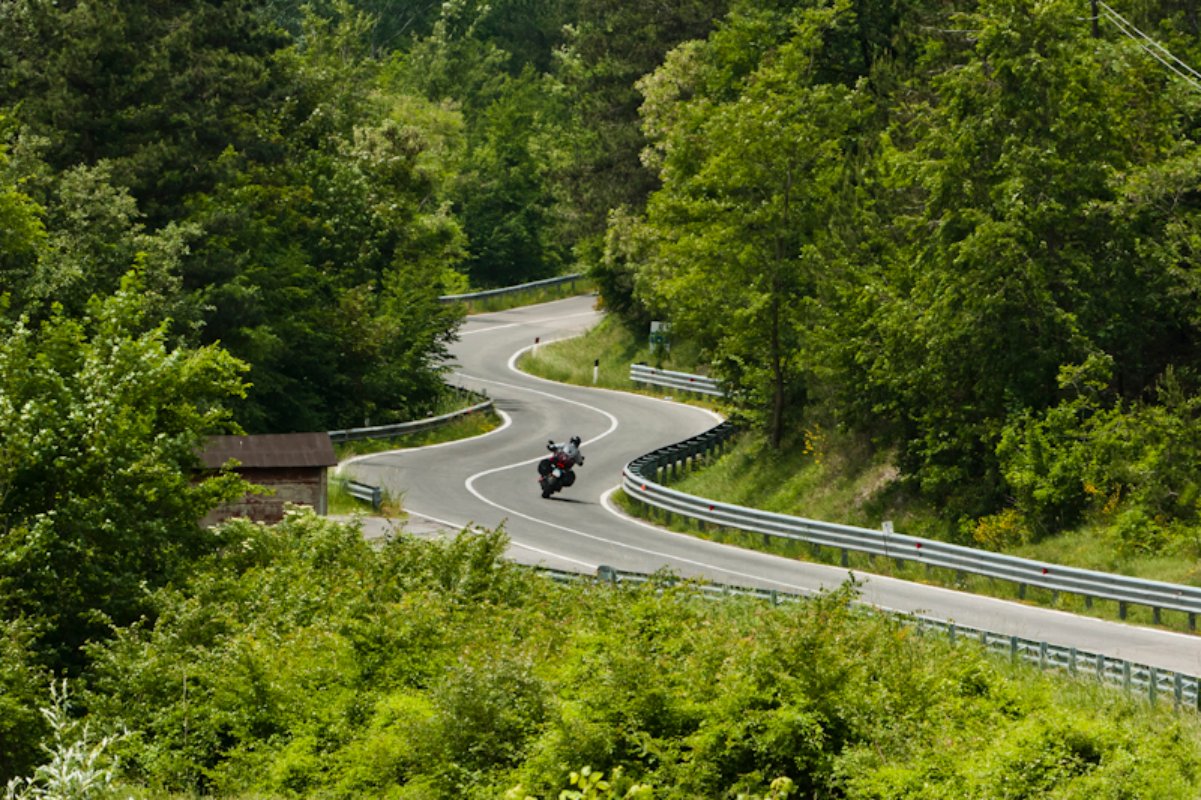 Ride the Appenines near Arezzo on a motorcycle
Food and culture worth experiencing
Traveling between Tuscany and Marche, here's an itinerary full of curves and hills that will take you on a cultural and gastronomic tour. Drive, see and learn - that's the best way to travel.
Departure/arrival: from Sansepolcro to Sansepolcro
Distance: 215km 
Duration: 2/3 days
Kind of road: mixed, hills and mountains
Province: Arezzo
Set your gps: Sansepolcro, San Pietro in Villa, Pieve Santo Stefano, Chiusi della Verna, Bibbiena, Subbiano, Anghiari, Monterchi, San Giustino, Borgo Pace, Badia Tedalda, Sansepolcro
With San Pietro Villa on your GPS, head out on the SS33bis. In Madonnuccia your will catch a glimpse of Montedoglio, an artificial lake which serves to regulate the flow of the Tiber. Pieve Santo Stefano was destroyed and rebuilt in the second world war; stop in Mignano, especially if you're there in July for the Festa Mignano 1499 (a historic re-enactment). Chiusi della Verna is the next stop after driving along SP208. It lies between Valdarno and Val Tiberina. Make sure you visit La Verna sanctuary, where Saint Francis received the stigmata in 1224. Heading downhill, stop in Bibbiena, at the Torre dei Taralati where a local rivalry divides the town. Then head down the SR71 towards the city of gold, Arezzo, which is worth visiting. Head off back into the hills along SP43 towards the Scheggia Pass and soon you will be back in the Val Tiberina. Anghiari, the Renaissance city famous for its crafts and cooking, boasts the Market of Artisan crafts and the Bringoli festival. Bringoli are spaghetti made just with flour and water and served with mushrooms and meat. The walled town of Monterchi protects the frescoes of Piero della Francesca which are an emotionally riveting visit. Visit Castello Bufalini in San Giustino, which is part of the geometrically challenging road known as Bocca Trabaria: it has recently been restored to bikers after a landslide. Heading over the pass, with all its curves, is a true bikers' dream. Lamoli offers us a chance to visit the Benedictine Abbey and the Panzanella festival, In the Marche we drive through the Riserva Naturale dell'Alpe di Luna and stop to enjoy some truffles from Sant'Angelo in Vado. Turn left at Borgo Pace: this road might not be the best but it leads to Badia Tedalda, which is the last pass, and a famous meeting point for bikers. Between here and Sansepolcro is the Viamaggio Pass - an exciting but dangerous road. Be careful!
You might also be interested in