Pedalling in the Mugello: the Vetta Le Croci by bike
Mugello has a climb - and verdant panoramas - for every kind of cyclist
Are you a lover of sport and nature? If so, this route through the greenery of Mugello is the one for you. Taking Borgo San Lorenzo as your starting point, you will cross some of the most stunning landscapes in Tuscany.
First Stage
The climb towards La Vetta
From Borgo San Lorenzo, head towards Florence by following the Via Faentina (Main Road 302). After crossing the bridge across the River Sieve, take the left-hand turn-off towards Salaiole-Ponte a Vicchio, and head towards Serravella (approx. 3km) which follows a gentle slope. Pass the turn-offs for San Piero a Sieve and Strada Regionale 65 and continue in the direction of Faltona. For around 6km, the road continues to head uphill gently, alternating between long gradual inclines and shorter downhill stretches. There is only one short, sharp section (roughly 300m), in close proximity to an industrial plant. At the 9km mark, the route begins to climb. Shortly after this point, a wide curve which bears right leads towards the village of Polcanto where the road becomes significantly steeper (approx. 5% gradient). After passing Polcanto and the turn off for Salaiole, you'll come to the most challenging stretch of the route (around 300m climb with a 6% gradient) which will bring you to the village of Mulinaccio. After Mulinaccio, the road becomes easier again for the final 3km of the route, on the approach to your final destination, Vetta le Croci (518m above sea level).
ALTERNATIVE ROUTE: SALAIOLE
After crossing the bridge upon leaving Borgo San Lorenzo, bear left for Sagginale, following the SP 41. After just 100m, take the right-hand turn off for Salaiole, along a track which is fairly narrow and uneven. The next 5km of the route on the approach to Salaiole present little difficulty. Coming out of the village, there is a steep and very challenging climb for 1.5km, with stretches whose gradients vary between 12% and 16% inclines. Once you reach the top of this section, you will rejoin the main route after Polcanto.
For an alternative circular route, you will need to bear right towards Vaglia-Bivigliano immediately after a junction, following this route until you come to the crossroads in Casa al Vento. From here, you can head downhill into Pratolino, or continue towards Bivigliano. On both routes, you descend into Vaglia and then turn back to Borgo San Lorenzo, following the Strada Regionale 65, which draws the 40km-round trip to a close.
You might also be interested in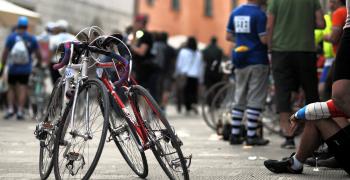 directions_bike
Learn more
Cycling
Cycling is the best way to delve deep into the soul of a territory. It allows you to reach the most beautiful places by taking the less-travelled
continue...