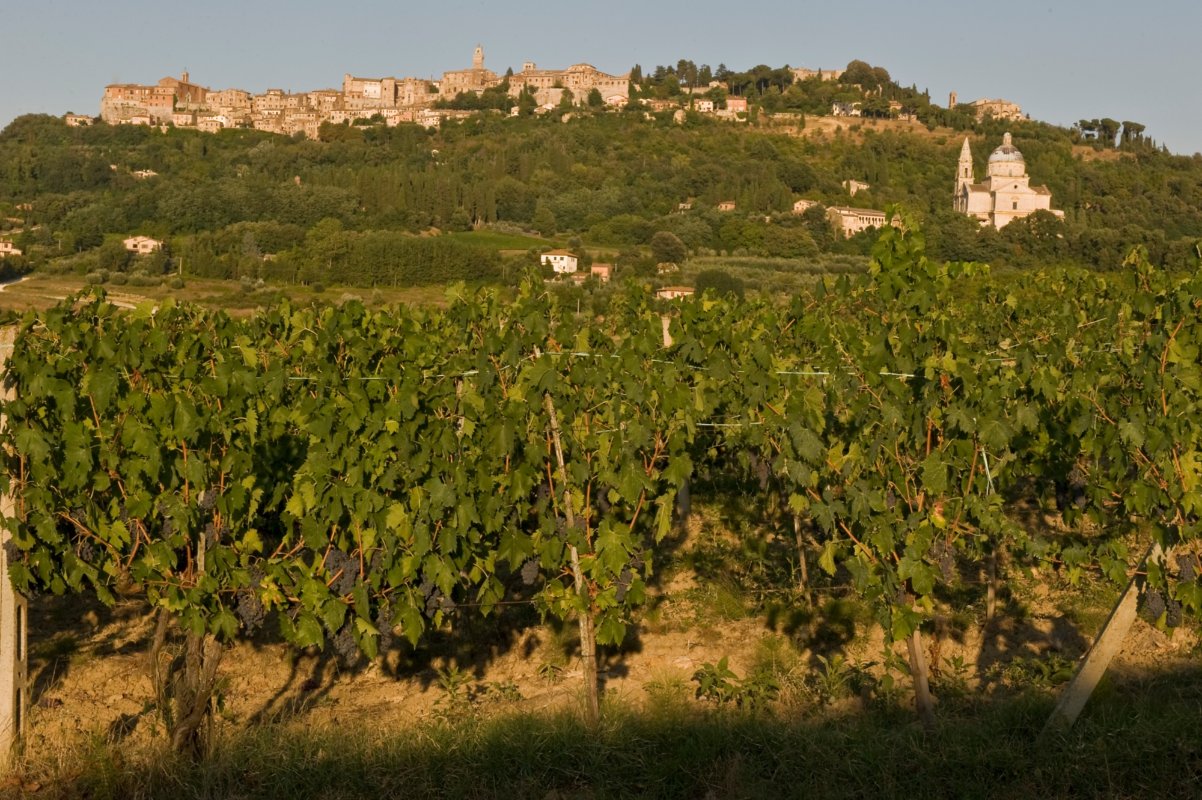 Photo ©
Consorzio Vino Nobile di Montepulciano
Montepulciano Wine and Valdichiana Senese Trail
Where history and wine combine
The Valdichiana is a land of blurred borders but with a uniquely defined identity. The scenery surrounding the seventeenth-century "Leopoldine" farmsteads and the old villages that stand on hilltops have become the symbols of this territory. There are 10 principal towns: Cetona, Chianciano Terme, Chiusi, Montepulciano, Pienza, San Casciano dei Bagni, Sarteano, Sinalunga, Torrita di Siena and Trequanda.
The Strada del Vino Nobile di Montepulciano e dei Sapori della Valdichiana Senese connects all ten of these towns, promoting culture, typical products, natural and historic attractions. It is a road with typical flavors worth tasting, a time out bathing in thermal waters, a journey to discover Vino Nobile and its producers in the cellars carved into the rock and tufa, and a time of rest and relaxation surrounded by singular art and unforgettable views.
The Montepulciano area is famous for producing Vino Nobile di Montepulciano DOCG, a fine wine that is among the oldest in Italy. Other appellations promoted and protected by the Consortium are Rosso di Montepulciano DOC and Vinsanto di Montepulciano DOC. Extra-virgin olive oil is important too; DOP Terre di Siena is the most common.
Other food products: Pienza pecorino cheese, Chianina meat, Cinta Senese cured meats.
Traditional recipes: pici (handmade pasta), ribollita (vegetable and bean soup) and desserts (cantucci, panforte and pan co'santi).
The Strada del Vino Nobile e dei Sapori della Valdichiana Senese recommends a range of themed tours: Wine, Art and Culture, Typical Products, Nature and Spa Experiences, Film Sets and Activities like cooking classes. The Valdichiana Senese is perfect for hotel and farm holidays and every town is a great place to start exploring not just Tuscany (Val d'Orcia, Crete and Monte Amiata) but also Umbria and Northern Lazio.
Info Point and Exhibition Center
The operational headquarters of the Strada del Vino Nobile di Montepulciano e dei Sapori della Valdichiana Senese is the info point in Palazzo del Capitano in Piazza Grande, 7, Montepulciano. Open year round, the office provides information and a complimentary last-minute free booking service as well as a wide selection of tours and experiences to discover the area.
You might also be interested in
&
Wine and Olive Oil Roads