In the Candia hills, among nature and wine
On the trail of Bacchus
The Candia Hills offer some exceptional views over the Apuan Alps national park and the Tuscan coastline. For this reason, we recommend discovering this area from the saddle of a bicycle, and taking the opportunity to try the local wine—a good Vermentino DOC from Candia.
Some of the province's most famous wines, in fact, are produced in the territory between Massa, Carrara and Montignoso, They make a perfect accompaniment to the typical fruits of the local cuisine, like Colonnata lard and rice cakes.
First Stage
The church of San Vitale, Mirteto
Start in Massa's Piazza Aranci and cycle towards largo Matteotti, down via Pacinotti, turn right onto viale Trieste proceed along via Foce. Once in Mireto, follow signs for Pieve di San Vitale by going down the street of the same name. The church of San Vitale, whose origins are older than its Renaissance architecture, is home to some important works of art: an Annunciation, a piece of fifteenth-century sculpture, a marble tabernacle with a Madonna and Child and a statue of Saint Rocco datable between the fourteenth and fifteenth centuries.
Second Stage
The road back to Massa
Once in Piazza della Libertà, take a left and then an immediate right onto via Ponte del Vescovo. You pass a small bridge and then find yourself in via dell'Uva: you immediately face a difficult uphill section, but the remaining 3 kilometres are easier. There is a restaurant, and the gravel road begins a kilometre further on. After 800 metres, you take the right-hand turn at a fork in the road, and proceed for 3 km before reaching via Foce, which curves right on the home stretch to Massa.

Here, you can allow yourself a pause for a snack and sample some of the area's traditional recipes. The torta cybea that one finds in Massa, for example, is a chestnut-based cake, while the torta di riso is instead based on egg, rice, milk and alcohol.
You might also be interested in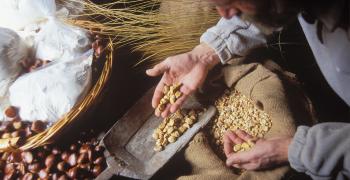 Learn more
Food and Wine
Olive oil, wine, truffle and other culinary delights make up the excellence of Tuscan gastronomy.
continue...