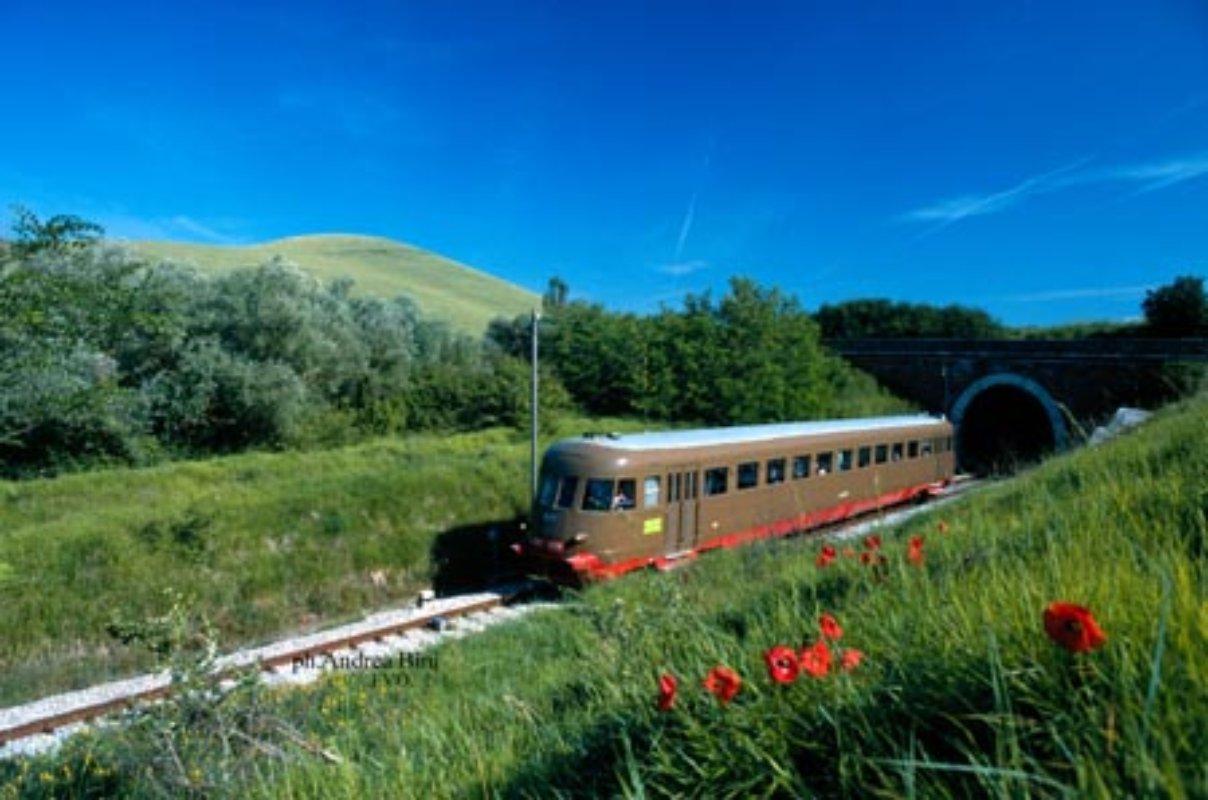 L'anello escursionistico di Montalceto - Torreccia
Camminare con il treno nelle Crete Senesi
PERCORSOLocalità di partenza:
Montalceto, stazione ferroviaria
Località di arrivo:
Montalceto
Durata:
2 ore
Una nuova forma di escursionismo per meravigliarsi dei capolavori della natura, utilizzando il treno come mezzo di trasporto, così per evitare spostamenti con l'auto e rispettando l'ambiente.
Un mezzo di trasporto che non sempre teniamo in considerazione per i nostri itinerari, ma che ci consente una migliore opportunità per la scoperta, la conoscenza, la conservazione e la valorizzazione del patrimonio culturale e naturale. La valorizzazione delle linee ferroviarie turistiche tende a recuperare i tracciati dei binari del passato che sono stati abbandonati, per ritrovare quei luoghi di alta valenza paesaggistica, artistica e ambientale, non semrpe ben raggiungibili.
Il viaggio inizia già dalla partenza del treno vedendo attraverso i finestrini e ad una velocità ridotta panorami che non potresti godere ed osservare attentamente dalla macchina. Alla fermata ferroviaria si continua a piedi o in bicicletta, accanto a questo recupero vengono realizzati piste ciclo-pedonali da percorrere sia per gli appassionati delle due ruote o degli amanti del trekking.
Sia adulti che bambini scopriranno da questo mezzo un nuovo modo di viaggiare, per vivere i paesaggi da un altro punto  di  vista e potersi ancora emozionare.
Dalla fermata ferroviaria di
Montalceto
si risale alle case di
Aia Vecchia
per circa 500 metri e si prosegue fino a
Poggio Pinci.
Nel borgo si prende la stradina sula destra, proseguendo in questa direzione arrivati ad un capitello si gira di nuovo sulla destra per  una carrareccia in salita.
Ad 1 chilometro prima di Poggio Pinci si arriva ad un bivio dal quale ci si dirige verso sinistra fino al colmo del colle dove attraverso un sentiero si attraversa un fitto bosco fino alla
torre di Sant'Alberto
. Da qui si gode un panorama unico, spaziando dal Monte Amiata ad Asciano , dall'altro lato appare Lucignano della Chiana e San Giminianello e verso sud Trequanda, Petrio e Pienza.
Ritornando al bivio precedente si continua verso sinistra per arrivare al
Podere Ripa
e poi proseguendo fino a
Trequanda
. Si avanza a destra e poco dopo si ritrova
Aia Vecchia
e si ritorna alla fermata di
Montalceto.
Contatti:Treno natura APT Siena informazioni e servizi turistici
0577 280551
www.terresiena.it
Biglietterie ferrovie Val d'Orcia
0577 207413
Crete Senesi
A trip to the Crete Senesi has the flavour of a daydream with your feet placed firmly on the ground. The Crete Senesi is a voyage for the soul, an itinerary of discovery to be followed with the same spirit as the Grand Tour. ...
Scopri Crete Senesikeyboard_backspace