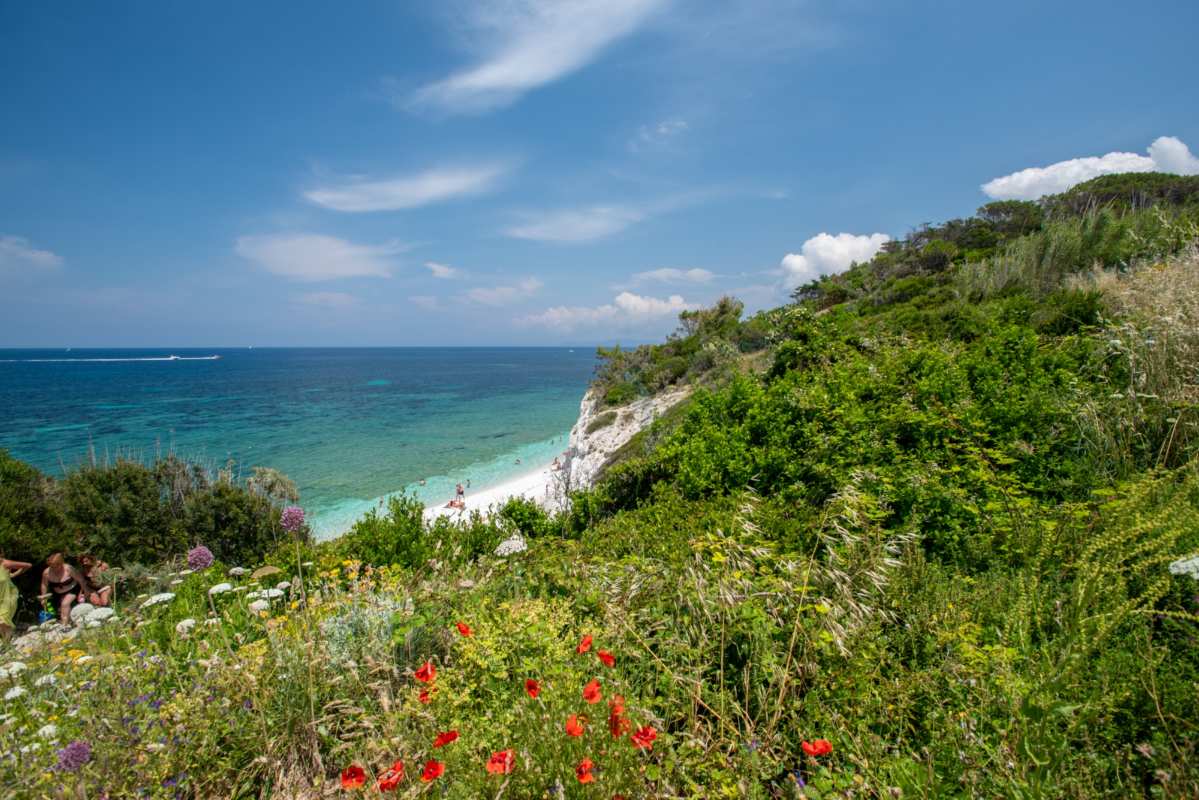 Discover western Elba by bike
Cycle past beautiful seaside views in Elba island
A challenging route, ideal for well-trained cyclists, which encompasses a series of hills as well as magnificent views over Elba and the sea.

The route does not have any particularly difficult climbs, but is very undulating. There are plenty of opportunities to rest and refill your water bottles.
Point of arrival and departure: Portoferraio
Distance: 76.7 km
Total climb: around 1.310 m
Altitude: min. 1 – max. 370
Road surface: asphalt
Difficulty: challenging

Start from Portoferraio, following signs for Porto Azzurro. At the third roundabout turn left towards Baia di Portoferraio, passing by Terme di San Giovanni. After a short uphill stretch you will arrive at the Roman archaeological site at Villa delle Grotte, where you can see a beautiful panorama over Portoferraio. Head slightly downhill past the junction for Bagnaia (on the left) and follow signs for Porto Azzurro.

The road skirts the Acquabona golf course, and at the Lacona junction turn right. Shortly after this you will find yourself cycling along the coast for around 3km, with a beautiful view over the Stella Gulf. At the junction, turn left towards the campsite and the Gulf of Lancona, following signs for Marina di Campo.

Shortly after, the 2km climb towards Passo del Monumento begins. The road then heads downhill towards Marina di Campo. After the bridge, continue along the main road until a roundabout. Keep left, following signs for Cavoli, and cycle through the village of Marina di Campo (22.2 km).

After Colle Palombaia the route runs along the coast once more, including a particularly beautiful stretch along the beaches of Cavoli, Seccheto and Fetovaia. At this point the road follows the western coast of Elba, and you can visit Pomonte and Chiessi before admiring the spectacular views from the Punta Nera hairpin bend.

From here, the 12km climb to Marciana begins, which passes through Colle d'Orano and Zanca, which has beautiful views over the bay of Sant'Andrea. After Campo al Castagno the road heads inland towards Marciana (48.6 km). At the junction after the town, and near the parking lot, turn right towards Poggio. After around 1.3 km you will pass the Fonte Napoleone on your right, a water spring where you can re-fill your water bottles. From Poggio head downhill to Marciana Marina (56.8 km) and the coast.

After Marciana Marina, pass by Punta della Crocetta and head towards the Gulf of Procchio (64.3 km). From here, head uphill once again, following signs for Portoferraio. After around 4km you will reach Colle Pecoano, and from here the road is mostly flat and easy until the Biodola junction (on the left), where you should head downhill to Portoferraio (76.7 km).
You might also be interested in