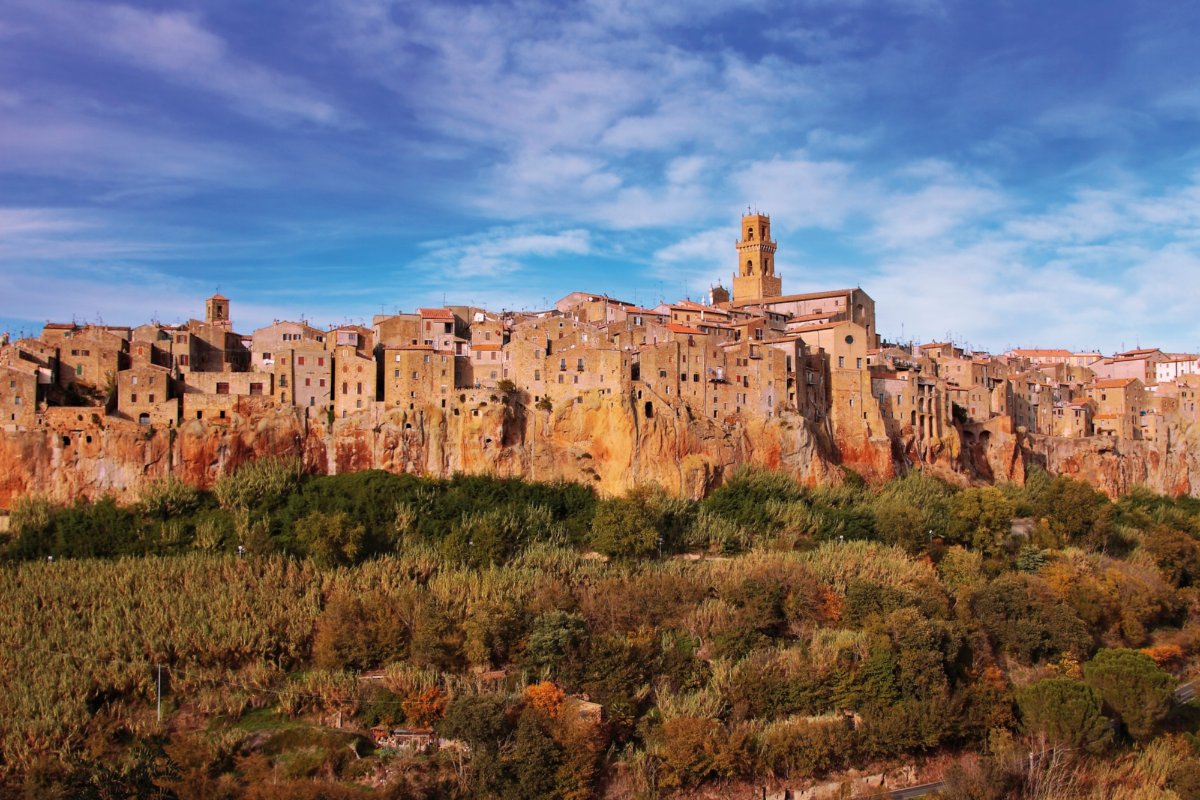 Cycling the Tufo Cities
Exploring the centers of Sorano, Pitigliano and Sovrana
Cyclists prepared to enjoy this interesting itinerary should plan to spend the entire day out, considering that the urban areas of Sorano, Pitigliano and Sovana deserve lengthy visits. Cyclists should be well-trained because of this trail's length and slope changes. Though its slopes are not particularly steep, the trail does require prolonged effort, especially during the second half of the journey.

ROUTE
Departure/arrival point: Santa Fiora
Difficulty: Difficult
Road type: Asphalt
Length: 100 km
Incline: 1420 m

From Piazza Santa Fiora, go right toward Selvia-Sorano along the S.P. 4. Take a downhill ride for 4 km until you reach a bridge that will lead you toward the main road in the direction of Selva. Once you've rode past Selva, continue for 5.5 km, turning right at the junction that leads to Selvenza. Proceed downhill, following the S.P. 34 until you reach Elmo. From there, you'll continue toward the Lente River Valley, following signage for Sorano, along the S.P. 22. The town is 1 km past the bridge that crosses the Lente River. In the piazza/parking lot, you'll find signage for Pitigliano on your right. Go along the S.P. 4 until you reach this lovely town which seems to emerge from an imposing tuff base.

Next, cyclists will want to continue downhill toward Albinia for approximately 700 meters until reaching an unmistakable switchback on the left. If you go right, you'll reach the S.P. 46 toward Sovana. The town's Etruscan metropolis is certainly worth a visit. From Sovana, go in the direction of San Martino sul Fiora: you'll pass two bridges (the Lente Bridge and the Fiora River Bridge). After an uphill journey (4 km), go toward San Martino and the Amiata. Once you've reached the Catabbio curve, you'll come to an intersection. By going left you can take a detour through Saturnia (9 km) to visit its renowned thermal baths. Otherwise, continue going right along the S.P. 10 toward Semproniano. This leisurely segment will last about 5.5 km. Next, stay left, following signage for Monte Amiata, Arcidosso and Roccalbegna. Once you reach Petricci, you should expect a simple trek toward Triana, where you'll want to turn right and follow the S.P. 160 toward Arcidosso. This curvy road (about 2.3 kms long) will take you toward the Upper Fiora Valley.
You might also be interested in