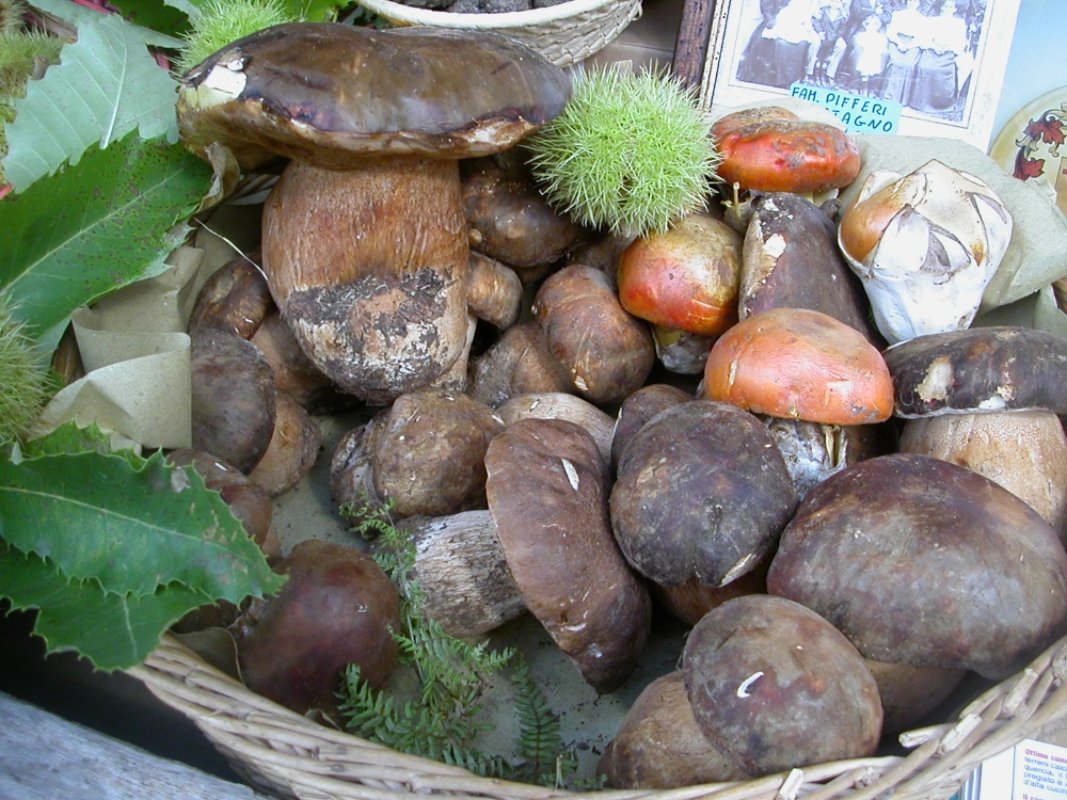 Casentino food
Discover places rich in history, tradition and excellent gastronomy
The Casentino region has long held man in awe, with its landscape resembling a vast natural amphitheatre backing onto the spine of the impressive Pratomagno, Mount Falterona and Catenaria mountains. The region's 'Strada dei Sapori', or culinary route, takes visitors on a tour of the valley's most important places of interest.

RASSINA
We begin the tour in the south of the region. Go along the SR71 road to Rassina and then take a left towards the Socana church. This church is the first stop on the tour and is architecturally very interesting. It is home to the remains of a sacrificial Etruscan ruin. Not far from here is the pretty small town of Talla. Talla has an interesting museum in the house where Guido Monaco was born and also an important medieval music documentation centre. Return to the SR71 road and head to Bibbiena. This town has many medieval and Renaissance architectural features.
CHESTNUTS
The culinary route continues to the west and passes though Ortignano-Raggiolo, where there is a chestnut museum. Chestnuts have long been an essential part of the local economy as they can be turned into sweet flour and made into 'castagnaccio' and sweet polenta which is delicious with ricotta. Now the route goes north toward Poppi where an imposing ancient castle built by the Conti Guidi family looms over the surrounding countryside. Other points of interest on the route are the San Niccolò castle and Montemignaio in the far western part of the region. The ruins of San Niccolò castle are near the pretty San Martino a Vado church. Montemignaio is a small hamlet surrounded by woodland where mushrooms are harvested.

PRATOVECCHIO
The tour proceeds along the upper Arno valley to Pratovecchio, which is close to the beautiful Romena church – a jewel of Romanesque architecture which is situated near the evocative ruins of the Romena castle.
STIA
The town of Stia is home to the famous Tanucci Square where you'll find the Santa Maria Assunta church. From here, go back to the main road and continue south to Camaldoli, a fundamental stop on any tour of Casentino. This town is surrounded by the ancient woodland of the Casentino: the Mount Falterona Campigna Forest National Park. Camaldoli is one of the most important spiritual centres in Tuscany and is linked to Saint Romualdo. La Verna is famous for being the mountain of Saint Francis and here its possible to see some splendid glazed terracotta works by Andrea della Robbia. The return trip back to the bottom of the valley ends at Chitignano which is home to a gun powder and smuggling museum.
You might also be interested in