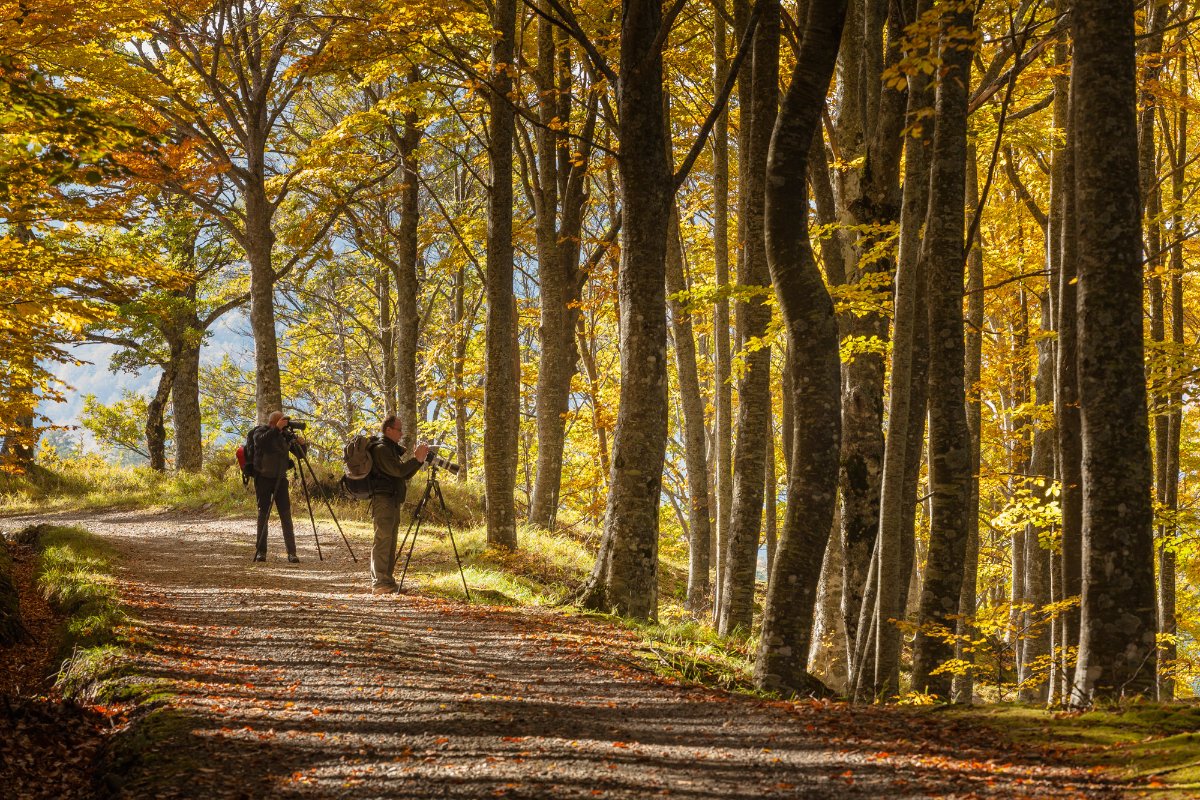 Amid the nature of the hills of Fiesole
Biking alongside cypress trees and white dry stone walls
A route for expert cyclists in the silence of the Tuscan countryside, along roads that curve between hills and olive groves a short distance from the city of Florence
ITINERARY
Point of departure/arrival
: Fiesole
Duration
: 5 hours
Distance
: 26.5 km
Total climb
: approx. 650 m
Road surface
: asphalt, unpaved
Recommended bike
: mountain bike
Head north along the road towards
Olmo,
turning off after about 3 km towards Baccano to the right towards
Compiobbi
. Follow signs for this place as far as
Montebeni.
Turn left for Ontignano. Leave the views of Florence behind you. There will be fewer and fewer houses, then head downhill between woods and olive groves as far as the
Romanesque church of S. Maria a Ontignano
and a few houses alongside it on one side.
After a few metres, you'll come across a gate on your right, a couple of tight bends, a steep downhill stretch and a little bridge over a stream,
the Sambre
, with its little waterfall and clear waters, which entice you into stopping. Change gears and short yet steep climbs will alternate with longer, flat stretches, the asphalt is replaced with a track and you become surrounded by wood. The city is close by but forgotten.
These are narrow tracks alongside cypress trees, dry stone white walls and an abandoned old house
(Noce Superiore). Cycle the last few short uphill parts then get your breath back on the flat (ignore the trails on your left), in preparation for the next ascent in some wonderful countryside.
The shade continues when you cross another stream. Then you'll come across another old house and the road curves by the hills and olive groves towards
Fattoria Paiatici
. Go past it under an archway and return to the asphalt. Continue along the narrow main road and turn left at the third hairpin bend, following signs for a cemetery. Having reached the church and the village of
San Donato a Torri,
next to a tabernacle, turn left along Via Valle. Continue for approximately 3 km, initially in the middle of countryside, then in shady woods, alongside
Borro delle Falle
before reaching Citerno.
Turn left at the crossroads, slightly uphill. The route will soon become a bit more challenging in cypress and deciduous woods, but it's worth it as you pass a farmhouse on your left and you're greeted by a wide, open plain, with rows of cypress and olive trees, depending on the season, with red poppies and yellow wheat. The road soon becomes a track again and you're surrounded by the silence and pureness of the Tuscan countryside a few kilometres from Florence.
You come across a farm and after a couple of kilometres, near a junction marked by a gate and a bay hedge, turn left for a short yet steep climb.
Monteloro
is on your right (it's worth cycling that far!) and surrounded by vines after a couple of kilometres of dirt track you'll meet the asphalt road. Turn left for
San Clemente
valley: it offers some unique scenery, a harmonious example of Florentine countryside with farmhouses, old farms and Renaissance villas, tower houses, olive groves, vines and cypress trees.
This is where Dante Alighieri
spent his summers in the company of Beatrice Portinari, plus this is where poet
Hermann Hesse
fell in love with Italy.
A few metres on turn right along a track for
Casale San Vincenzo
, surrounded by vines, leading to the wonderful
Villa il Poggiolo
. At the main road turn left, heading uphill slightly. You'll soon come across the church of
Pagnolle
on your left and, on the opposite side, after a series of stone arches, hidden among the olive trees, the Renaissance
Villa le Fonti
. At the next crossroads with signposts, carry straight on slightly uphill along via San Clemente in the opposite direction to Fiesole. Continue for about 5 km along this panoramic road, surrounded by nature and far away from traffic. You'll meet the main road again. Take the road that quickly leads to
Fiesole
.
You might also be interested in