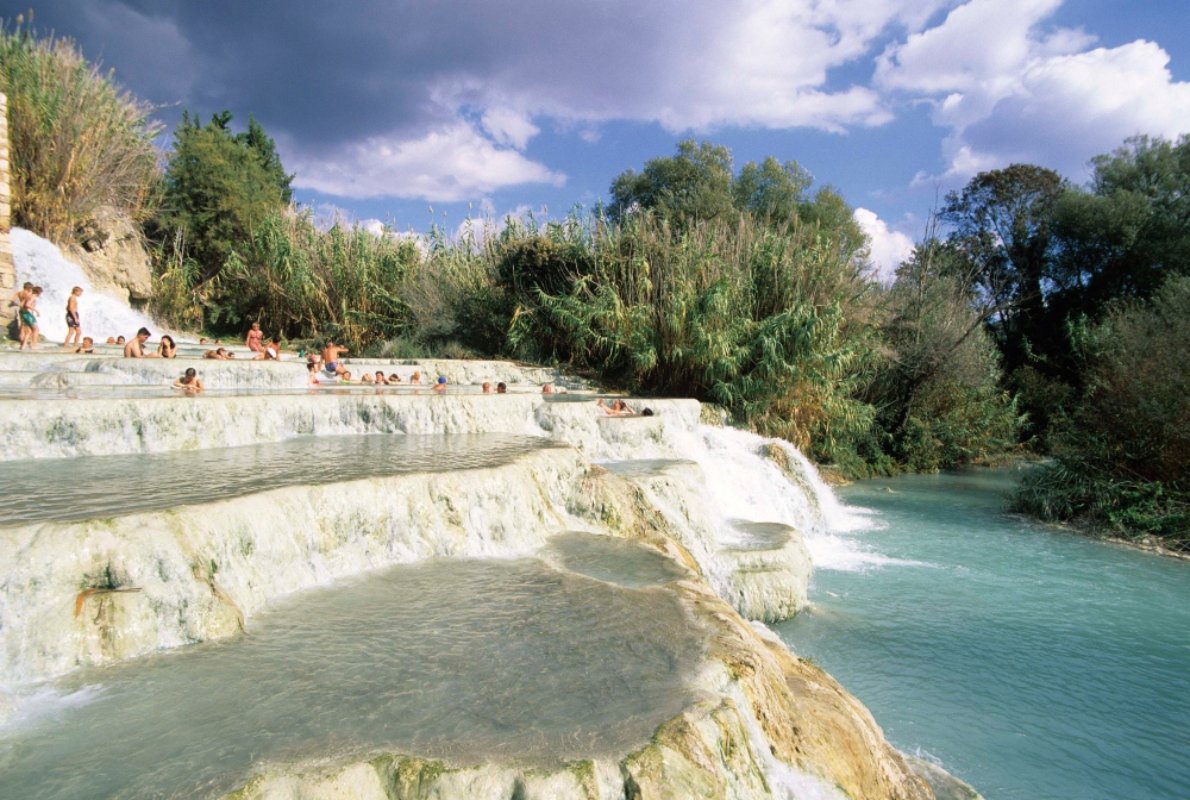 A ride along Via delle Terme in Amiata
Cyclists enjoy Manciano and its outskirts
Thanks to its brevity, this trail can be enjoyed by cyclists of all sorts, even those who are not excessively trained. Nonetheless, it's important to mention that the road linking Poggio Murella and the S.R. 74 going toward Manciano is a challenging uphill stretch along a compact gravel road (1.2 km). This gorgeous trail offers wonderful panoramas and it's perfect for visitors who will enjoy visiting the downtown areas of Tuscan hamlets like Manciano and Montemerano, as well as Saturnia and its renowned thermal baths.

ROUTE
Departure/arrival point: Manciano
Difficulty: Medium
Road type: Asphalt
Length: 37.2 km
Incline: 260 m

Leave from the center of Manciano and follow signage for Saturnia, as you go along the Via dell'Imposto. Turn left after 200 meters and proceed toward Saturnia along the S.P. 159. This gentle 3km road with many curves will lead you downhill toward Montemerano. Once there, continue along the S.P. 159, until you reach the crossroads leading to Saturnia (stay right). From here, cycle along the S.P. 10 toward the valley, where you can enjoy the area's thermal facilities. After about 3km, you'll reach a vantage point, with views of the area's waterfalls, on the left.

After stopping in Saturnia, you can continue your descent along the S.P. 10, which leads leftwards toward Catabbio. After about 2 km, the trails runs uphill, offering views of the valley. Once you've reached the hamlet of Poggio Capanne (20.6), continue along for about 300 meters where you'll find signage pointing to Poggio Murella. Proceed to the right along the S.P. 116, going downhill for about 500 meters until you reach a bridge. From there, you'll begin your uphill journey toward Poggio Murella. At the following crossroads, turn left to reach the center of this small, delightful hamlet (22.8). From here, continue straight on, following signage leading to the Pro Loco and 'Castellum Aquarum'.

You can leave the town by continuing past it, toward the cemetery. This downhill road offers scenic views of the hills surrounding Montemerano and Manciano. From this point on, the road becomes gravelly and it's not in good condition. Expect an uphill stretch that lasts for about 800 meters, after which you'll proceed downhill until reaching a junction; turn left to reach Manciano. The sloping road will continue until you reach the S.R. 74 (stay to your right) and then turn right toward Manciano. After 2 more kilometers, you'll reach the uphill path leading to the town (37.2).
You might also be interested in