Museums, golf courses and vineyards: original ideas for celebrating the civil rites of marriage
Getting married in Vinci: weddings in the land of Leonardo
Tuscany offers endless possibilities for celebrating special occasions, like baptisms, anniversaries and, above all, weddings. Villas, castles and farmsteads are ideal locations for receiving guests and for the nuptial apparatus in general. Whoever is looking for an original and historic setting could do worse than settling on Vinci for a breathtaking wedding in the homeland of Leonardo.
The little village in the Tuscan countryside, indeed, can offer the happy couple a number of Leonardian spaces, marinaded in a Renaissance atmosphere and buried deep in the heart of the landscapes that once inspired the genius.
You might also be interested in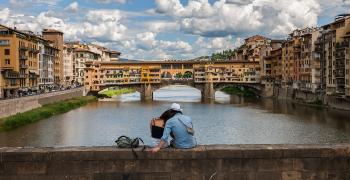 Learn more
Romantic and Wedding
Tuscany is like heaven for food, nature and art town admirers. But it's also the perfect location for couples and wedding celebrations.
continue...