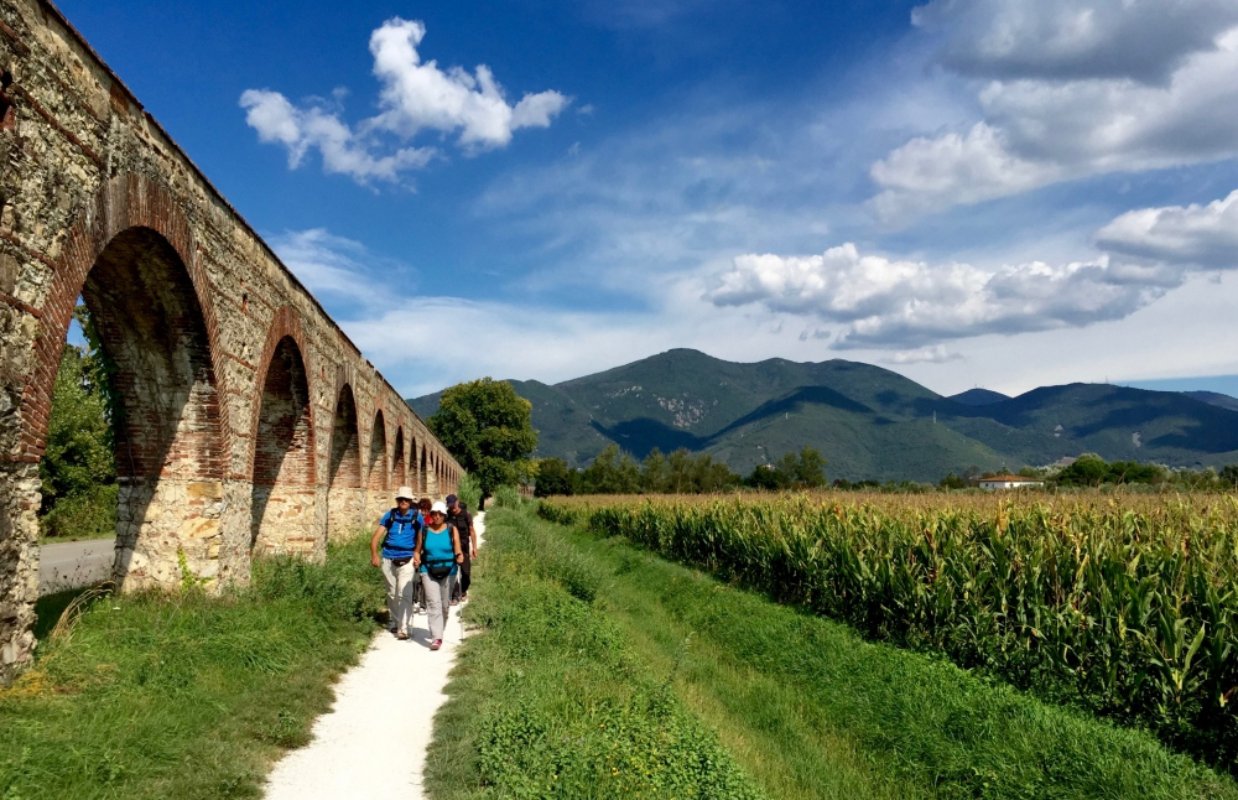 Visit the towns and villages of Monte Pisano
The loveliest and most charismatic places in the Pisan mountains
Let's discover some of the most charismatic places in the Pisan mountains
, a small mountain range located in the
north of Tuscany between the cities of Lucca and Pisa
, whose landscape switches between terracing planted with olive trees, hills, forests and mountain ranges with an array of natural springs and caves. The Pisan hills are dotted with charming villages, medieval fortresses and Romanesque churches.
Ripafratta
Opposite the castle of Nozzano is the Pisan fortress of Ripafratta, perched on a spur in the middle of a thick forest, strategic in the endless feuds between the Guelphs and Ghibellines, which lead to the clashes between Pisa and Lucca between the twelfth and fourteenth centuries.
Gattaiola
Around the Gattaiola church stand the beautiful Renaissance villas that comprise the village: Villa Rossi, the Notter villas, Villa di Puccio and Villa Guinigi. The church of Sant'Andrea was founded in the eighth century, and was expanded in the twelfth century with Romanesque Lucca style designs: a white limestone covering and thick, relief decorations on the shelves, cleaned of heavy Baroque additions with the 1901 restoration.
Guamo
The small Villa Bernardini was completed in 1615 and is still lived in by the family today. At the front of the villa stand two redwoods, planted in the nineteenth century, bringing the garden to life. At the back you find the great eighteenth-century Theatre of Verzura. Made entirely in boxwood and embellished with statues, it can comfortably seat up to 650 spectators. The austere fortified villa with 4 towers in Guamo, built by Castruccio Castracani is somewhat unique within a panoramic landscape, evoking refined hospitality and the rural lifestyle.
S. Leonardo in Treponzio
A small museum showcasing past everyday life takes its name from the waterwheel, an ingenious mechanism pedal to lift and distribute the water to the fields. In the five rooms of the Museum of Farming Culture "La Ruota", visitors can learn all about weaving, working in the fields, maintenance of houses and places of life and work. The collection offers tools and artifacts still in use in the 1900s.
S. Andrea di Compito and Pieve di Compito
Gardens featuring centuries-old camellias are typical of the closed gardens of Sant'Andrea and Pieve di Compito at the Borrini, Orsi and Giovannini villas in the lower part of the town. The moist, cool ground, sheltered from these hills, are ideal for growing camellias imported from the East, along with plenty of spices and other ornamental plants.
The Longobards lived happily in Vorno, attracted by the proximity of the wood, rich with game. In the sixteenth century, the Tegrimi, Mansi and Trenta families arranged the property with a new system of villas, already tested in other areas. In the seventeenth century, thanks to the abundance of water, many mills, oil presses and two paper mills were opened and remain well preserved today.
You might also be interested in
Monte Pisano
A small mountain chain in northern Tuscany, between Lucca and Pisa, is home to the Monte Pisano area. The landscape, which switches between terraces covered in olive groves, hills, woodland and mountainous high ground with springs and grottoes, ...
Scopri Monte Pisanokeyboard_backspace