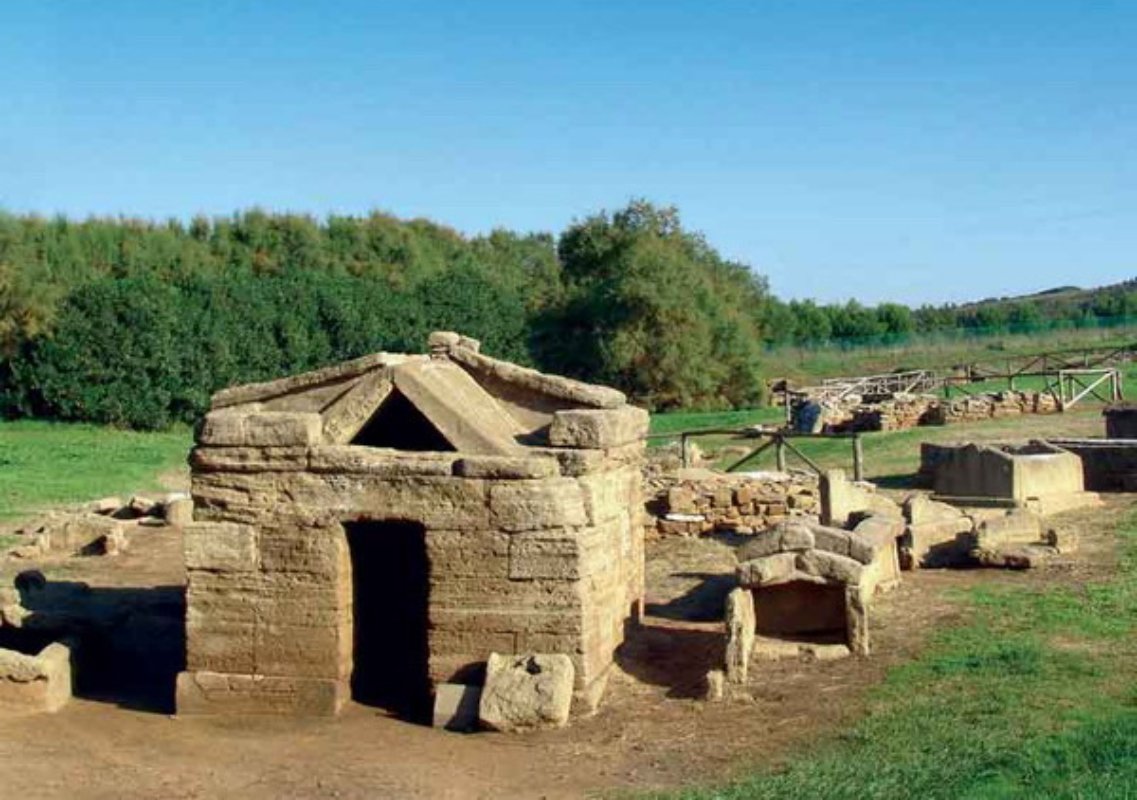 Visit the Baratti and Populonia Archaeology and Mining Park
Situated at a maximum altitude of 165m
When you walk along the beach in the
gulf of Baratti
, your eyes wander up towards the hill where the
remains of Populonia
rise up from the green Mediterranean bush. The
Parco Archeologico di Baratti e Populonia
archaeological park is a real open-air museum on the Etruscan civilisation. In the
San Cerbone necropolis
there are tombs from various periods (7th-5th centuries BC): from the burial mounds – such as the monumental, 28-metre-wide Tomba dei Carri – to the niche tombs, such as the Tomba del Bronzetto dell'Offerente, situated right next to the beach. A traveller from the early 1900s would not have been able to see these monuments as the whole area was buried by the iron slag produced by the furnaces that processed the haematite, a ferrous mineral from the island of Elba, in
Etruscan and Roman times
.
Still to- day, if you follow the Via del Ferro, you can see the buildings for refining the mineral. If you want to enjoy the view over the large crescent- shaped bay of Baratti, you can go up the
Via delle Cave woodland path
to the Belvedere. Then, when you come down towards the sea you can find the
Necropoli delle Grotte
: here, in around the 4th century BC, chamber tombs were dug out of the soft calcarenite. Arranged on several lev- els, they were accessible from steps that were also dug out of the rock. At various points in the past, the whole Necropoli delle Grotte area was subject to intense quarrying activity to extract the stone that was used to build the main monuments in the town of Populonia.
As of the summer of 2007, the park will also include the summit of the acropolis and the
medieval monastery of San Quirico
. It will include more trails so that visitors will be able to get a global view of the ancient town and its terri- tory. To put the last piece in the jigsaw puzzle: most of the objects found in the area of Populonia are on display at the
Museo del Territorio di Populonia museum in Piombino (Livorno)
; the two carts contained in the funerary items in the
Tomba dei Carri
are instead con- served in the Museo Archeologico Nazionale national archaeological museum in Florence. The park's Centro di Archeologia Sperimentale
experimental archaeology centre
organizes laboratories to learn ancient working techniques, amongst which pottery and stone masonry.
Opening times
From March until June and from September until October: mornings and afternoons every day except Monday. Open every day in July and August, also open at night on Saturdays. From November until February: Saturday and Sunday mornings and afternoons only; from Tuesday to Friday for groups and schools upon reservation only. Closed from 8th to 26th December. The days when the park is open may change from year to year.
For information telephone +39 0565 226445.

Ticket prices
Full price: € 12,00. Reductions (children aged 6 to 14 and the over 65s): € 9,00. Family (for up to 5 people): € 28,00. Free for children under 6. Group discounts. 50% discount on individual tickets for people who have already visited the San Silvestro archaeology and mining park or the Museo Archeologico del Territorio di Populonia territory archaeological museum in Piombino. There are a great deal of different ticket prices. It is advisable to telephone for more information.
Guided tours
In Italian, English and German. Included in the ticket price.
Tour routes
There are three routes: 1. Via delle Cave:
2h, medium; 2. Via del Ferro:
2h 30min, medium; 3. The San Cerbone necropolis:
1h, easy.
Useful Information
For logistical reasons, access is reserved to the
San Cerbone necropolis
and the exhibition on the town of Populonia at the park's visitor centre. Trekking gear is recommended. Please respect the rules in force for protected areas.
How to get there
Aurelia SS 1 road, San Vincenzo nord, San Vincenzo sud, Riotorto-Vignale, Piombino- Campiglia Marittima exit and fol- low the signs for the park. Train: 7 km from Campiglia Marittima railway station, Rome- Genoa-Turin line. Parchibus bus service (ATM), in spring from Tuesday to Sunday upon reservation. The
Information
Parco Archeologico di Baratti e Populonia Loc. Baratti - Piombino (LI)
Parchi della Val di Cornia Tel. +39 0565 226445 • Fax +39 0565 226521
www.parchivaldicornia.it
•
parchivaldicornia@parchivaldicornia.it
Apt Costa degli Etruschi Tel. +39 0586 204611 • Fax +39 0586 896173
www.costadeglietruschi.it
•
info@costadeglietruschi.it
You might also be interested in