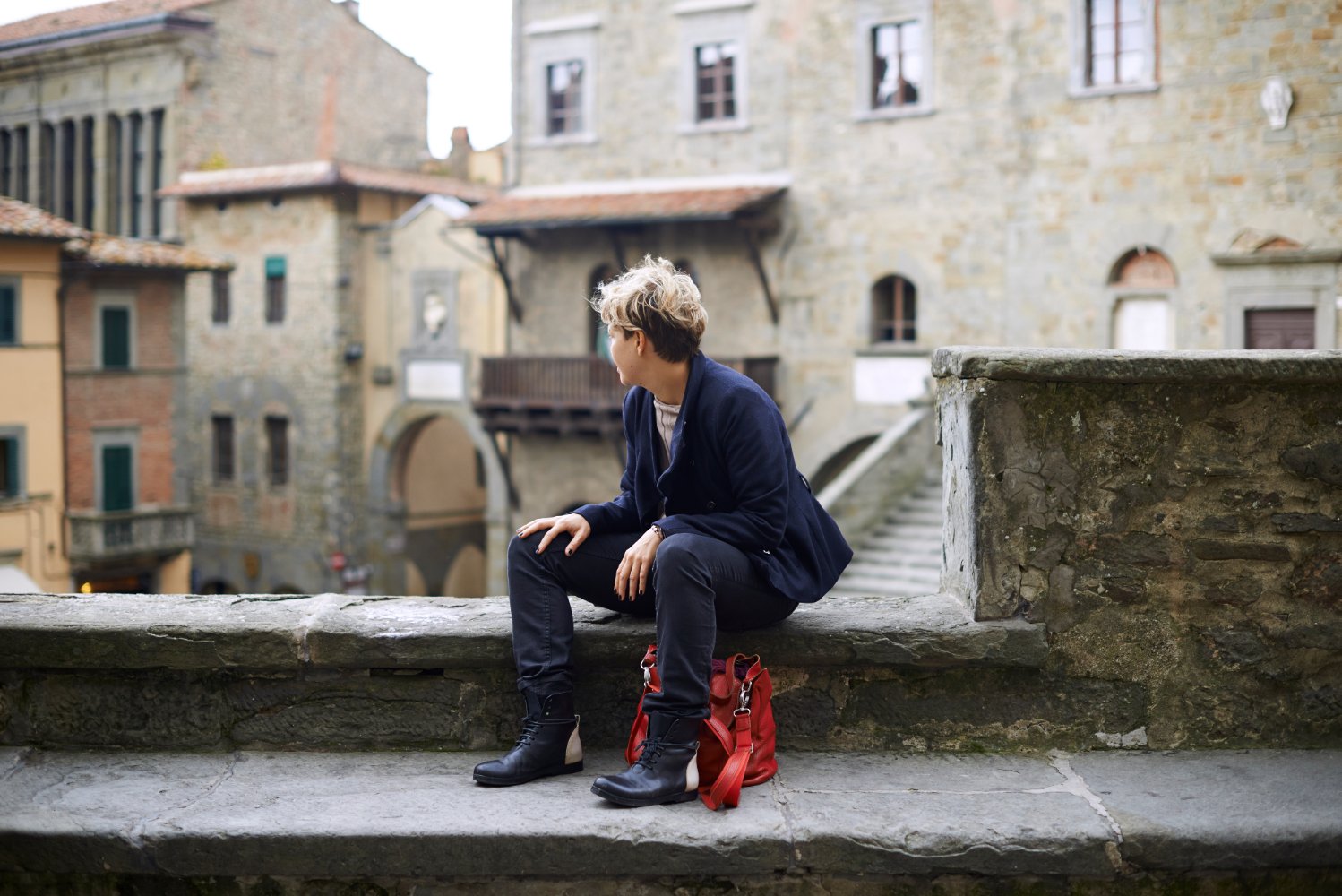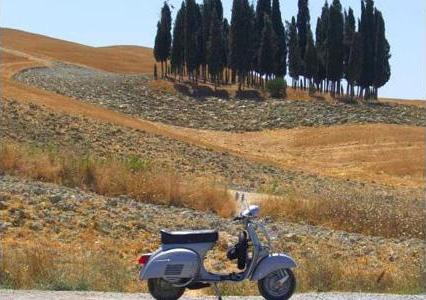 Get ready to discover a new way to travel around Tuscany. Forget the car, forget the large, fast roads, forget trying to visit a hundred towns in few days. Instead, rent a Vespa and live the Italian way of life! Did you know Vespa was invented in Tuscany? There's also a museum you can visit at Pontedera, read more here. We asked some experts to help us create a map with 2 different routes. Our idea is to show you the real Tuscan countryside and by the word "real" I mean where Italians live, visit, and travel. We hope you have fun! And your Feedback is most welcome, don't be shy! Both first and second routes have some towns in common. So what is the best? Well, the first route is "slower" because it includes Poggio a Caiano, which is a kind of out-of-the-way city as you will notice on the map. The idea is that you can take a day to visit Poggio a Caiano, maybe spend the night around there, and then continue with the trip. The second route can be done is a single day and it includes Volterra. If you are addicted to the Twilight Series you probably know that the film New Moon was set there.
Route 1 - weekend in the Tuscan countryside
From San Miniato to Poggio a Caiano via Corazzano - Sughera - San Vivaldo - Castelfalfi - Toiano - Palaia - San Miniato
Route 2 - the hills between Pisa and Florence
From San Miniato to Corazzano via Sughera - San Vivaldo - Iano - Villamagna - SP15 Volterrana - Volterra - SR/SS68 - Villamagna - Montaione - Alberi - San Miniato View The Vespa Tours - Tuscany, Italy in a larger map
We advise you to listen to our playlist (click here)
Music and Nightlife
On both routes you will find some nightlife hotspots where you can stop by after riding your Vespa and have a drink with friends or listen to some good music. On the google map, the blue spots are venues where you can listen to some real good music, especially underground Italian indie bands but also international ones. The yellow hotspots are pubs or discos where you might have a drink or a good night out. These venues doesn't especially organize live music. For sure they'll play some music though, so you can dance all night long! But remember you have to wake up and drive your Vespa back the next day (and of course, don't drink and drive)! Starting from the beginning of the first route: K100 Fuegos: it's a place where you can either listen to live music, see theatre plays or watch a movie. But the reason it's included in this mashup map is especially because you can chill out and drink a beer with your travel mates and listen to some music at the same time! The style of music played at K100 varies from rock, heavy metal, reggae and generally pop music cover bands, also you might find some local rock bands. This is the direct link to the venue: http://www.k100fuegos.org/RESISTENZA/index.htm Ponterotto: An Arci Club that on Saturdays offers free live show of valuable national and international indie bands. It's an Arci Club, this means you need to get a card (that will cost you around 10 euros and that lasts one year) that will make you an official member of that club, but with the same card allows you to enter to other Arci Clubs around Italy. Ponterotto also offers expositions, art classes, dj and vj sets, and really comfy sofas and armchairs. Here the direct link to the venue: http://www.myspace.com/ponterotto La Limonaia Music Club: This club is located in Fucecchio (few km north-west of San Miniato). The location of this venue is not exactly "on the route" of the vespa Tour, but I suggest that you check their website for listings, because maybe a really cool brit pop band is playing there the evening of your Vespa tour, it's definetely worth a visit! Check out their myspace: http://www.myspace.com/lalimonaiamusicclub Sonar (the music house): is a real music center located close to the river Elsa. Here it's possible to listen and also to "create" music! It's a hybrid venue where different contemporary arts like theater, music, visual arts, and video installations can be produced and enjoyed. This venue offers live music by famous and popular bands, especially Italian ones. Here's the direct link to their website - check out the music program for the next few months http://www.sonarlive.it
Art
If you take Route 1 you'll pass through Pratese territory and right past the Medici villa of Artimino, also known as the villa of 100 chimneys (you'll see why). Although most of the villa is now used for weddings, you can visit the good little Etruscan museum in the basement and you can walk around the grounds and admire the view from the back of the villa, from where you can see another Medici villa (Carmignano) and a church. Heading down the old road named "Tosco-Romagnola" you'll then encounter Montelupo Fiorentino and then Empoli. You definately should stop in Montelupo if you are interested in ceramics (maiolica), because this was the main center for maiolica production in Tuscany! There is an excellent museum, newly renovated, dedicated to ceramics of course, which traces the entire history of ceramics in the region. The piazza is pleasant and traffic-free, and a fine place to sit outside at one of the bars that line it. In Empoli the most important thing to see is probably the Collegiata di Sant'Andrea, a Romanesque church that is also home to a little church museum with some works by the likes of Masolino, Lorenzo Monaco, and Filippo Lippi. Route 2 leaves San Miniato and goes south, with the furthest point being Volterra, a fit destination in which you can easily spend a day exploring its museums and alleyways. Not to be missed is the Etruscan museum that houses two really important works (read about that here: Etruscan Museums in Tuscany on TuscanyArts) and the Pinacoteca (painting museum) with an important altarpiece by Rosso Fiorentino. If you're a fan of New Moon, or even if you are not, the local APT Volterra offers thematic tours that are an excellent introduction to the city's history and monuments. Most of the rest of the itinerary is designed to be on small roads with great views but not with any major towns of historical significance along the way.... go and take in the fresh air and the sensation of riding under the Tuscan Sun! At about the halfway point of this itinerary is Gambassi Terme - not an art-historical landmark but a thermal baths with curative waters.
Food Stops
San Miniato is the start and end point of the routes we chose and in a sense it is also the most important food hot spot in our vespa itinerary! If you're foodies like me you'd probably just sit in San Miniato and wait for the others to get back from their tour, but Tuscany is all about variety and quantity so there are lots of other spots along the way where you'll be delighted to discover interesting traditional staples. However, going back to San Miniato, here we have both the truffle and it's a white truffle (Magnatum Pico) and one of the most important Tuscan butcheries - Sergio Falaschi. Here every single restaurant, wine bar, shop suggests a truffle based menu, from crostini to home made pasta with fresh truffle shavings to steak with truffle butter and even truffle ice-cream. If you're anxious to start your Vespa Tour (and I don't know how ethical what I'm suggesting might sound) you can just walk into a wine bar and have a glass of wine and a crostone with melted truffle cheese. San Miniato is also known for one of the finest buthery shops – Sergio Falaschi and his cured and fresh meats will thrill you, not only for the aroma and antique atmosphere in his shop but for its soft pork pate. Unique in Tuscany and still produced according to the original 1920's recipe - ask of Spuma di Gota- it's also recognised by Slow Food a lard that melts onto warm bread that you can spread on a slice of bread and turn into a packed lunch while you're on the Vespa - travelling through the Tuscan countryside. After you drive a short distance on Route 1 you will encounter the town of Carmignano here another food break is inevitable! Famous for its dried figs, a production that is slowly disappearing you must bite into one . You will be surprised at how few shops there are, yet, amongst them beneath the castle there's a tiny store that sells famous almond cookies, this shop is the only one that also sells Carmignano's dries figs. These figs are flavored only with fennel seeds, that give the fruit a very distinct taste. Carmignano is also famous for its Supertuscan-docg wines- all you need to do is stop in front of the huge estates surrounded by hills full of vineyards and ring a bell…. Surely this wine tasting will leave you amazed and a little tipsy, so take the time for a little nap and then you can continue your travels along the Tuscan countryside. Riding on a Vespa and along with the wine you tasted you will feel a lot more italian! Take a look at these photos of Vespa trends we found when walking around Florence... Special thanks to Cristiana Pasquinucci - Entroterra Viaggi & Turismo (tel. +39 0571.417175) - for her route suggestions.
This article was written by Alexandra Korey, Barbara Bueno, Erica Donolato and Oriana Papadopulos
You might also be interested in