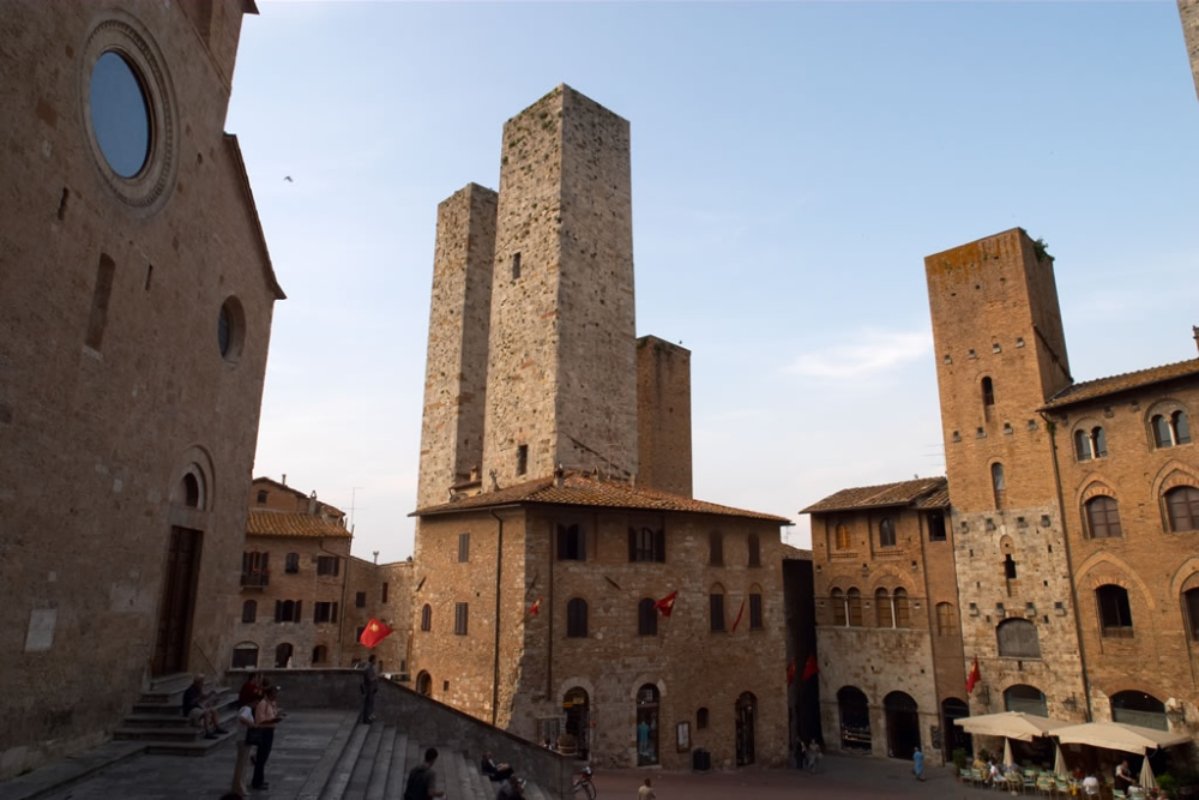 Tuscan towns with "orange flags"
38 towns receive award by the Touring Club
Tuscany is synonymous with excellence
 thanks to its amazing historic and artistic treasures that seem to stop time in its tracks. Like cultural jewels scattered around the territory where traditions and treasures of the past are still alive and well. 

Promoting cultural patrimony, environmental protection, excellent hospitality and incredible resources are just some of the area's best qualities. It is thanks to these qualities, that the Touring Club Italiano awarded 38 inland areas with the Orange Flag, a symbol of environmentally-friendly tourism. Italy's most awarded region definitely knows how to maintain the perfect balance of hospitality, quality food, wine and traditional products and its vast artistic riches.


The itinerary takes visitors through the most fascinating parts of the Tuscan countryside. The Terre di Siena (Sienese countryside) is nature's stage as land and sky, fields and vineyards, churches and towns converge to create an inland island home to one of Italy's most renowned landscapes. Here we find towns like Castelnuovo Berardenga, Montalcino, Radda in Chianti, Monteriggioni, San Gimignano, Trequanda and Cetona—trips through history, enchanting landscapes and human activity. The heart of the Val d'Orcia is home to Pienza, one of the country's most amazing historic centers and a UNESCO World Heritage Site.


Then there's Sarteano, a beautiful medieval town with ancient Etruscan origins, and Radicofani, the final Tuscan stop on the Via Francigena.
Staying within the province of Siena, we end up in Chiusi, an area valued for its natural wonders and a top destination for fun sporty outings or foodie adventures; Montefollonico, a town where one of the main types of work was "fulling", a type of wool work and dyeing; and Murlo.  

Sorano, Suvereto and Pitigliano are the other side of the Maremma area. Tufa rock paths wind around stone houses and small towns surrounded by vineyards and olive groves. Some of its most extraordinary features are the Romanesque churches and Etruscan necropolises. The archeological park set in the tufa rock is the perfect way for visitors to come into direct contact with the past.

The Valdichiana—including Lucignano, Montepulciano and San Casciano dei Bagni—is filled with historic treasures and the therapeutic waters of the natural springs. There's nothing better than combining the pleasure of discovering a new place with the relaxation of a spa town.

Immerse yourself in nature in the Garfagnana area—especially in places like Barga, the Montagna Pistoiese and Cutigliano. Take a walk along beautiful paths, try the traditional cuisine and enjoy the natural wonders that will make your trip truly one-of-a-kind. The ancient beauty of the Lucchesia (Lucchese countryside) is home to spas, villas set in amazing gardens, and small not-to-be missed towns like Montecarlo and Collodi. The Val d'Elsa—in close proximity to Siena, Florence and Volterra—boasts picturesque towns like Barberino Val d'Elsa, Casole d'Elsa and Certaldo.
 
In the area around Pisa, the Touring Club also awarded  Lari, Peccioli, Casale Marittimo, Pomarance and Castelnuovo Val di Cecina; heading toward the Maremma, they've included Massa Marittima and Santa Fiora.
Anghiari, Castiglion Fiorentino, Vinci  and Fosdinovo are other not-to-be-missed destinations: they all contain history, legends and the classic Tuscan quality of life.
Here are the Tuscan towns by province.
Arezzo: Anghiari, Castiglion Fiorentino, Lucignano.
Florence: Barberino Val d'Elsa, Certaldo and Vinci.
Lucca: Barga, Montecarlo.
Pisa: Casale Marittimo, Lari, Peccioli, Volterra, Pomarance and Castelnuovo Val di Cecina.
Siena: Casole d'Elsa, Castelnuovo Berardenga, Cetona, Chiusi, Montalcino, Montefollonico, Montepulciano, Monteriggioni, Murlo, Pienza, Radda in Chianti, Radicofani, San Casciano dei Bagni, San Gimignano, Trequanda, Sarteano.
Pistoia: Collodi, Cutigliano.
Grosseto: Massa Marittima, Santa Fiora, Pitigliano, Sorano.
Livorno: Suvereto.
Massa-Carrara: Fosdinovo.

For more information: www.bandierearancioni.it
You might also be interested in