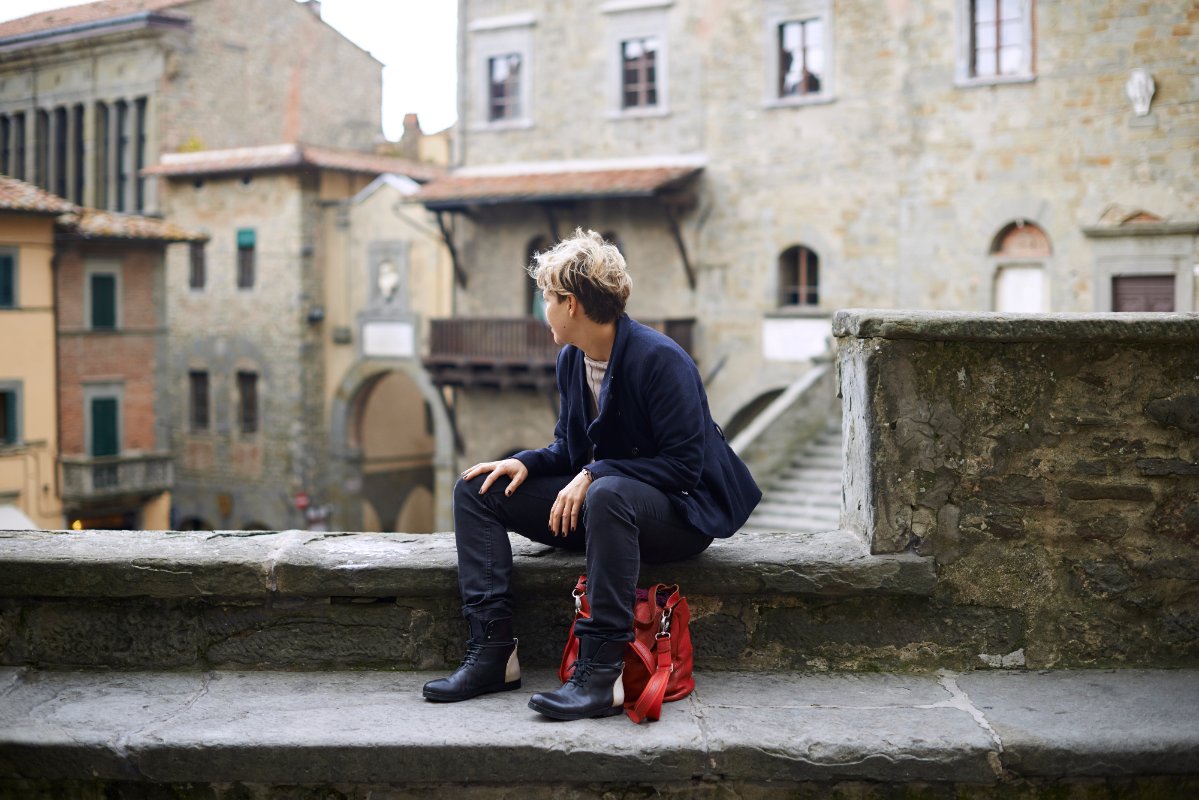 Tuscan Artist Valerio Giovannini explores Etruscan roots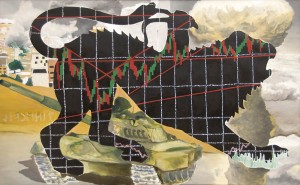 Today I met
Tuscan Artist Valerio Giovannini
and we talked, amongst many things, about the
Etruscans
and how his art draws from them, his direct cultural ancestors. It's not every day that you get to talk with a successful young artist, especially one who expresses himself as well with words as through art. We visited an exhibit of his works at a macrobiotic restaurant in Florence, but many of the ones I'd hoped to see – ones that draw most from the Etruscans, in fact – are currently away for exhibition in Shanghai and Berlin. In front of a gold-background painting with a title written in Russian, I fired questions at Giovannini… The painting in front of which he stands is part of a series of paintings of modern figures that the artist has photographed, photoshopped, and "transcribed" onto canvas. The technique is oil on canvas, with deliberate layers left visible – the pencil on canvas, the white of this support – and copious use of gold leaf. (He admitted that it's not real gold leaf, which he does use as an accent on some works, because at this scale he'd be bankrupt; rather it's a valid substitute applied with a similar technique.) The transposition of a digital technlogy in low resolution to an analog creative process allows the artist to add to and reconstruct the situation. While the gold background is commonly associated with static figures that lack perspective - 14
th
-century italian or more recent Russian icons - Valerio has inserted it into a contemporary narrative that does contain space and one or more perspectives. The modernity and accessibility of the medium is enhanced by where they are hung – a restaurant in this case, and in the past, in a graffiti-covered pedestrian underpass.
The influence of Etruscan Art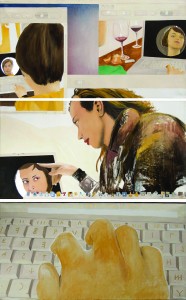 Valerio is too modest to say so, but
he is a scholar of Etruscan history
. He says he reinvents it to suit his own fantastical interpretation, but he has learned their alphabet, gods, and as much as possible, their ways. As he explains in the catalogue of a recent exhibit in Cortona, he sees a strong relationship between Etruscan culture and ours, and thinks that these paralells can help us think about and deal with our problems. Two
themes
, the
mirror and technlogy
, can be traced through many of his paintings.
Malna Turan
, a tripych that recalls the divided forms of the main extant Etruscan documents, is named for the god of love who was often depicted with a mirror. The woman in the painting types on a
modified macintosh laptop whose keyboard has Etruscan characters
. It's an "archaeological computer". The computer, as a theme, is present in the painting of the
Etruscan Facebook
, conceived of half-jokingly but that is
about the construction of identity through media
. This is the wall of Ulysses, and it's his 32
nd
birthday. His friend Dardano, founder of Cortona, is there, while Tinia (the etruscan god similar to Zeus) has shared a photo of a lightening bolt on the page. On the left sidebar (for Etruscans read right to left) there's an ad for a dating network. Facebook is our document of social relations at this moment in time, while in Cortona there is a document of the sale of land between two families that tells of their social networks.
A series of etchings depicting Etruscan bronze mirrors considers our myths versus the Etruscan's myths. We meet the ancient deities Kalkas (photo), Uni Turan, and Lasa, put into confrontation with Marilyn (photo), Obama, and Einstein. Of the Etruscans we know little of their daily lives, since most surviving texts are religious calendars, so in part this series draws from what we know best about that culture. But it also puts the past in confrontation with our current values, in which science, politics, movie stars and commercial products can replace or stand next to gods.
Growing up in Tuscany has undoubtedly had a strong influence on Valerio
, as has his university studies in semiotics. His exposure to the great artistic movements of the past, including the Etruscans and the Renaissance, has made a clear mark on his choice of materials and content, while stylistically his work is modern. Valerio agrees that "
All art has been contemporary
" – the nexus between past and present is natural. [gallery link="file"]
Current exhibits
Valerio Giovanni's work can be seen now at:
Berlin, Germany from June 10 to July 10 2010, Farthan. The Etruscans are Here, at Dussmann das KulturKaufhaus, Friedrichstraße 90 (Berlin-Mitte). www.farthan.net
Shanghai, China, Festival dell'arte internazionale, from June 20 through October.
Florence, Italy, May 3 to June 3 2010: Non-finiti in INFINITO @ La Raccolta (vegetarian restaurant), Via G. Leopardi 2, Firenze
For more information, future dates, and contact information, please see
www.valeriogiovannini.com
Here you can see his work installed at a Fortress atop the town of Cortona in Tuscany:
You might also be interested in