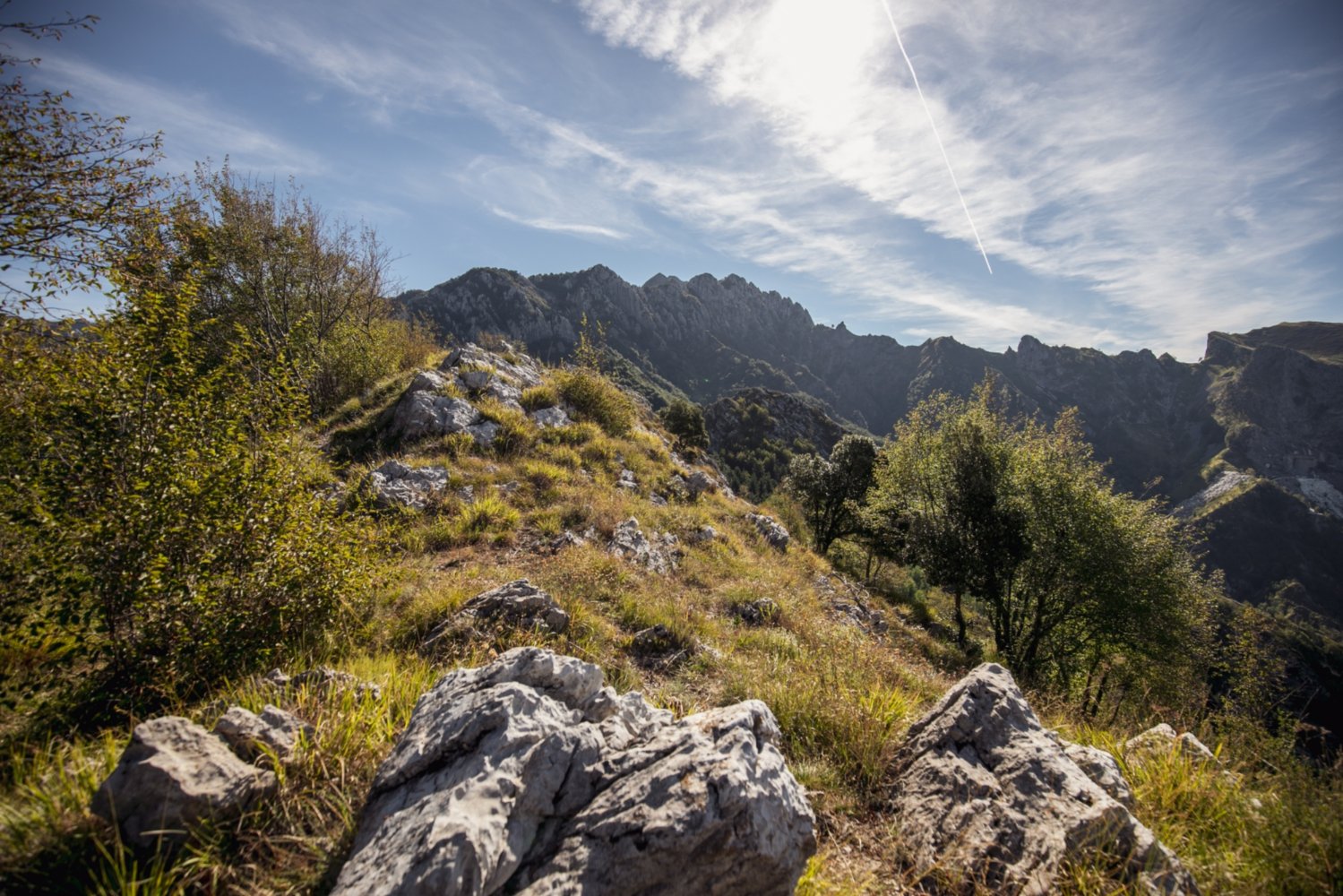 Photo ©
Alice Russolo e Nicola Santini
Trails for discovering the Garfagnana area
Exploring Tuscany's mountain trails
Discover the Garfagnana area and both sides of the Serchio Valley thanks to appealing hikes spotlighting the beauties of the Apennine and Apuan Alps mountains. The area boasts a series of trails maintained and supported by Italy's Alpine Club (CAI). Below, you'll find an ultra-brief description of some of the area's most interesting itineraries.

ROUTES
The
Airone trails
include a series of three trails marked by yellow and blue signage that will lead you toward the Orecchiella Park.
The first hike (Airone 1)
will take you through the Campaiana hill country to the summit of Pania di Corfino. Springtime is the best time to discover the
meadows of Ripa (Airone 2)
, while the third trail of the series will lead you on a 2-day trip to Monte Prado, Tuscany's highest summit. Meanwhile, the area's 'Moro trails' are centered around the splendid hamlet of Sillico and they include a ring of paths of various lengths. Hikers will want to spend the day discovering the Moro Landscape, by following the
Mulini Trail (windmill trail)
which implies a 6-hour hike.
Trails
can be hiked year-round and they are marked by blue and white signage.
The cultural association 'Le Terre del Moro' periodically organizes cultural initiatives and guided visits spotlighting the area. Le
Vie della Contessa
make up a system of ring-shaped itineraries where hikers can take noteworthy excursions throughout the valley where the Serchio River originates. 'La Via delle Acque' may not be accessible during rainy season and, during the wintertime, the
'Anello della Contessa' (the Ring of the Countess) can only be hiked by experts equipped with special snow gear.
The
Campocatino nature trail
allows hikers to discover a basin created by glaciers; the trail begins amidst the homes of the ancient mountain town and will lead you through beech groves growing alongside the Roccandagia Mountain. Once you reach the mule track,
take the trail that leads downhill toward the San Viano Hermitage, lodged within a stone mountainside.
The trail begins in Campocatino but it can also be reached by Vagli and Gramolazzo. (
For more information
, call 39 0583 65169).
The Ariosto trail is an easy hike that leads from Castelnuovo Garfagnana to the recently restored Fortress of Montalfonso. Enjoy a majestic panorama that will lead you through vineyards and hamlets. The trail leaves from Via Azzi in the center of Castelnuovo Garfagnana. (For more information, call + 39 0583 65169). The
Gothic Line trails
showcase five itineraries spotlighting the primary fortified sites on the Gothic Line. This series of tunnels, bunkers and anti-carriage walls was created during World War II by the TODT Organization.
Trails begin in Borgo a Mozzano.
(
For more information
, call: + 39 0583 888881).
Source:
Ingafgnana.com
You might also be interested in