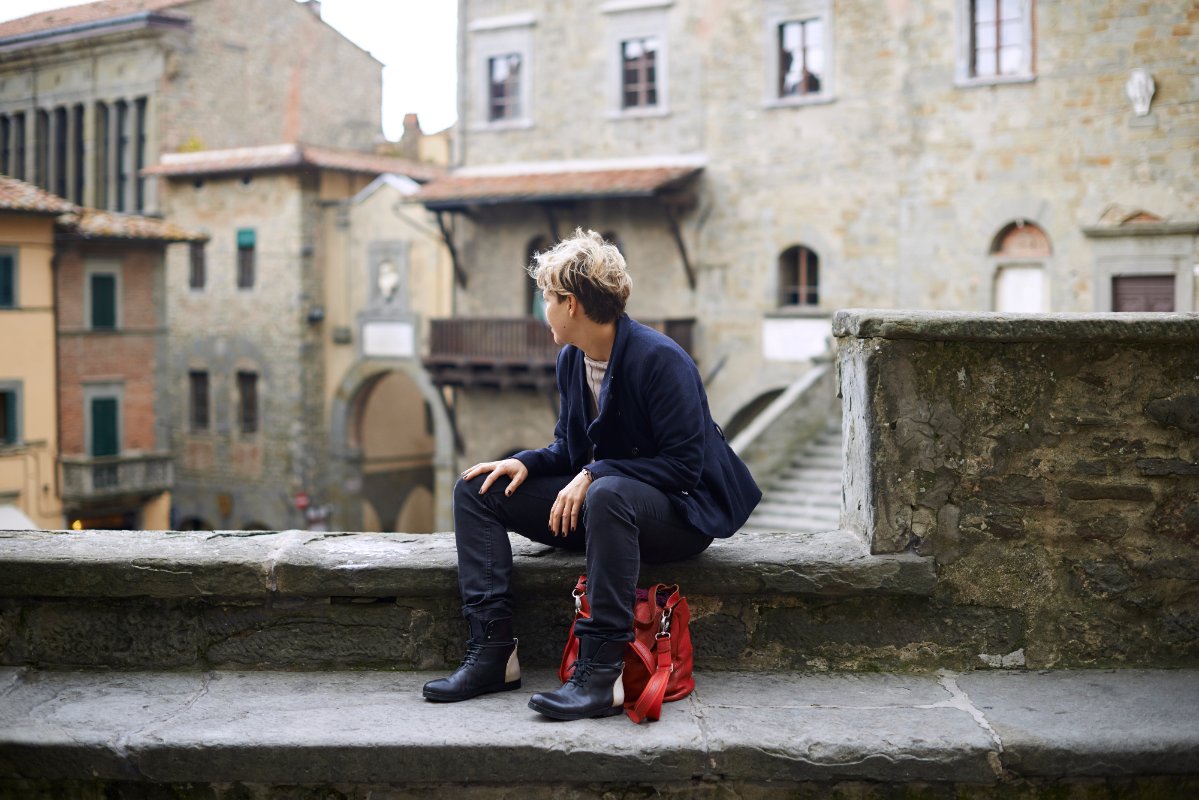 TotalTuscany, the podcast to follow
Travis Justice and Patrick Campagna, from Omaha (Nebraska), first visited Tuscany in 2009 for a two weeks holiday with their families. They totally fell in love with the countryside, the stunning nature and the lifestyle, so much to start 
a free podcast channel where they share travel tips about Tuscany and Italy
interviewing bloggers, tour guides, companies and personalities.
On episode 23 they have interviewed Costanza Giovannini, the project leader of Tuscany Social Media Team
(
listen to the "Visit Tuscany" episode here
), so we thought that it would be great to interview them back. We have asked them 10 questions and the answers are really useful for all of you, since they shared precious advice.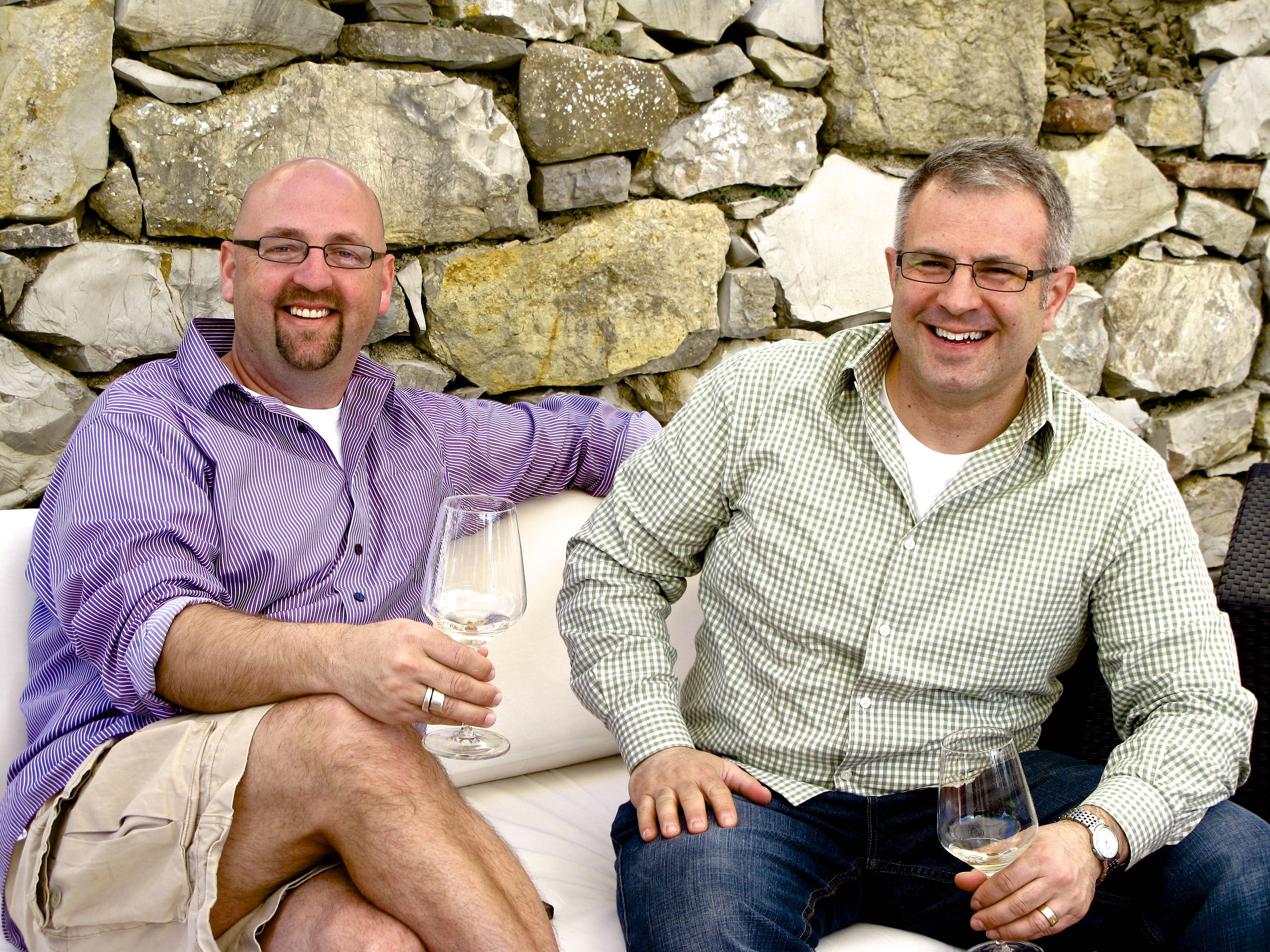 Hi Travis and Pat, it is our pleasure to conduct this interview with you. Let's start with a general introduction of your project and tell us why have you chosen the podcast format.
"Total Tuscany really started the first time we visited back in 2009. When we returned home and realized thoughts of Tuscany consumed most of our day(s).  If our employers/employees knew how much we day dreamed about Tuscany they wouldn't be happy with the lost production time! We both had a passion for the region and we wanted to share that with as many people as possible. There are A LOT of blogs and bloggers that focus on Tuscany and we knew that would be a difficult niche to break into, especially since we don't live there. What we love most about Tuscany is the people and the stories they have to tell. Pat is a trial lawyer and partner in a law firm. Travis is a former television personality and currently hosts a radio show. Taking the broadcasting expertise, we thought a podcast would be a different way to tell stories and most importantly, hear the stories directly from the person in Tuscany. Besides our website, the podcast is on iTunes and Stitcher and can be listened to anywhere, like the car, on a mobile device and at anytime.  A podcast was a real natural fit for us. Plus neither one of us are very good spellers so blogging seemed like WAY to much work!"
How is this experience going on and what are your plans for 2015?
Travis: "So far so good! Sure we would like to have a million listeners and over time, who knows! Our growth has been organic and the more interviews and shows we produce the more listeners we find. Twitter really has been our best friend. There such a great network of people who are interested in Tuscany and those people really have helped us spread the word. Also, Twitter and Facebook have helped us find some great interviews. In 2015 we want to continue to produce great content with great stories and interesting people. We would also like to expand our services and consult with people making a trip to Tuscany and also plan our first tour!"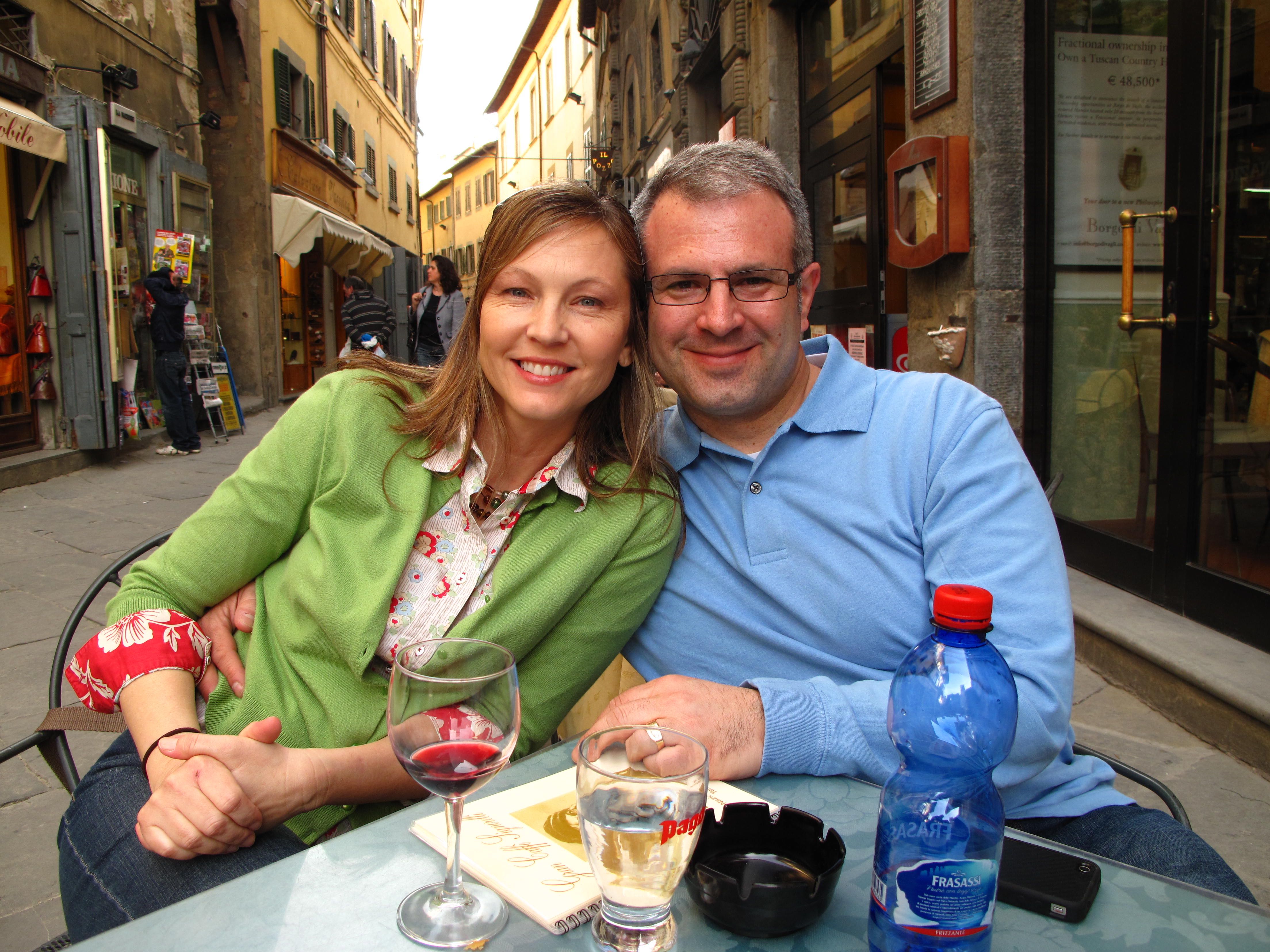 On your website, TotalTuscany.com, we have read that you first visited Tuscany in 2009 when you took a two weeks holiday with your families. Where have you been on your first trip? How many times have you visited Tuscany since then? What keeps you coming back?
Travis: "2009 changed my life! For year's I was running 100 miles per hour trying to get ahead in the corporate world. We rented a huge villa just outside of San Gimignano, I got to relax for the fist time in my life. No cell phone, no computer. Just me and my family and friends. It was an epiphany of sorts of what life should be like. I have been back to Tuscany two times since then and my plan to return every two years because I love the life style, and the people. Who knows, maybe I will live there someday!"
Pat: "I had a very specific agenda on my first trip. We hit the highlights of Florence, Siena, Pisa, San Gimignano and Volterra. I wanted my family to experience market days, hill towns and a few historical monuments. Funny thing, on the way to hitting these milestones we slowed down and adopted an appreciation a slower life style and we haven't been the same since. I have returned to Tuscany on one more occasion but the plan is to return every two years starting in 2015!"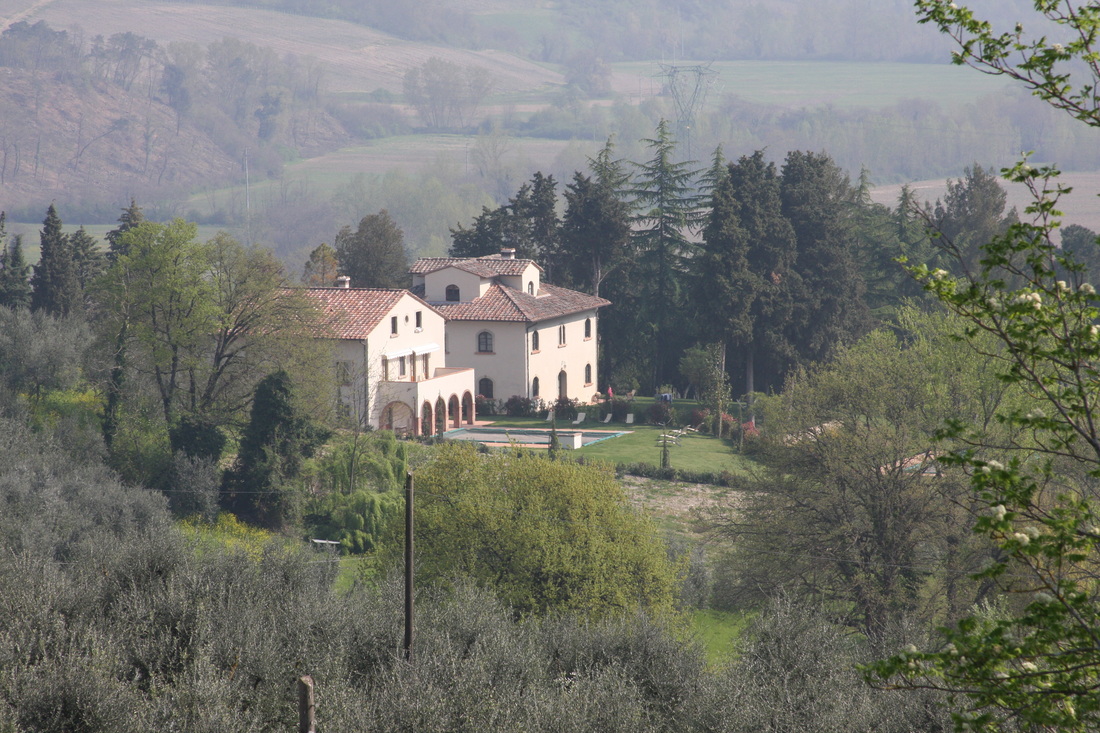 Till now, you have published 23 podcats about Tuscany. Tell us some interesting facts about them, such as the most popular podcast, the most informative, the one that surprised you the most, the one you haven't done yet…
Travis: The one we haven't done yet is easy! Frances Mayes. We keep asking and asking and she's just not listening! Can you help us get in contact with her?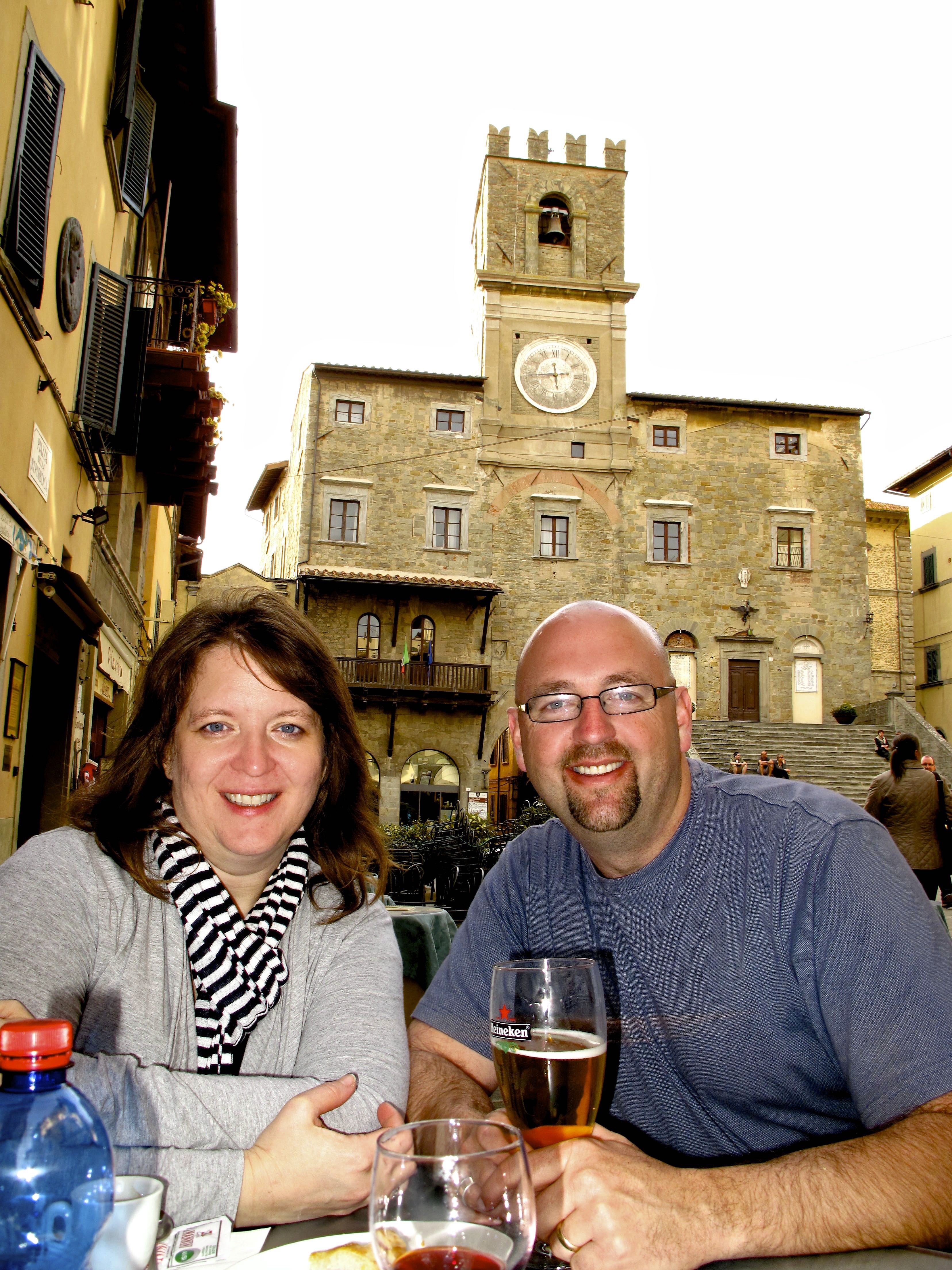 In episode 8, Travis makes a confession about all his trips to Tuscany. Where haven't you been yet (and you should visit as soon as possible)?
Travis: "Forgive me Tuscans for I have sinned. I have driving through Pisa. I have flown into Pisa. But I have never taken the time to stop at the Leaning Tower. It looks really cool from a distance and I promise I will go there on my next visit!"
Pat: "I have spent over a month total in Tuscany and I still haven't been to the coast. Everyone we interview on the Podcast tells us we have to get to the coast."
What's your favorite Tuscan dish (and why)? And your favorite Tuscan wine?
"Our favorite dish is the exact same! We must have on every visit the Bistecca Fiorentina at Il Trovatore just outside the walls of San Gimignano."
Pat: "My favorite Tuscan wine is Brunello di Montalcino."
Travis: "My favorite Tuscan wine is the L'aura Chianti Classico from Querceto di Castellina."
What film set in Tuscany would you watch over and over?
Pat: "I know it's based in Rome, but it was filmed in Tuscany, Gladiator!"
Travis: "My kids would say Twilight (set in Volterra), I'm glad I'm not a teenager!  I will go with what got me there in the first place, "Under the Tuscan Sun."
As you may know, Tuscany boats 7 UNESCO sites, a world record! Which one you have already visited? What's your beloved historical monument in Tuscany?
"We've been to them all with the exception of Medici Villas and Gardens."
Travis: "As you'll find out in the podcasts, I'm not one for planning trips to historical monuments.  I tend to find a cafe and sit there for hours.  If I see something, I see it.  If not, I'm drinking great wine and eating fantastic food." Pat: "I on the other hand love to see historical monuments and this was a tough choice for me to make. So it's tie, walking through florence and crossing the Ponte Vecchio or sitting in my favorite cafe in the Piazza del Campo in Siena."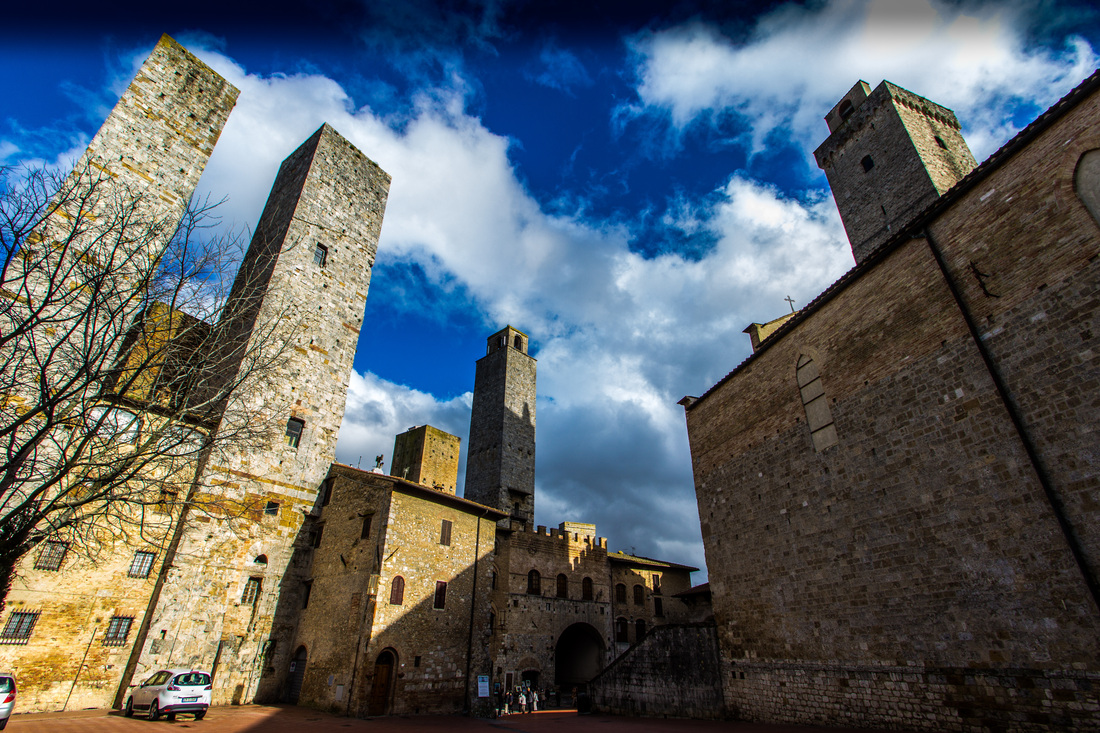 You took your families to Italy. Can you tell us some of your family's favourite places and activities in Tuscany?
Travis: "My kids were pretty young when we took them. Their favorite memories by far are from the villa. We celebrated Easter at the villa and had some of our most relaxing times there. It's at the villa where I learned to relax and slow down and I got see my kids and my wife (Anjanette) really enjoy themselves. Pat: "Our kids were very young as well. Our daughter Grace was (11) and Sophia was (9). Our son John was only (7). They did like walking through the hill top towns and wandering around the town walls and old ruins. Naturally, they kept their eyes open for the best gelato and we stopped for one at least once each day. However, I have to agree with Travis, the villa and the surrounding lands were far and away their favorite. They spent hours exploring the vineyards and forest surrounding the villa. On several of those mornings we took a walk as a family. One morning we set out and it was early enough that a mist still hung over the vineyard. We met up with an elderly man and his dog on the path who were out searching for truffles. He spoke no english and we butchered the Italian but we communicated anyway. After a few minutes he unfolded an old cloth and gave one of the kids their first truffle. Our kids still talk about him, his dog and his kindness. Our kids and that villa taught us a lesson in slowing down and enjoying life."
Listen to episode 19: "Taking the kids to Tuscany" - We have a dedicated category "Kids in Tuscany"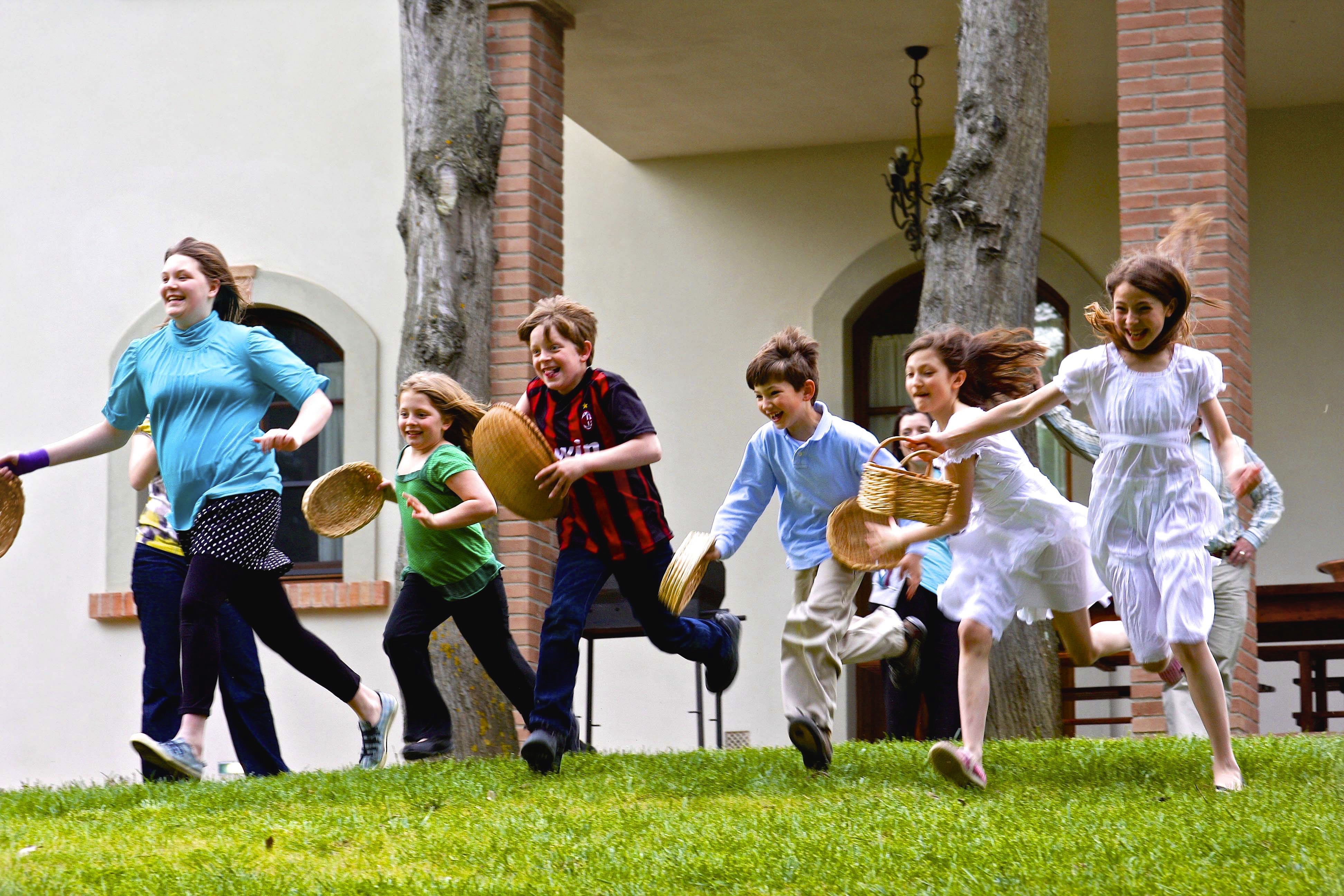 Do you have some advice for newcomers to Tuscany?
"Our advice to newcomers. SLOW DOWN! You don't have to see everything because you will return someday! Also, this is an adventure you must stay at least a week, ideally two weeks. Want more advice? Feel free to reach out to us on our website!"
---
Photo Credits: Travis Justice and Patrick Campagna
Thank you very much for this interview!
You might also be interested in