The town of Filetto
Located in the municipality of Villafranca in Lunigiana
The hamlet of Filetto dates to the 6th and 7th centuries when the Byzantines required fortresses to for defense against the Longobards. This defensive system, called limes, was based in the castrum of Filetto and Filattiera. The two boast the same name and origins deriving from the Greek filakterion, meaning strengthened and fortified place. Starting from 1351, Filetto was part of the feud of Malgrate, and in 1641 Cesare II sold the town to the Camera Reale of Milan, otherwise known as the Ariberti of Cremona.
Still today visitors can admire the original town layout (today's piazza di Sopra) vaunting a quadrilateral shape defended by four cylindrical towers, one of which still stands today. The first town center, no longer needed for defense reasons, was later transformed into a fortified residence that underwent repeated renovations well into the 17th century.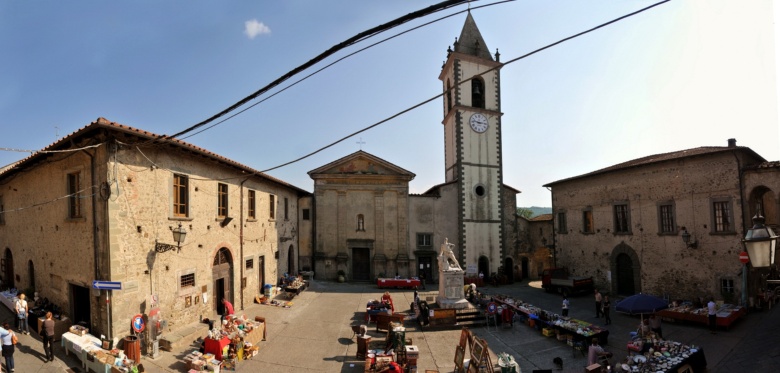 The interior part of town, accessed by two monumental city gates (among which you'll find the porta Sud dating to 1500, remodeled two centuries later with diamond-pointed ashlars), houses a church dedicated to the saints Filippo and Giacomo. You'll also find the Palazzo of the Marquis Ariberti (home to Malgrate and Filetto nobles from the 17th to 18th century), an impressive 17th-century building connected to the church by two elegant aerial passages. On the piaza's opposite side you'll find the Frati Ospitalieri Convent, a vast 17th-century complex featuring a beautiful internal cloister. Last but not least, check out the 19th-century parish church adorned with a imposing bell tower.
Close to town you can also visit the San Genesio Oratory dating to the 16th century located in the mysterious woodlands surrounding Filetto. It's said that many tribal festivals and meetings took place in these woods in prehistoric times, where many stele statues have been found.
In August, Filetto hosts a Medieval Market, a time of year when the town turns back the clock and decks the area with medieval decorations, including jugglers, fortune tellers, minstrels, acrobats and traditional local artisanal products made of iron, wood and stone.
You might also be interested in
Lunigiana
At the far end of Tuscany, the Lunigiana is a historic area located between Liguria and Tuscany, between the La Spezia and Massa-Carrara provinces, on the border with Garfagnana. ...
Scopri Lunigianakeyboard_backspace