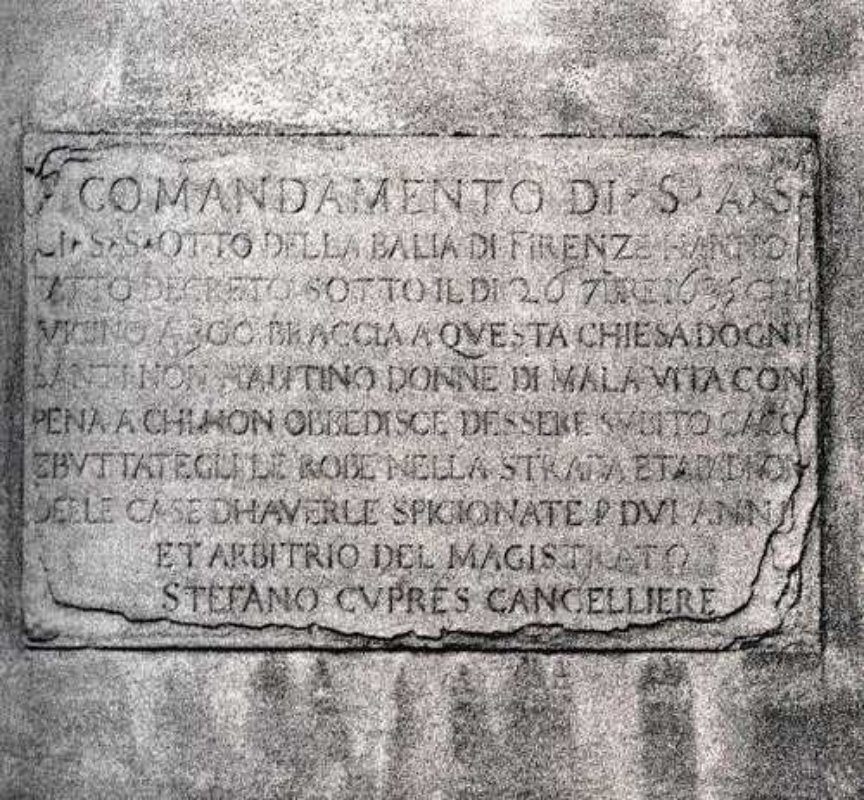 The tablets of the law
Hygiene and good behaviour rules in ancient Florence
Walking through the many old districts of Florence, you may come across small stone tablets or plaques set on the walls of buildings, often on street corners. These tablets contain the rules and regulations established mainly by the Otto di Guardia e Balia for safeguarding the health and the dignity of the city. This criminal justice court, founded in 1380, whose role was to control the city, remained in force until 1777, the year in which the Lorena family abolished it. The other criminal justice court involved in the production of these public notices was the Capitani di Parte Guelfa (Captains of the Guelph party), also known simply as Capitani di Parte. Set up in 1267 in opposition to the Ghibellines, this court was able to change and develop and survive the test of time.

There are a total of 79 tablets, distributed in the various districts as follows: 40 in San Giovanni, 17 in Santa Croce, 15 in Santo Spirito and 7 in Santa Maria Novella. Hygiene regulations and bans on games and prostitution were the main topics. It was a way to protect the sanctity of the city and maintain peace, by keeping away from the holy places all the noise caused by gambling and prostitutes, who were often also expressly forbidden to occupy certain streets. But the regulations also concerned hygiene, particularly near hospitals and clinics. Nowadays not all the tablets are legible. In many cases they have been irreparably damaged by time. But the ones still in fairly good condition bear witness to the traditions and daily life of the city many years ago.

Like the one in Piazza Strozzi set on the wall of the building and which says: The LL. Captains of the Party of the City of Florence, in compliance with the byelaw of S.M.I., dated October the 6th 1862, this edict bans all watermelon sellers, melon sellers greengrocers, scrap metal dealers and any other types of pedlars to sell fruit, bread, scrap metal or any other sort of items in the Strozzi square, with a penalty of 5 lira, which will be enforced on all who are found breaking this edict by a Magistrate. In order to provide public service, it declares that the place destined for the unloading and selling melons, cucumbers and other types of fruits remains the new square of S.M. Novella, which has replaced the Strozzi square for this activity. Issued in Florence, on October the 13 th 1762 by chancellor Urbano Urbani.
You might also be interested in