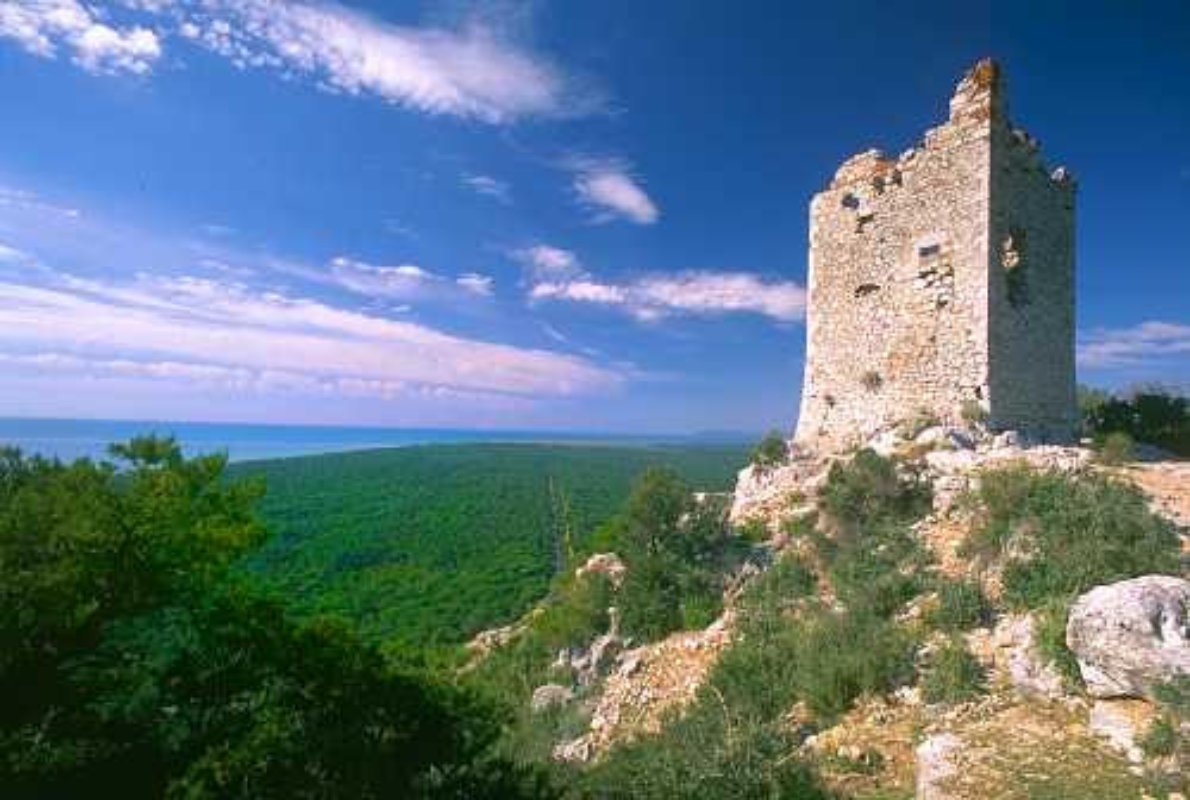 The San Silvestro Archaeology and Mining Park in Temperino
Campiglia Marittima Archaeological Mining Area
Among the lush vegetation in the
San Silvestro park
, we come across many paths linking archaeological and mining history from
Etruscan, medieval and contemporary times
. At the entrance to the park you can visit the Miniera del Temperino mine, used in Etruscan and modern times, or take the Via delle Ferruzze and see the remains of the mining railway bridge from the 1900s, the Buca della Faina Etruscan mine, and many more shafts and open-cast quarries. From Via delle Ferruzze you can go off on Via dei Filoni Porfirici that climbs up the slopes of
Poggio all'Aione
until it reaches one of the peaks. Here you can stop off and let your gaze wander over the
Cornia river
plain to the sea.
If you continue on Via dei Lanzi, you arrive at the medieval mining village of Rocca San Silvestro: in the castle there are still the old ovens for baking bread, oil mills, shops, houses, reservoirs and the nobleman's house. Once you have gone through the Valle dei Manienti, with its remains of medieval mines and ancient marble quarries, you reach the "Etruscan Mines" workers' village built at the beginning of the 1900s. If you want to go as far as
Campiglia Marittima
, follow of minerals from the area on display. Starting in July 2006, a train will take visitors through a mining gallery from the exit of the Temperino mine to Valle dei Lanzi, which
Rocca di San Silvestro
looks down onto. In addition, it will be possible to visit the miners' social history and mining machines museum in
Pozzo Earle
.
Opening times
In June and September: mornings and afternoons, eve- ry day except Mondays. Open every day in July and August (also sometimes open at night). From October to May: Satur- day and Sunday mornings and afternoons only; on week days for groups and schools upon reservation only. Closed from 8th to 26th December.
The days when the park is open may change from year to year. For information telephone +39 0565 226445.
Ticket prices
Full price: € 12,00. Reductions (children aged 6 to 14 and the over 65s): € 9,00. Family (for up to 5 people): € 28,00. Free for children under 6. Group discounts. 50% discount on individual tickets for people who have already visited the Parco Archeologico di Baratti e Populonia, Baratti and Populonia archaeological park or the Museo Archeologico del Territorio di Populonia archaeological museum in Piombino. There are a great deal of different ticket prices. It is advisable to telephone for more information.
Guided tours
In Italian, English and German. Included in the ticket price.
Tour routes
There are eight trails:
1. Miniera del Temperino mine:
40 min, 360 m, easy;
2. Lanzi-Temperino gallery (opening in July 2006): 20 min, 980 m, with miners' mini-train, easy;
3. Via del Temperino: 30 min, easy;
4. Via delle Ferruzze: 1h 30 min, difficult;
5. Via dei Lanzi: 1h 40 min, me- dium;
6. Via dei Filoni Porfirici: 1h, dif- ficult;
7. Via dei Manienti: 1h 30 min, difficult;
8. Via delle Fonti: 1h, easy.
Useful Information
For logistical and safety rea- sons, access is reserved to the Museo Mineralogico e Archeominerario, the Museo della Storia Sociale dei Minatori and the miners' mini-train that goes through the Lanzi-Temperino gallery. We recommend that you wear trekking gear. Please respect the rules in force for protected areas.
How to get there
Aurelia SS 1 road, San Vincenzo nord, San Vincenzo sud, Piombino-Campiglia Marit- tima exit and follow the signs for Campiglia Marittima. Train: 10 km from Campiglia Marittima railway station, Rome- Genoa-Turin line. Bus: Parchi bus service (ATM), in spring from Tuesday to Sunday upon reservation.
For Information

Parchi della Val di Cornia Tel. +39 0565 226445 Fax +39 0565 226521
www.parchivaldicornia.it

,
parchivaldicornia@parchivaldicornia.it
Apt Costa degli Etruschi Tel. +39 0586 204611 Fax +39 0586 896173
www.costadeglietruschi.it

,
info@costadeglietruschi.it
Parco Archeominerario di San Silvestro Via San Vincenzo, 34 B Loc. Temperino - Campiglia Marittima (LI)
You might also be interested in