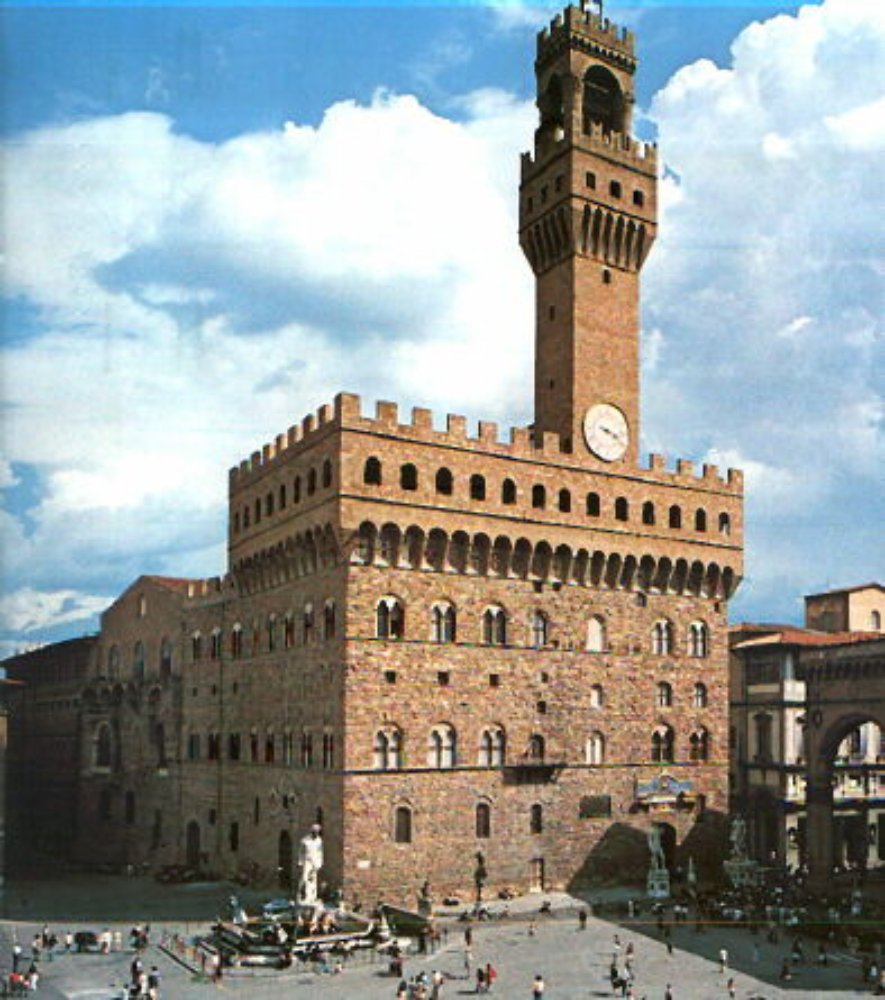 The city of Florence art and culture in the centuries
The itinerary begins with a visit to Santa Croce, the Gothic church with frescoes by Giotto and Gaddi, sculptures by Donatello and a lovely cloister
Continuing with the Renaissance architectural itinerary the Pazzi Chapel constructed by Brunelleschi should be visited. Santa Croce is considered to be one of the most important squares of Florence. A brief walk towards Piazza della Signoria is highly recommended, from where you can wander along the Uffizi Museum arcade, reaching the Arno riverside, and take in the unique view of Palazzo Vecchio where many Florentine jewellers have their shops. Continue walking until Palazzo Medici-Riccardi, constructed by Michelozzo for Cosimo the Elder, it then became the model for all following Renaissance palaces. Visit its courtyard and admire the frescoes by Benozzo Gozzoli in the Magi Chapel. The Florentine crafts shops are worth seeing in order to appreciate how certain Renaissance trades are still practised today, including ceramics, mosaics, tanners and perfumery.

Central Piazza San Giovanni is a must, with its belltower and baptistery containing Ghiberti's doors, which according to Michelangelo were so lovely as to be called the "doors of paradise". The enormous cathedral dome constructed by Brunelleschi can be observed from the square below or alternatively by climbing its 460 steps to the top.San Lorenzo is one of the two Florentine churches built by Brunelleschi, it contains Michelangelo's unique Laurenziana Library, situated close to the first cloister and famous for its foyer entrance. Michelangelo created a monumental stairway, similar to a cascade, going from the foyer to the second floor.If you have enough time you can visit the church of Santa Maria Novella, another Gothic construction, with a partial renaissance facade, added to the original one by L.B. Alberti in the 15th century. In this church works by Giotto, Masaccio and Paolo Uccello can be admired.

Piazza Santissima Annunziata is the first Renaissance square with it symmetrical buildings and traverse form. Brunelleschi's Innocenti Hospital, with its elegant colonnade and Michelozzo's Santissima Annunziata church containing works by Andrea del Sarto and Pontormo are both found on this square. From here many hidden Florentine treasures can be seen, such as the unique San Marco Museum. Fra Beato Angelico lived in this ex-monastery, painting devotional frescoes in every monks' cell. Continue walking until you reach San Apollonia, where Andrea del Castagno's Last Supper can be admired.The Medieval Bargello palace now hosts the Bargello Museum, where you can now admire its internal architecture and sculptural works by Donatello, Michelangelo, Brunelleschi and Ghiberti. Finish this itinerary with Santa Maria del Carmine where the Brancacci Chapel and its frescoes by Masolino and Masaccio can be admired, particularly striking is the banishment of Adam and Eve.
You might also be interested in
The power of art and the vitality of culture in Florence, stretching back to Antiquity, have an energy that expands all throughout Tuscany. ...
Scopri keyboard_backspace