The Bandierai degli Uffizi 44th celebration
The Bandierai degli Uffizi were born in the early 60s in occasion of the historical procession of the Florentine Republic during the traditional game Calcio Fiorentino
Let's make a step into the past and let's go to back to the XVI century. Walking in the streets of Florence we would have met flag bearers, musicians, people in costumes and armour of that time. But I have good news for you: thanks to the Bandierai degli Uffizi association, flag bearers still exist and proudly perform representing the past of the town.
Today they celebrate their 44th anniversary of uninterrupted activity (1800 parades) with important initiatives, a documentary and a book.
The Bandierai degli Uffizi were born in the early 60s in occasion of the historical procession of the Florentine Republic during the traditional game Calcio Fiorentino (also known as "calcio storico", which is very different from the conventional football). The group fulfills commemorative and festive purposes and the components are all Florentine citizens.
The Bandierai degli Uffizi are appreciated not only for their scenic and athletic skills, but also because they represent the occasion to live again the Renaissance period in Florence. They play the reenactment of the Florentine Republic time, as you can see from the symbols printed on their flags.
These Bandierai are the only ones that can represent Florence with their historical costumes during important public events, regarding sports or history, in Italy and even abroad. In fact, they take part in many internationals events around the world as the opening of the Olympics Games, the Columbus Day celebration and the European Football Championship.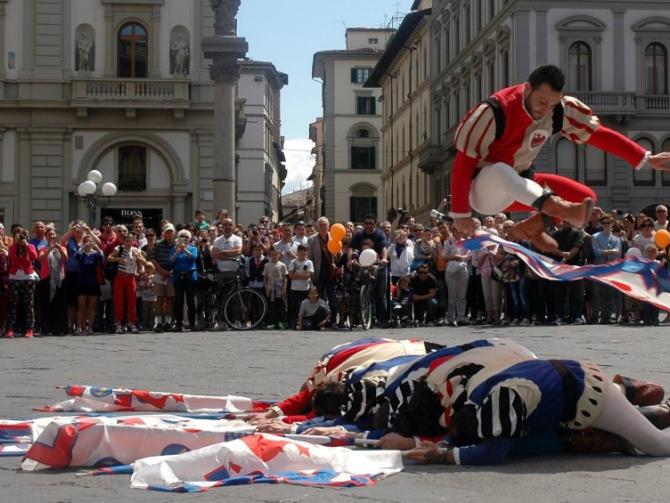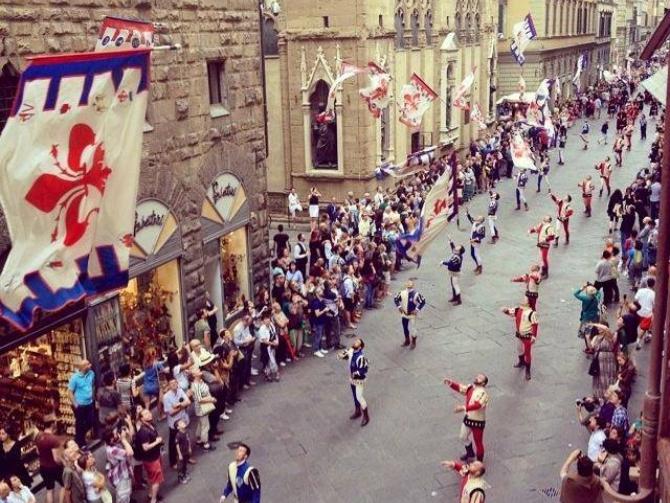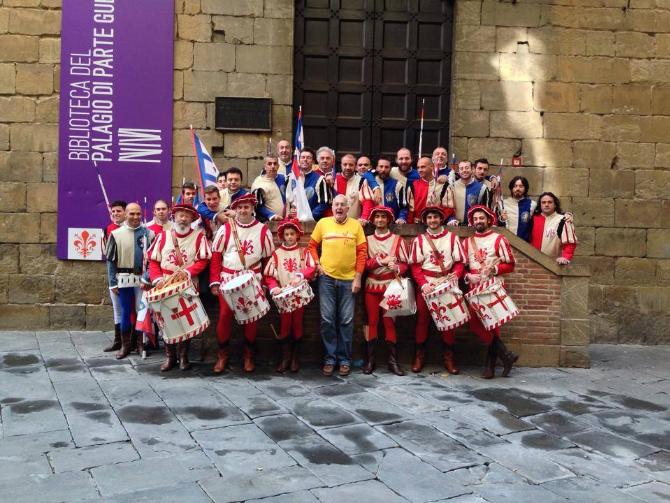 The Bandierai degli Uffizi perform mainly during traditional festivities in Florence:
Cavalcata dei Magi (Epiphany – January 6)
Florentine New Year (March 25)
Explosion of the Cart (Easter)
Marzocco Trophy – (flag-waving race – May)
Calcio Storico Fiorentino June 24, the feast of St. John, patron of the city)
Feast of Santa Reparata (October 8)
Christmas time (December)
On March 4th, they will celebrate their 44th anniversary with a special exhibition in Piazza della Signoria in Florence. Don't be late, the show will start at 3 pm and will last an hour.
If you like this kind of celebrations read this article, too.
The previous version of this post was written by Serena Puosi.
You might also be interested in