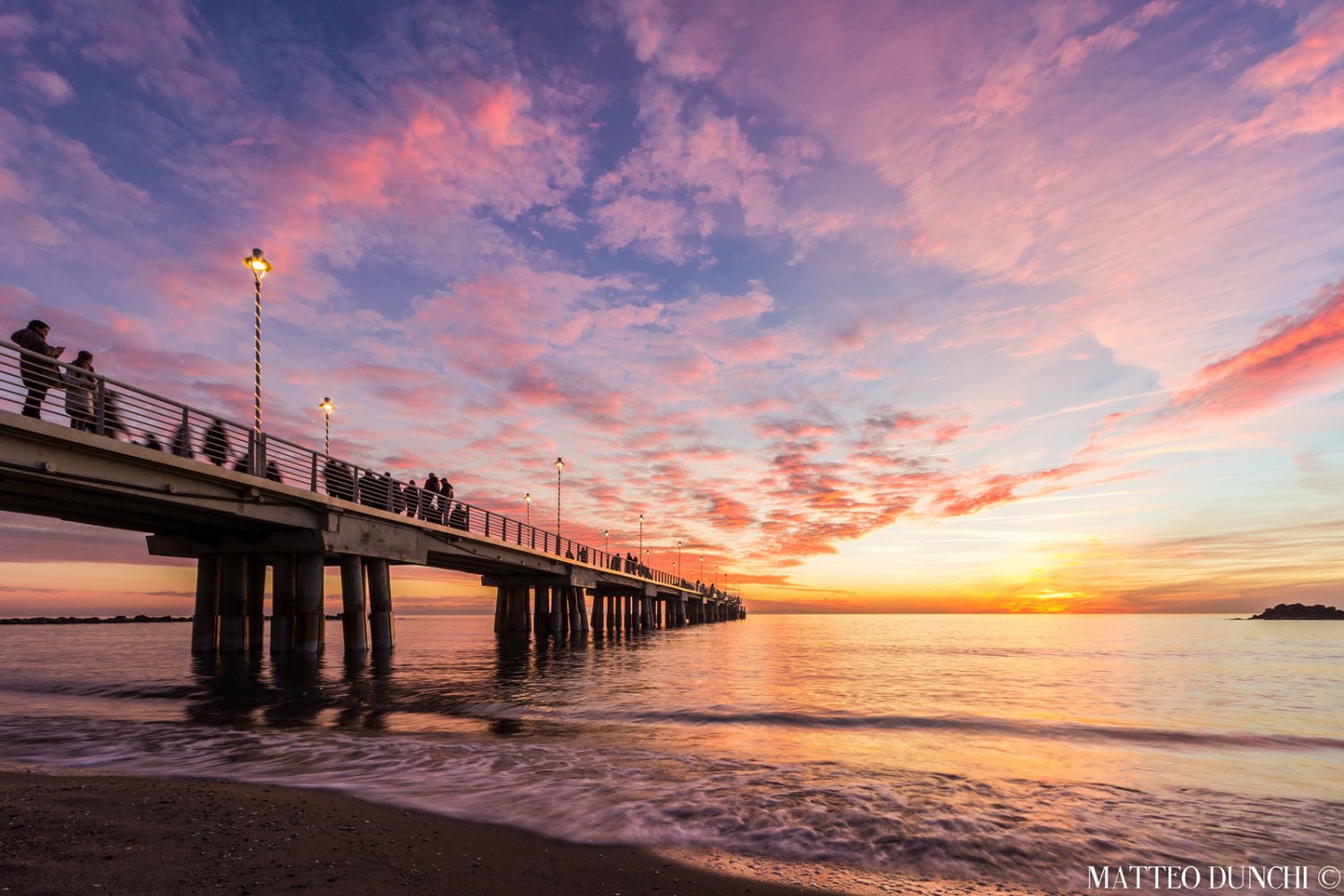 La costa apuana: dalle montagne alle spiagge sabbiose
A nord della Toscana tra mare e montagne
Una costa tutta particolare: spiagge finissime di sabbia a poca distanza dalla roccia delle Alpi Apuane, maestose montagne di marmo.

Nasce così un litorale dalla formula incantevole: dolci giornate di relax sul mare, grazie ai numerosi stabilimenti balneari, alternate a escursioni sulle incredibili meraviglie della montagna. Un binomio di cittadine balneari eleganti e dal divertimento sfrenato con i piccoli borghi montani, ricchi di storia, cultura e tradizioni.

Cambiano così il paesaggio e i colori: dal blu delle acque limpide e cristalline, il verde delle pinete al bianco del pregevole marmo. La cucina è altrettanto ricca, dalle gustose zuppe di pesce appena pescato al lardo di Colonnata, un piatto che ha fatto storia tra le cave, gustati con un bicchiere di Candia o con un Vermentino.

Una bella riviera sabbiosa, lunga 20 km, attrezzata con stabilimenti balneari di qualità, dove non mancano i centri nautici per dedicarsi ai classici sport del mare: vela e windsurf prima di tutto.

Marina di Carrara, grazie al suo Club nautico, di notevole interesse turistico, è stata fucina di campioni che si sono distinti sui campi di regata di tutto il mondo come ad esempio Luca Santella, i fratelli Chieffi a Paolo Bottari. Di notevole bellezza l'arredo urbano di Piazza Menconi, completamente lastricata in marmo e con una splendida fontana.

Scendendo verso sud troviamo Marina di Massa, già famosa nei primi del Novecento, divenne la sede di alcuni villini aristocratici, costruiti secondo lo stile Liberty allora in voga. Tra i più significativi si ricordano Villa Corsi, Villa Doria e Villa Franca, nonchè lo storico Hotel Italia. Nel 2009, Piazza Bad Kissingen, simbolo della gemellaggio con la città tedesca, è stata completamente restaurata e offre al turista il bellissimo monumento marmoreo "Le Vele" realizzato su bozzetto di Pietro Castagna.

Subito dopo Marina di Massa si trovano le spiagge di Ronchi e Poveromo: località che accolsero ville signorili circondate da vaste pinete e anche pensioni che erano destinate ad un turismo di èlite. Qui - afferma Moravia - mi sento, nello stesso tempo, protetto e dilatato. Le Apuane e le memorie mi difendono dall'infinito; il mare, invece, è la metafora di una infinita apertura.

Cinquale di Montignoso è da sempre meta di illustri personaggi e artisti di ogni tempo, come Enrico Pea, Gabriele D'Annunzio ed i pittori quali Carlo Carrà e Mino Maccari che qui vissero e trovarono ispirazione. Il caratteristico porticciolo, che ospita oltre duecento posti barca, offre un bellissimo scorcio sui monti delle Apuane. Sul lungomare il monumento alla Linea Gotica ricorda i sanguinosi scontri della Seconda Guerra Mondiale. Risalendo il corso del Fiume Versilia si raggiunge l'ara naturale protetta del Lago di porta, una zona umida costiera di grande interesse gestita dal WWF e Legambiente.
You might also be interested in
Riviera Apuana
Sandy beaches not far from the slopes of the Apuan Alps and majestic marble mountains: this is the enchanting stretch of a coast perfect for endless days of relaxing at the seaside and incredible excursions in the hills. ...
Scopri Riviera Apuanakeyboard_backspace