Photo ©Emanuele Baroncelli
The Antro del Corchia
Among the tunnels and needles of the cave at Levignani di Stazzema
With 53 kilometres of shafts and galleries, the Antro del Corchia is the most extensive cave system in Italy and one of the biggest in Europe. The grotto at Levignani di Stamezza, buried in the heart of the Apuan Alps, is a true natural wonder, with its majestic stalagmites and stalactites, lava flows, duricrusts and underwater concretions of calcium known as 'cave pearls'.
Although exploration of this, the third-deepest cave in Italy, goes back to the nineteenth century, only in 2001 was its splendour made accessible to the general public, thanks to a designated path which runs under the mountain for a distance of about two kilometres.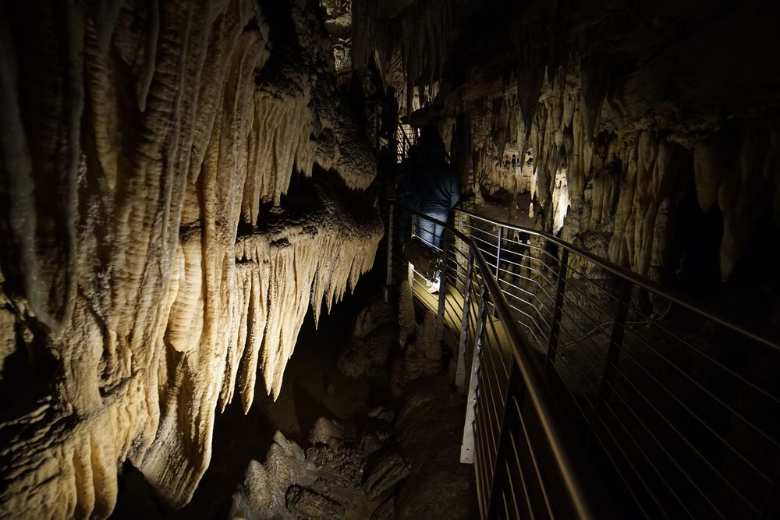 The entrance to the Antro del Corchia was found in an abandoned marble quarry, 860 metres above sea level. This entrance opens into an artificial tunnel, roughly 170 metres long, which leads to the true Karstic netherworld whose gateway is seemingly guarded by a stocky, conical stalagmite known appropriately as the Gendarme. Passing through the Franosa Gallery, we enter the Galleria degli Inglesi, where the eye is drawn to the whites and browns and rusty reds of the mineral formations. Not for nothing was it originally called the Painted Gallery, before its name was changed to remember the nationality of its first speleogists.
We pass through into the Galleria del Venerdi, where we find lava frozen imposingly into the form of an eagle with outstretched wings. From here we go through the thick fossil concretions of the Petrified Forests, before stumbling on a true marvel of nature in the spectacular Gallery of Stalactites. The walls are lined with them, one after the other, curving into little mirror like pools of water on the floor.
You might also be interested in