Talking around Tuscany
Live chats on Instagram with inspiring guests
Talking around Tuscany is a series of live conversations on the Visit Tuscany Instagram channel, in collaboration with The Florentine magazine. It's a way to enjoy insight into the lives of locals and explore ideas that might inspire you.
Each episode presents one or two personalities talking about what's so special about living or travelling around Tuscany. Writers, artists, journalists, sommeliers, and other people share their Tuscany during an entertaining online conversation. Get involved by asking questions. No matter where you are, you can still be with us – in Tuscany.
18 March 2021, 6:00 pm CET - Truffles in Tuscany
Food writer Emiko Davies (@emikodavies) chats about Tuscan truffles, giving guidance on the best truffles for each season, as well as how to enjoy them. Check out here the conversation with Emiko Davies.
11 March 2021 - From the Middle Ages to the rise of City States in Tuscany
Renaissance art historian Elaine Ruffolo (@elaineruffolo) talks us through the great urban centers of Tuscany, looking at how they emerged, sustained themselves and became centers of art and cultur.e. Exploring Pisa, Lucca, Siena, San Gimignano and Florence. Check out here the conversation with Elaine Ruffolo.
4 February 2021 - Tuscany's typical cheeses
Cheese specialist Kristine Jannuzzi (@nyccheesechick) explores the history and production of Tuscan cheeses, revealing how to put them to their best use in the kitchen, as well as the delectable combinations possible. Check out here the conversation with Kristine Jannuzzi.
27 January 2021 - Tuscany in Dante's Divine Comedy
2021 is Dante Alighieri's 700th anniversary, the ideal occasion to delve deeper into his works. Expert guide Alexandra Lawrence (@italyalexandra055) talks us through the Tuscan sites mentioned in Dante's Divine Comedy, with quotes and stories about the Florentine-born Supreme Poet and his most well-known work. Check out nere the conversation with Alexandra Lawrence.
17 December 2020 - Seasonal market produce from Tuscany
Winter's a time of celebration, but it's also the perfect season to stock up on the finest fresh produce from the markets of Tuscany. Persian-Italian-American food blogger from Seattle Coral Sisk (@curiousappetite) talks about her favourite market experiences in Tuscany. Check out here the conversation with Coral Sisk.
17 December 2020 - Tuscany-inspired Christmas table settings
Christmas is a time to decorate with style and never more so than for the festive table among close family. Food stylist and cookbook author Annette Joseph (@annettejosephstyle) explains her beautifully styled holiday table settings from Atlanta, Georgia, inspired by her second home in Lunigiana. Check out here our conversation with Annette Joseph.
You might also be interested in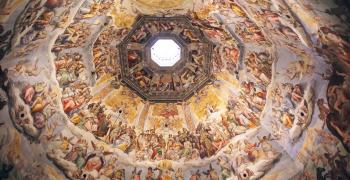 Learn more
Art and Culture
Tuscany is the cradle of the Renaissance and known all over the world for its immense artistic and cultural heritage.
continue...