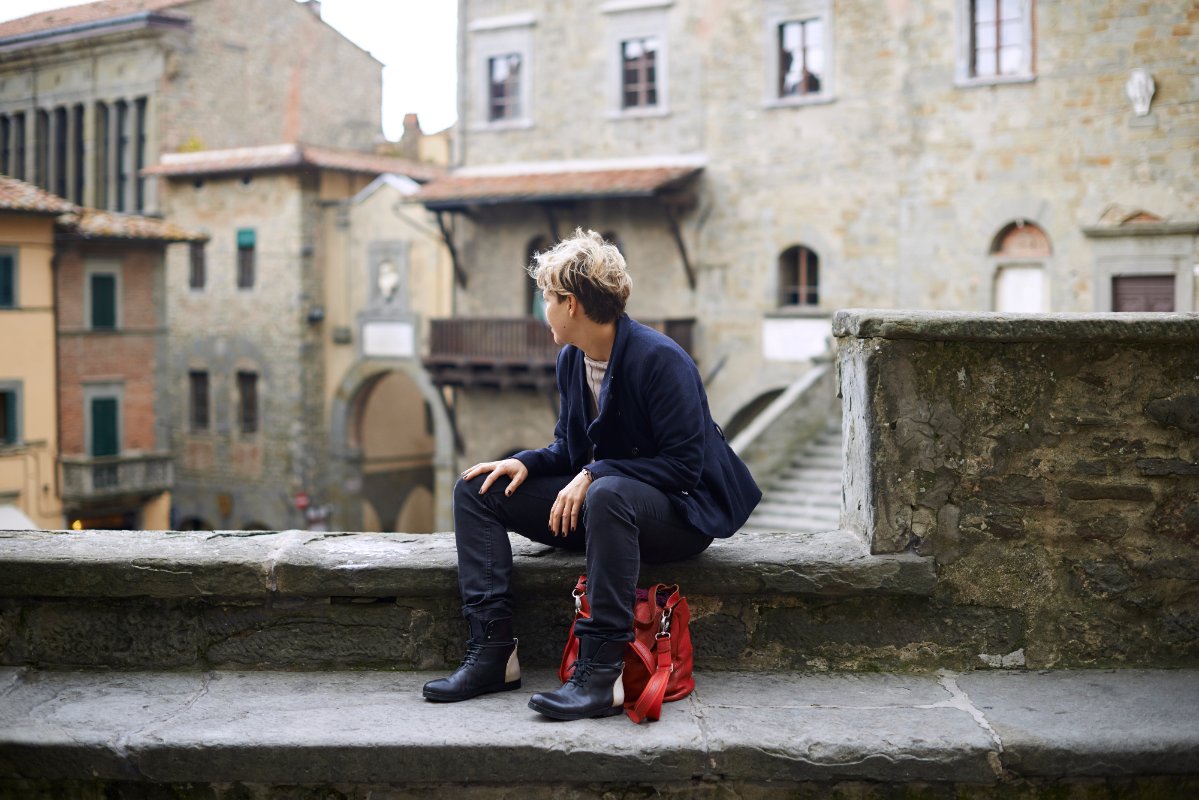 Street Painting in Florence - Kelly Borsheim, "Madonnara"
If you've ever walked around downtown Florence, in via Calimala near the Porcellino market, you must have noticed the
marvellous work of street painters who recreate famous paintings in chalk pastel on the ground
. Curious about what it's like to be a street painter, known as "Madonnaro" (Madonnara for women), I contacted Kelly Borsheim, an American sculptor who works as a Madonnara when she's in Florence. I found her through her
blog
and became a fan of hers on
facebook
. She works on
Thursdays
all day with another artist, Johnny McGrogan, so I headed out last Thursday, which happened to be San Giovanni (holiday for the patron saint of Florence) and also the day that the Italian soccer team got eliminated from the World Cup. At 6pm I found Kelly and Johnny pretty much at the end of their work on a reproduction of Raphael's
Madonna della Sedia
(in the Palatine Gallery, Pitti Palace). Johnny and another
madonnara
, Kumiko, had started this drawing the day before, and they left a sign and boxes around the work pleading the street cleaners not to remove their precious hours of labour. At this point in the evening, after 2 days' work, they were adding details and extra shading, but as they were pretty tired they were also hanging out and chatting with other artist-friends who stopped by. I lost track of time and spent almost three hours enjoying stimulating conversation; this has got to be the best part of my job. They generously allowed me to photograph and video to my heart's content, read on for the results! Kelly, originally from Texas, is a sculptor who works in bronze and marble - Michelangelo would have approved, as he argued that this is the most difficult and valid of the arts. Johnny, who is from Ireland, is a classically-trained painter (Leonardo and Raphael would have sided with him). Both came to Florence and learned the art of chalk pastel drawing on stone, which is yet another artistic medium with its own techniques and difficulties. Now they are part of an organized association of fewer than 30
madonnari
who work on rotation in the city's designated locations. Technically one pays a license to occupy these spaces, though the group is currently in negotiation with the city with regard to the modality and cost of this privilege. [youtube]http://www.youtube.com/watch?v=UgVi-oCuZT0[/youtube]
Street Painting Challenges
To give you a sense of what goes into creating a work of this size, street artists in Florence are allotted a space of smooth stone that is about 8x10 feet large. They start at 10 am and work until midnight in pairs or in larger groups (thanks to a city mandate that limits the number of hours one artist can work on the street). It's pretty easy to consume an entire stick of chalk pastel to colour in something like the Madonna's cloak or a dark background, and every centimeter has layers of chalk on it. For every bit of colour you see on the stone, an artist has been kneeling above it, rubbing it in with her hands and building it up. Working on the ground is back-breaking and tiring, not to mention that one comes away looking like a chimney-sweep.
"Street painting," says Kelly "is a form of performance art."
They work to please the public, and the public provides them with tips that, in Kelly's case, help keep her in Florence. The day's drawing is timed to coincide with the crowds. You'll want to create a frame right away (this gold one is applied with a wet pigment), sketch out the main figures, wash in the background (a dark wet pigment is applied here to save on chalk), and get down as much as possible so that passersby can see what you're doing. After that, they work in the details. Kelly and Johnny work well together so they're able to start by drawing the chosen image free-hand in the given space, while some other street artists use the grid system to transfer their design. As they work together, they choose paintings that have more than one figure so that each artist concentrates on one face, though at the end of the day sometimes they don't know who did what. Johnny, a bit camera-shy, says that "
Tourists [in Florence] are generally very generous
, they appreciate what we do; they're already on holiday and having a good time, whereas somewhere else they might be a little... less so, I dunno...". Most of the tourists stop and watch for a while, some compliment the artists, and those who take photos usually leave a tip of a euro or so which is the correct thing to do. Certainly I didn't overhear any negative comments about their work while sitting with Johnny, Kelly and their friends for hours last week, but not everyone seemed to "get" how challenging it is. A tour guide came by with a group and proceeded to explain what was being done - without even turning to acknowledge the artists. Her sheep did not tip. Later, I was shocked when a beggar asked if he could take a euro from their donation basket to make a phone call and then dared ask "why not" when we all said "no"!
Street painters beautify our city. Their art is a class unto itself, different than graffiti art (practised most often without authorization, although sometimes very beautiful), and also unlike other performers like the various gold-painted mimes who line the Uffizi loggia. This is a historical practice that originated in central Italy, recorded from the 16th-century onward, and it requires extensive artistic training.
It creates no permanent damage; in fact, the street cleaning machines wipe away their work each night
. This ephemerality on one hand seems a shame, but on the other nicely links street painting to other historic forms of decoration that used to grace the city of Florence but are now almost entirely lost.
You might also be interested in