Spending an authentic Easter in Tuscany
Tuscan traditions from the 'Scoppio del Carro' to the 'Palio delle Botti'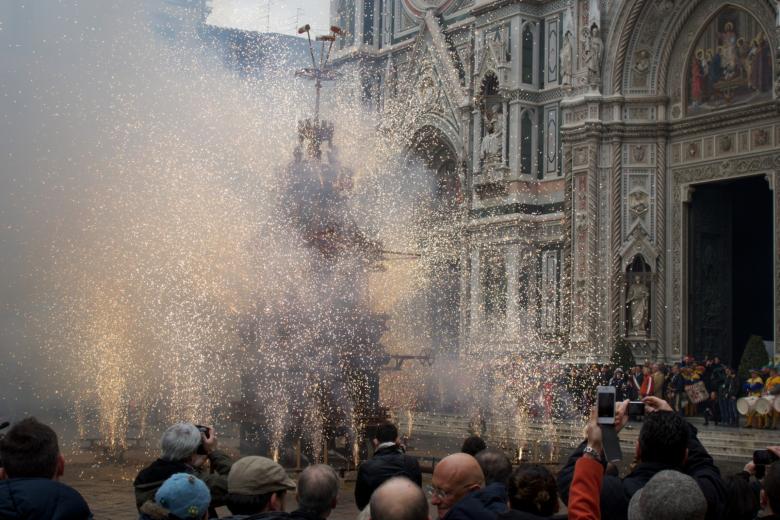 For 350 years, every year on Easter day in Florence, the wildly popular "Scoppio del Carro" or "Explosion of the Cart" tradition has taken place in front of the Duomo. The ceremony begins at 10am annually. The cart is loaded with fireworks, parades with flag bearers and drummers through the streets of the historic center. It arrives in front of Santa Maria del Fiore and at 11 the show really starts: a flying "colombina,"—a dove shaped rocket symbolizing the Holy Spirit—flies out of the cathedral and ignites the cart, creating an extraordinary fireworks show.
Processions inspired by the Passion of Christ abound during the Easter season, but one of the most famous is L'Antica Giudeata in Chianciano Terme. This procession is inspired by a 17th century tradition. Over 150 costumed figures take to the town's streets, with Roman soldiers on horseback, Christ carrying the cross, and Pontius Pilate's court with housemaids and dignitaries. Another event worth attending is Pienza's Processione degli Scalzi (Barefoot Procession), which takes place each Good Friday and is preceded by 12 hooded, barefoot figures carrying torches.
In Grassina, over 500 costumed figures take part in the Passion play: it's a 90-minute re-enactment which is very impressive. In Radicofani, the historical reconstructions begin on Maundy Thursday: after Mass, the penitence procession parades along the street with 12 monks take place from the Sant'Agata congregation, clothed in red capes, and 12 members of the Misericordia confraternity, in white capes. On Holy Friday, the procession begins from the church of San Pietro as far as the church of Sant'Agata, where the adoration of the Calvary is held in front of the beautiful altar made by Andrea Della Robbia.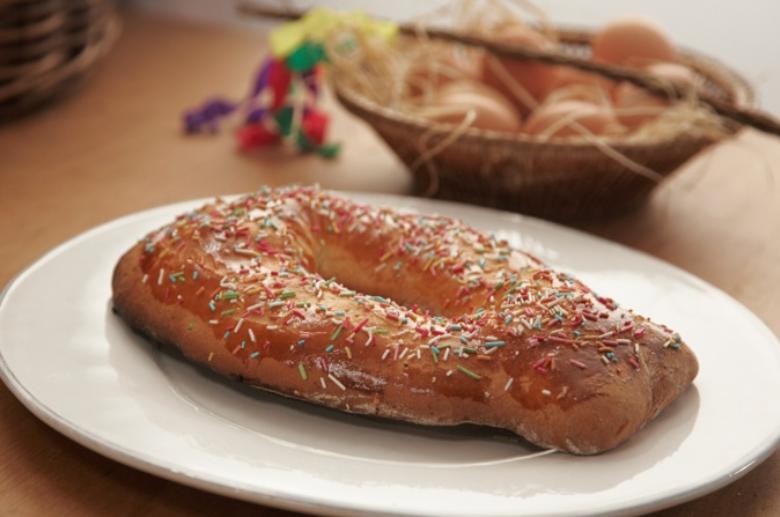 On the Monday after Easter (Pasquetta in Italian), you can enjoy the Festa del Cedro (Cedar Festival) in Bibbona, which hosts a charming little daytime market filled with typical local products. At night, head to the Palio delle Botti, a traditional barrel race through the narrow streets of the town.
Another Pasquetta celebration is held at the Hermitage of Santa Caterina in Rio nell'Elba: the Sagra della Sportella. Sportella is one of the island's typical Easter sweets. In the past, suitors presented it to young women as a sign of long-term commitment.
In Piteglio, which is located in the mountains of the province of Pistoia, Easter Monday means getting to celebrate the Festa della Farina dolce (Festival of Sweet Flour). You'll get to sample countless specialties made with chestnut flour, such as necci, which are similar to crêpes and filled with ricotta.
Enjoy the Easter egg tradition at another exciting Pasquetta festival held in Quadalto. Quadalto is a small part of the enchanting village of Palazzuolo sul Senio. The Sagra dell'Uovo Sodo (Hard-Boiled Egg Festival) offers many fun, quirky activities beyond just food stalls filled with Easter treats. Attendees can even compete in a series of challenges involving hard-boiled eggs.
You might also be interested in