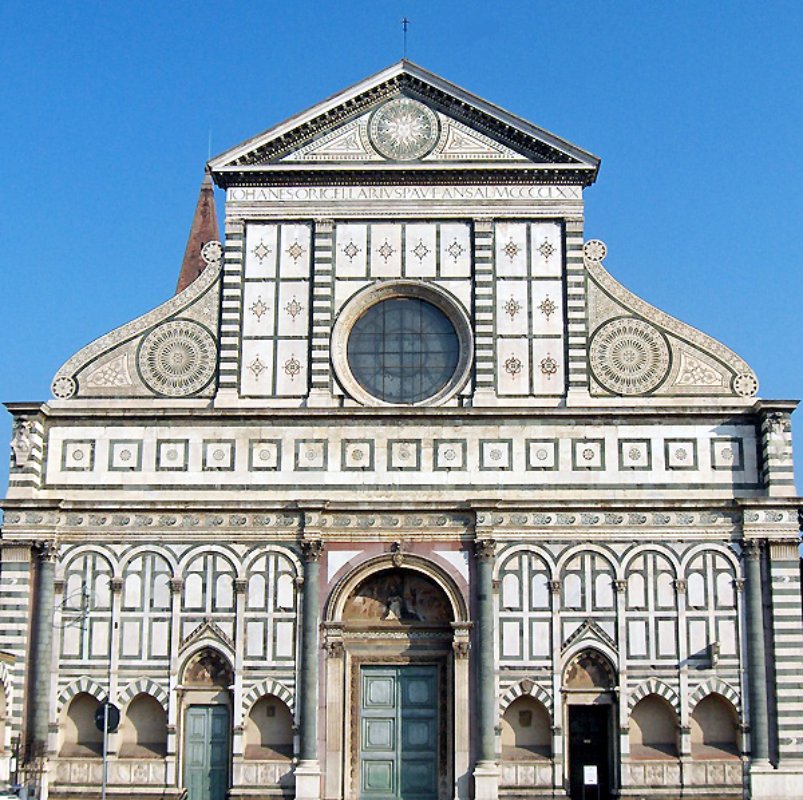 Santa Maria Novella area
This part of Florence is home to many historic palazzi and some of the city's most important churches
SANTA MARIA NOVELLA RAILROAD STATION. This building is one of the first examples of Italian rational architecture. It was designed by a team headed by Giovanni Michelucci and was built between 1933 and 1935.
FORTEZZA DA BASSO. Designed by Antonio da Sangallo the Younger (1533-35), the Fortezza was recently remodeled and is now an exhibition and conference centre.
CHURCH AND MUSEUM OF SANTA MARIA NOVELLA. Begun in 1246 for Dominican friars, the church was completed in 1360. The white and green marble Gothic-Romanesque façade was completed by Leon Battista Alberti who designed the upper part. Inside the church there are splendid masterpieces including "The Trinity" by Masaccio, frescoes by Filippino Lippi and Ghirlandaio in the Tornabuoni chapel, a Crucifix by Giotto and a wooden Crucifix by Brunelleschi. The Museo di Santa Maria Novella is adjacent to the church. Here you can admire the splendid Green Cloister frescoed by Paolo Uccello and his school. In the Chapter Room, known as the "Cappellone degli Spagnoli" is a famous fresco by Bonaiuto. Just a short distance from the church is the Officina Profumo Farmaceutica di Santa Maria Novella, where perfumes, soaps and fragrances are made and sold in a Neogothic setting.
MUSEO MARINO MARINI. The deconsecrated church of S. Pancrazio houses the museum dedicated to Marino Marini, one of the foremost 20th century Italian sculptors. Near the museum, in the Rucellai Chapel is the extraordinary Temple of the Holy Sepulchre by Leon Battista Alberti.
PALAZZO RUCELLAI. Bernardo Rossellino built this palazzo for Giovanni Rucellai based on designs by Leon Battista Alberti between 1446 and 1458. The loggia is also attributed to Alberti.
MUSEO DI PALAZZO DAVANZATI. This building dates from the mid-14th century. In the early years of the 20th century it was purchased by the antique dealer Elia Volpi, who restored and furnished it to recreate a period Florentine home. The many rooms, several of which are decorated with frescoes and fine coffered ceilings, contain carved and inlaid furniture, chests, benches, paintings, tapestry, sculptures, ceramics and everyday items.
PALAZZO STROZZI. Filippo Strozzi the Elder commissioned Benedetto da Maiano to build this palace. He began working in 1489 and was replaced by Cronaca who built the cornice and courtyard. Palazzo Strozzi is one of the finest expressions of Renaissance architecture.
CHURCH OF SANTA TRINITA. This church, built in the second half of the 11th century, was enlarged and modified according to the Gothic style in the early 14th century. The pietra forte façade was made to designs by Buontalenti towards the end of the 16th century. The major artworks inside the church are the Sassetti Chapel with the fresco cycle depicting "Scenes from the Life of St. Francis of Assisi" and the panel painting of the "Adoration of the Shepherds" by Domenico Ghirlandaio (1483-86).
CENACLE OF GHIRLANDAIO. The former refectory of the monastery adjacent to the Church of Ognissanti is graced by Domenico Ghirlandaio's painting of the "Last Supper", of which even the synopia is visible.
Source: APT Firenze
You might also be interested in