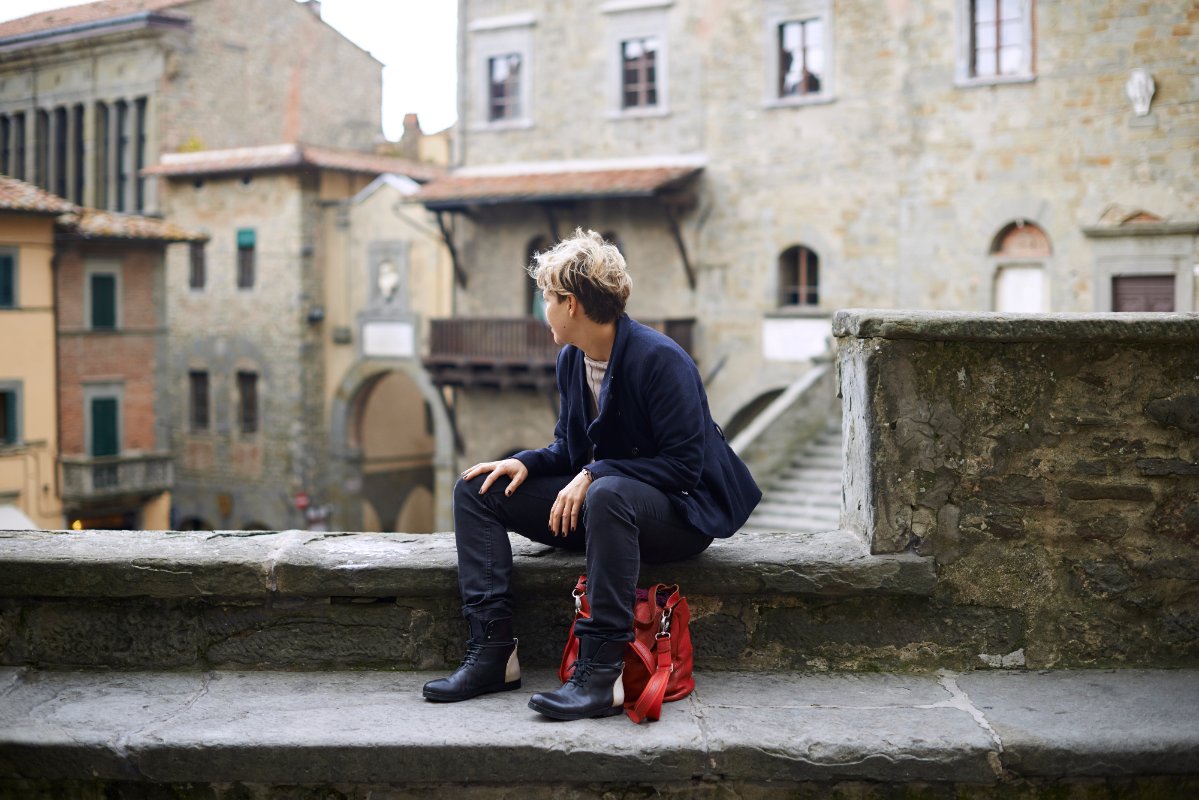 San Gimignano is contemporary art: spring 2010 exhibits at Galleria Continua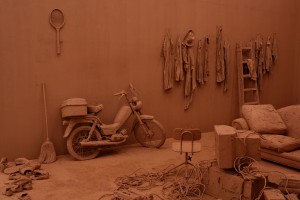 Until May 15 2010, five solo shows by important, international contemporary artists' at
Galleria Continua in San Gimignano
are, in a way, a bit of a
memento mori
- a reminder that we are all human and we will all die sooner or later. Chen Zhen's earth-covered objects, Berlinde de Bruyckere's reflections on death and Pancrazzi's obsession with time are hardly cheery. Sassolino, too, is concerned with time, but lightens things up with his odd machines, while Solakov encourages us to reconsider everything around us. Galleria Continua is one of the most innovative private galleries in Tuscany in my opinion, and it is located in the charming town of San Gimignano (SI), where you can also enjoy the medieval towers and the early renaissance frescoes in the Collegiata (duomo), and then recover from art-overload with a plate of steaming risotto with San Gimignano's famed
DOP saffron
.
CHEN ZHEN - Purification Room
I cover a space and all the objects found there with earth. It is a sort of "monochrome tomb".
Using the natural process of the accumulation of earth, which slowly but surely covers once animate things and beings, Chen Zhen created various landscapes, or installations, in which all the objects are completely covered and encrusted with earth. This includes
A World in / out of the World
,
Light of Confession
(1993),
Future Archeology
(1995) and
Champ de désinfection
(1995).
Purification Room
, realized in 2000, was the last work in this series and is on display now at Galleria Continua. Chen Zhen was born in Shanghai, China in 1955 and died in Paris in 2000. In the course of his career he received various international awards and scholarships, and showed his work in about a hundred solo and group exhibitions around the world, becoming a prominent figure on the international art scene. His work focuses on the relations between human beings, nature and objects; the incommunicability and lack of understanding between human beings; and finally on meditation and therapy.
BERLINDE DE BRUYCKERE - Elie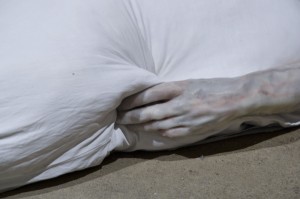 Berlinde de Bruyckere was born in 1964 in the Belgian city of Gent, where she lives and works today. In her sculptural work she uses wax, wood, wool, leather and horsehair, modelling intense figures that suggest deformed human and animal forms. Her sculptures can be seen as images of an archetypal pain, as reflections on themes that have always concerned human beings: suffering, solitude, death, recollection. De Bruyckere's new piece for this exhibit is
Elie
, a male wax figure. Realistic details like the bluish skin, the plastic volume of the muscles and the closely delineated network of veins and arteries reveal the artist's interest in anatomy and posture. Her sculpture makes no concessions to narrative, but works instead by way of subtraction and intersection. The academic lesson is thus interrupted, and the man's body remains deliberately fragmentary and incomplete, awaiting
pietas
and redemption.
LUCA PANCRAZZI - Temporundum Continuo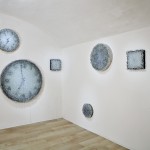 This is a new work by the Italian artist Luca Pancrazzi, who is active on an international scale and who often works with glass, the main medium here too. Chronological time marks the rhythm of our lives. It consists of moments that can be measured perfectly down to the second and which open up the matter of time, going beyond the simple mechanical development. Evoking this, a series of clock-shaped works will be installed together in the same space in order to shift the image of time onto a metaphysical and individual plane. Adding to the emotional challenge of the piece is an audio track by musician Steve Piccolo. People from different spheres and walks of life were asked to respond to the stimuli of two prompts:
Imagine the flow of time, and use your body to reproduce the sound, the noise of it. If you were a clock, what noise would your mechanism make?
Recordings of the responses form the audio material of the two introductory installations. The sounds produced have been edited as musical material in two distinct compositions.
ARCANGELO SASSOLINO - Qui e ora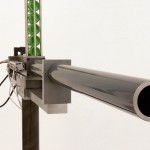 The existential question remains the cornerstone of all my work. And caducity is all-pervasive. […] In the meantime there is just a memory reference and an expectant aesthetics.
Sassolino makes machines, sometimes with the help of engineers, that are performative and threatening. The artist's work engages habitually with three elements: gravity, space and time.
NEDKO SOLAKOV - A Riffraff
Bulgarian artist Nedko Solakov employs an ironic, metaphoric style to analyse the contradictions inherent to the contemporary art system, its communicative mechanisms, and its schizophrenic relationship with society and cultural geopolitics. His painted polyptichs address the following impulses that lie at the centre of Solakov's practice: the need to render tangible and visible what is not; to illustrate the themes that populate our unconscious; to hand down myths and fairy tales; and to give voice to hopes and desires, either in the form of personal confession or as comment on social issues.
Information
GALLERIA CONTINUA Via del Castello 11, San Gimignano (SI), Italia: www.galleriacontinua.com Tel. +39 0577 943134 Open tuesday through saturday, 14-19, or by appointment. [geo_mashup_map]
You might also be interested in