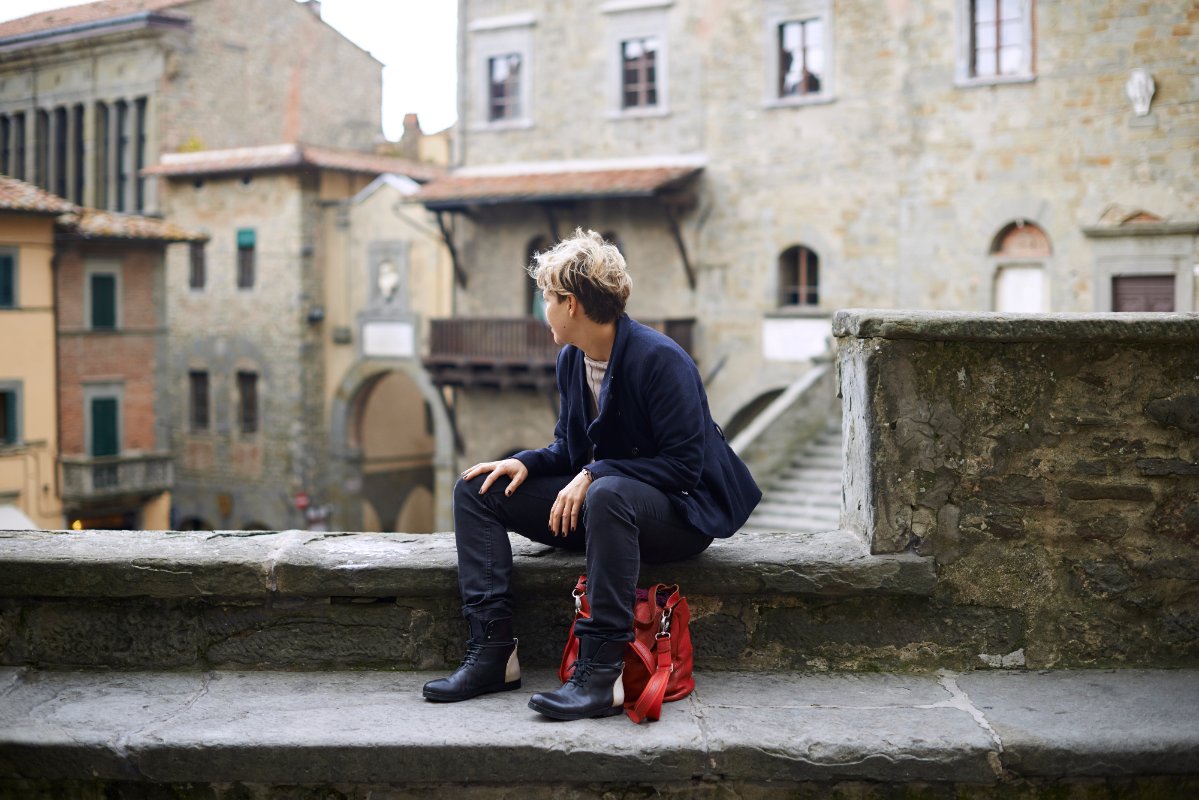 San Galgano is almost a parody of Tuscany
itself: it's a medieval abbey in ruins that sits in the countryside near Siena, surrounded by cypresses, rolling green hills, and fields of sunflowers.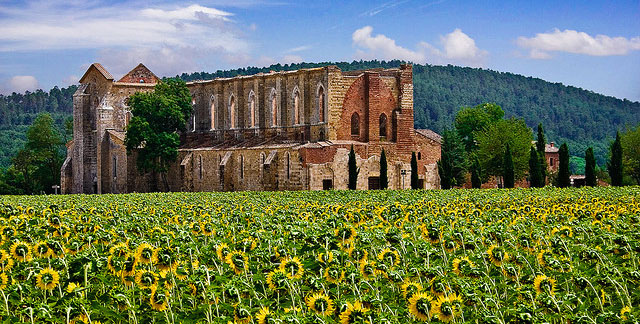 I really love this place and take a day trip to San Galgano at least once a year, a task made easier now that they are holding
summer concerts at San Galgano
. Just this past Saturday I went there with my boyfriend and some friends to see the Mozart opera "
The Magic Flute
", organized by the
Opera Festival
association. To tell the truth, I like San Galgano so much because it is shrouded in mystery: the huge abbey is roofless and there is a sword into a stone in the upper church, the Montesiepi Chapel, also called "Rotonda" because of the circular shape of the lower floor.
The abbey's is named after Galgano Guidotti, a 12th-century knight who finally came to understand the importance of being a good Christian after having first experienced every kind of naughtiness. Similar to St. Francis, Galgano renounced his worldly life, though in this case he became a hermit. One day he didn't have a cross in front of which to pray, so he took his sword and miraculously planted it into a rock; the shape of the handle, with the shaft mostly hidden, created a cross. You can find that stone and sword in the small, rounded chapel on the hill next to the abbey, Galgano's hermitage. This building is in the Sienese romanesque style which, like the cathedral of Siena, is characterized by pink and white marble stripes.
The Abbey of San Galgano itself was built in the 13th century slightly downhill from the Montesiepi chapel by a community of Cistercian monks (whose rule required an isolated location, so this was perfect). The church is rather typical of the Romanesque, with a nave and two lower side aisles, but the detail that makes it so breathtaking now is the lack of roof! Despite this, some of the architectural elements are well preserved: there are beautiful columns, windows shapes and decorations. You realize it is in ruins just because the altar is a stone, there are no seats or candles and you see the blue sky over your head rather than a vaulted ceiling.
In case you're wondering why it is a ruin
, the abbey was gradually abandoned by this community (a lot of the monks died in the plague of 1348, so in the late 16th century it was already in bad shape and there was only one monk present at a bishop's visit. In 1781 the roof simply fell in, and a bolt of lightening to the tower helped seal the end of this church, at least as a consecrated space. The coutryside is simply gorgeous and typically Tuscan: fields, hills, cypresses, sunflowers, farms, animals and so on.
It's good for your eyes and soul
, it's so relaxing and it is absolutely an art gem that you can experience only in Tuscany. I have a lot of pics of the abbey of San Galgano and I always suggest this location to my friends! With thanks to
Michela Simoncini
for this guest post and photos.