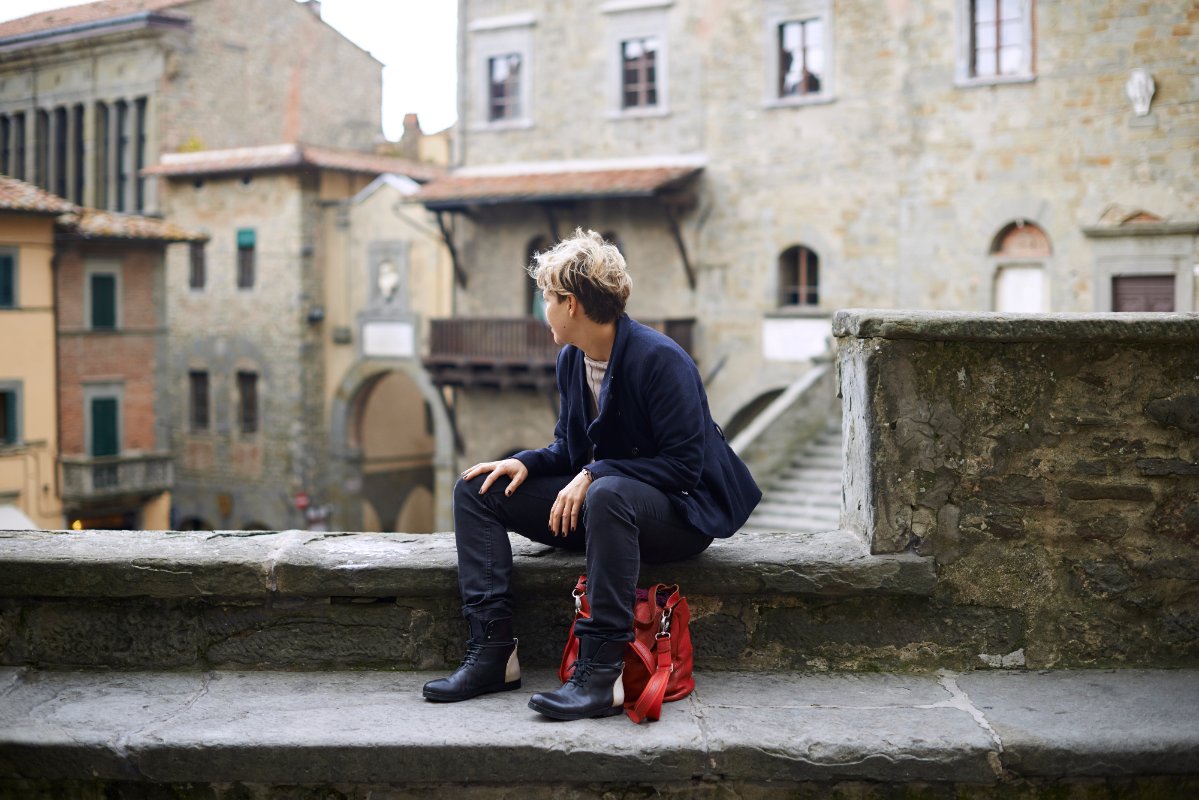 Recycle art in Maremma: Rodolfo Lacquaniti's Garden
Rodolfo Lacquaniti
wants to take you on a voyage. No, not a free trip to Tuscany, but while you're here
he will show and tell you a tale of love, life, and ecology through his art garden
called the "Viaggio di Ritorno". I was there as his guest last weekend and can tell you he's quite a character; his strongly personal art and message is an experience I recommend to any art lover.
In the flat valley of the Alta Maremma, not far from Castiglione della Pescaia
and its sandy beaches, Rodolfo's is one of the area's four recognized art parks.
The large sculptures made of found materials both stand out from and work with the landscape
. You cannot see the park from the road, nor are there signs for it (other than ones that point to his agriturismo on the same property), and the "Giardino Viaggio di Ritorno" is not run as a tourist site because he doesn't have any staff (different from the parks by
Niki de Saint Phalle
and
Daniel Spoerri
). While Rodolfo wants to share his experience, he also makes art full time, so visits are by reservation only and happen about once a month. It takes two good hours to complete the voyage, and Rodolfo does this out of dedication to interested visitors. It's hard to know where to start this story. The art in this park forms a narrative, but it's one that is not really mine to tell. And most of all, I think every visitor has the ability to take away something different from the "voyage" based on his or her interests and affinities so I don't really want to spoil the surprise.
But I will tell you what I liked best
.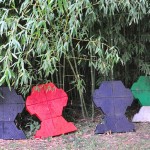 What is most interesting to me is the
story behind the creation of this garden
.
Rodolfo Lacquaniti was - until a decade ago - a successful bio-architect in Florence
, having moved there for university from his native Calabria. Now the only physical remainder of that life (other than his wife) are some coloured plastic magazine holders that he has assembled into semi-human form and set under a tree (the work is called "My Office"). In 2002 Rodolfo and his wife Letizia purchased a ramshakle building on a peach farm in Maremma out of which they intended to make a simple 2 room weekend residence.
But then they saw the light
. I don't mean anything cosmic, I mean that the evening light streamed in the structure's only opening and hit the back wall; the next day the morning light had a different effect. And I get the impression that they were also lulled by the rolling hills all around the property and entranced, perhaps, by the Etruscan earth (we're at a stone's throw from the Etruscan tombs at
Vetulonia
).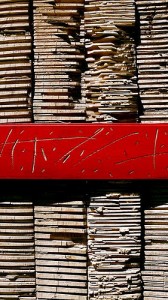 And thus began a
lengthy and loving restoration of the building
and entire property, transforming it from industrial to habitable, from bleak to beautiful. And it was precisely this hands-on process that changed Rodolfo's life and career. As he was cutting stone on top of some scrap pieces of wood, he noticed the attractive regular patterns that the cuts made. These cuts, which he calls "matrici", are one of the recurring motifs in his art. He's created "paintings" with them, tinted various colours, and also large sculptures. He says they are like our DNA, slightly imperfect and very complex.
This place, and the Tuscan territory, are at the heart of his creations.
When I asked him if he could have made the "Giardino di Ritorno" anywhere else he answered "no" because the objects that inspire his work come from here. Rodolfo doesn't buy art material. He finds it... and sometimes it finds him. He has ideas or forms in his head, and then with time he comes across the right objects with which to create those forms. The "morgano" is a metal disc used to till the earth (they attach to an agricultural machine), and they are discarded after use. They are present in two works: painted in bright colours and mounted on a wall alongisde old cd's they form a kind of "universe" (photo below). Their beauty has amazed farmer-neighbours who just thought they were garbage. The same form is used to construct seven large metal turtles who slowly and ponderously move through the home's central courtyard; they represent a voyage through space, time, and the universe.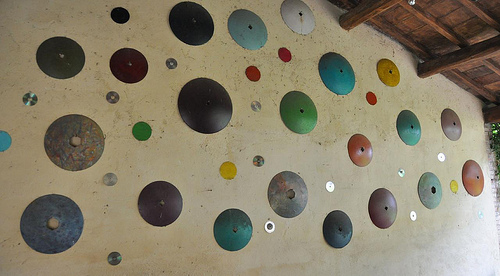 Spaces, too, are transformed by what Rodolfo found around the farm. A bland concrete loading dock became a welcoming covered indoor-outdoor lounge with a wall made of perforated wood. These are the boxes that were used for storing and transporting peaches; the previous owners had apologized for leaving this garbage and suggested he burn it.
Beyond the loading dock, the refrigerator room and storage area of the old warehouse are transformed into an inside gallery space for smaller works that continue to expand upon universal themes we've encountered outside. While outside there was a circle (he calls them "mandala") of ricotta strainers from the 1950s, inside we see ones made of sea-worn rocks, the bricks of an old wood stove, and the letters from an old typeset (my favourite of all - see detail photo). While the rocks and bricks are precisely arranged, the letters are open to "social" reinterpretation: Rodolfo holds workshops for local schoolchildren as well as for adults who are permitted to create words or meaning out of the art. When I visited one evening last August, someone had put the cardinal direction letters (N-E-S-W) at four points of the circle. A clever understanding, perhaps, of the orientation of the garden towards the rising and falling sun; the central courtyard with the turtles is on an east-west axis and the animals move towards sunset.
The visit ends with an army of soldiers and a horseman all constructed from scrap metal and tubes, and with bombs for heads.
The revolution, Rodolfo says, is in the dump
; these figures have risen out of the garbage and are marching into the light. I've always been interested in
recycle art
(see, for example,
Paolo Canevari
),  but
the Viaggio di Ritorno made me realize that this art is not just an end to itself
, a way to re-use old things, for we'll never be able to make as much art as we consume packaging.
Rather, the revolution is in the way of thinking
, the way of life. It's not practical for each one of us to abandon work in the city in order to make art on a farm, but we can each reconsider how we live. The message, I think, is not just about consumption but about remembering that we're part of a larger, universal whole in which there is healthy human diversity and unconditional love -- all valid messages and good things that we too often forget.
The photos below are approximately in the narrative order of the garden
so if you scroll through the photogallery you'll get a better sense of the whole! NOTE: The Giardino di Ritorno has an open house for Contemporary Art Day on Saturday October 9th 2010. Otherwise,
for visits call 335 5247472
or email Rodolfo at [r.lacquaniti@tiscali.it]. Visits cost 10 euros per person. [geo_mashup_map]
You might also be interested in